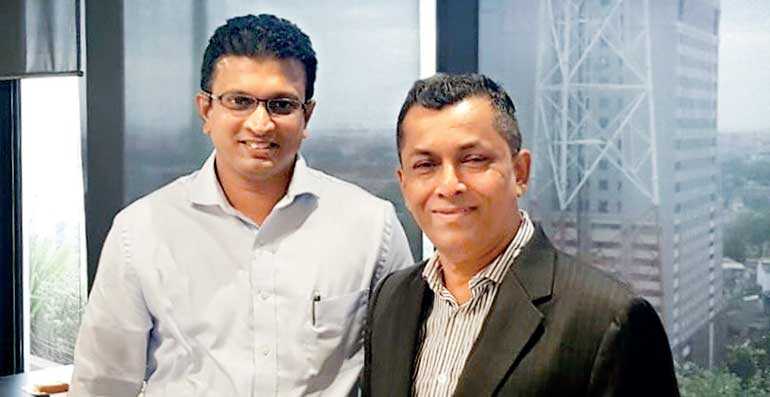 Dialog Axiata Group CEO Supun Weerasinghe (left) and MT Studio Chairman Faris Ismail
---
Management Trainee Studio (MT Studio) is a recent addition to the growing number of higher education institutes in Colombo and conducts sessions for professional qualifications including CIMA and CFA. Exceeding expectations, it applies a modern and more employability-oriented twist to the traditional education institutions we have today.

With a vision to help high caliber students secure positions in the best Management Trainee programs in the country, MT Studio keeps class sizes small and exclusive, and operates on a workshop and training-based style. Additionally, MT Studio maintains strong relationships with recruiters which to date includes high fliers such as Dialog Axiata, LOLC Finance, Janashakthi Life, John Keells Group and more. Events are organised often which facilitate interactions between future employers and students.

One such event was held recently – Coffee with CEO. Seventeen young people (with two more connected via Skype from Australia), each talented in their own field, gathered at the Dialog Head Office Boardroom to meet Dialog Axiata PLC CEO Supun Weerasinghe, FCMA, CGMA.

One testimonial stated: "We just met a person who undoubtedly deserves this powerful position of CEO. He has crafted his way through numerous trials and challenges to get here" – Ragu Ragavan.

These young but highly accomplished students, only just taking their first steps into the corporate world, learned valuable lessons not only on life but on decision making, the telecommunications industry and new digital innovations in Artificial intelligence and cyber security to name a few.

A representative from the Human Resource Department of Dialog was also present to answer any questions on current opportunities available.

MT Studio's second Coffee with CEO session was with Janashakthi Group CEO Ramesh Schaffter, FCMA, CGMA, on 28 August and the third will be held today, 3 September, with Infomate (a subsidiary of John Keells Holdings) CEO Jehan Perinpanayagam, FCMA, CGMA.

Other sessions will feature H-Connect (a part of the Hidramani Group) CEO Dilush Perera, FCMA, CGMA, on 10 September and Moody's Analytics Knowledge Service CEO Chanakya Dissanayake, FCMA, CGMA, on 12 September.

An interesting fact is that all the CEOs involved in the Coffee with CEO series were students of MT Studio founder Faris Ismail during his 30 long years of coaching CIMA.
CIMA MT Fast track

MT Studio is currently focused on sessions teaching the CIMA Certificate Level and is targeting students who have just completed/ received results for their Advanced Level examinations. These classes are open for application and only shortlisted candidates, selected based on academic and extracurricular merit will be offered a place.

CIMA MT Fast Track will be conducted on a workshop style with 60 hours' worth of face-to-face workshops including Question Based Revision (QBR) and comes with a free set of Kaplan study packs for this stage. Workshops will be provided by some of the best in the field with more than 55 collective years of experience in teaching CIMA as well as relevant industry experience. The line-up includes Faris Ismail himself, whose passion for inspiring and educating drove him to start Sri Lanka's very first 100% employer oriented professional education institute. As students progress to higher levels MT Studio's Strategic Partner, VIVA Tuition provides additional teaching material and online support.

The program not only aims to produce excellent CIMA graduates but also well rounded individuals. In keeping with this goal, it has several student development events in the pipeline including a Boardroom Challenge with Commercial Leasing (a subsidiary of LOLC Group) CEO Krishan Thilakaratna.

From Entrepreneurship Hackathons and Corporate Challenges to sports events and talent shows, MT Studio aims to build not only technical skills, but also people, leadership, digital and business skills. All of these tie in with CIMA's syllabus and Competency Framework.

On completion of the program, selected candidates will be offered internship opportunities from MT Studio's corporate recruitment partners. One hundred talented students who have completed their A Levels this year will be selected to experience all of this and more within just a month of completing their secondary education. CIMA MT Fast Track aims to pave the way for enthusiastic, hardworking students to learn and grow into Sri Lanka's next generation of business leaders.

MT Studio will be conducting Open Days on 4 and 11 September at the CIMA Sri Lanka Division for anyone who would like to find out more about the program. Merit based scholarships will also be offered (only during the open days).