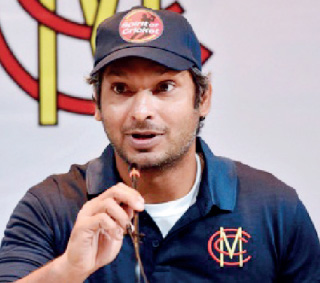 Kumar Sangakkara
---
With great pride, The Management Club conveys its heartiest congratulations to Kumar Sangakkara, who has once again brought Sri Lanka into the limelight by being inducted to the ICC Hall of Fame. He was very recently presented with the Hall of Fame Cap by none other than India's Former Captain and recipient of the same honour Sunil Gavaskar.

Kumar, a product of Trinity College Kandy has distinguished himself as an all-time great in cricket. He has been widely acknowledged as a skilled orator and indeed an administrator as well, when he became the first Non-British President of MCC in 2019. Among his many achievements have been: Sri Lanka, wicketkeeper-batsman 2000-2015. Sangakkara is Sri Lanka's leading run-getter, with 12,400 runs at 57.40 – the highest average among all batsmen to have scored more than 9,000 Test runs. A left-hander who batted with a methodical elegance, Sangakkara's numbers as a specialist batsman are even more astonishing: 9,283 runs at 66.78, with 31 hundreds in just 86 Tests. A prolific white-ball player too, Sangakkara was a leading light in the Sri Lanka teams that finished as losing finalists at the 2009 and 2012 World T20s as well as the 2007 and 2011 World Cups, and the Player of the Match when Sri Lanka beat India in the final of the 2014 World T20 in Dhaka.

As eloquent off the field as he was chirpy behind the stumps.