The groundbreaking ceremony for the $ 250 million Horton Square St Regis Hotels and Residences was held yesterday at the former Central Hospital premises in Colombo 7.

Horton Square will be one of the tallest twin towers in the country with a total of 75 floors in each tower being built simultaneously.

The construction of the project will start this year and the development project will be ready by 2020.
Megapolis and Urban Development Minister Patali Champika Ranawka (second from right) and other officials at the groundbreaking ceremony of Horton Square yesterday


The luxury St Regis Hotel - the esteemed brand of the Starwood Group - will be housed in this real estate development project.

World renowned partners including the Zhongtian Group as the key construction partner, leading architects Archedium and strategic partners from countries including Singapore, China, Japan, the US and the UK are contributing to the project, making it a benchmark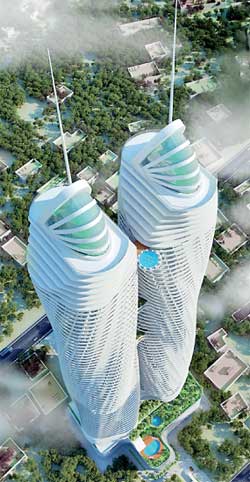 for future development projects with the majority of buyers of the residential units coming from overseas direct investment.

"The groundbreaking of Horton Square marks a milestone for Sri Lanka. This is not just another building but a symbol of renewed investor confidence both in the future of Sri Lanka, its growth potential as well as the aspirations of her people. Sri Lanka is emerging as a high value destination both for foreign investment boosting the economy, and for tourists," Horton Square Pte Ltd. Chief Executive Officer Paul Kelly said.

"Horton Square represents the full confidence that we and our partners have in the potential for Sri Lanka and I have no doubt that we will lead the way for international investors to follow suit," he added.

"In addition to the strength of our combined skill sets, the contribution and professionalism displayed by the ministry for Sri Lanka tourism for Horton Square has been highly commendable.

"The project itself represents a vote of confidence in Sri Lanka's construction industry, the development of a megalopolis and the growth of tourism. It represents a symbol of confidence in Sri Lanka and other international investors will surely follow," said Kelly.

The construction of the project is handled by Zhongtian Construction which is a subsidiary of Zhongtian Development Holding Group Ltd. The firm is an infrastructure development company which has undertaken projects in China and other Asian countries.

Megapolis and Urban Development Patali Champika Ranawka Minister was the Chief Guest at the groundbreaking ceremony.