Stakeholders call for liberalisation, new premium products to tap developed markets
Strategies needed to reach year-on-year growth of 25% to hit $ 5 b target by 2020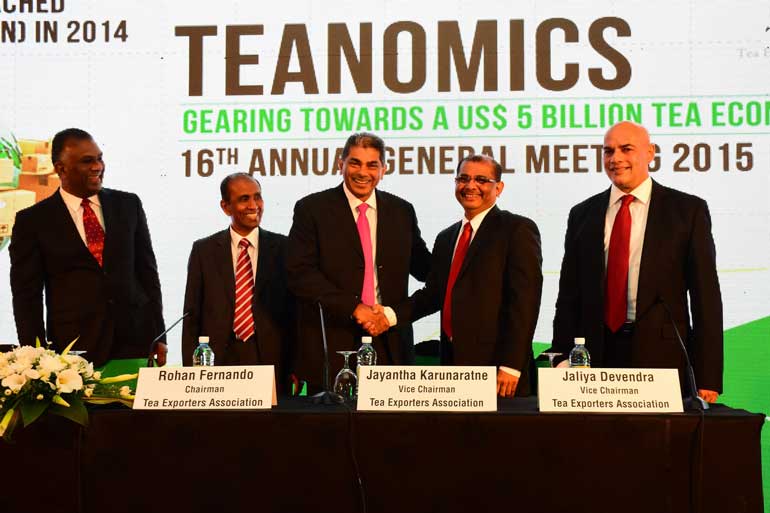 TEA Chairman Rohan Fernando being greeted by Vice Chairman Jayantha Karunaratne at the 16th TEA AGM held at the Cinnamon Grand on Friday. TEA Treasurer Sanjaya Herath, TEA Secretary General Ranjith Abeykoon and TEA Vice Chairman Jaliya Devendra were also present

– Pic by Indraratne Balasuriya
By Madushka Balasuriya

Less Government regulation and protectionism and an increased focus on research were some of the key changes proposed by tea industry stakeholders at the Annual General Meeting of the Tea Exporters Association (TEA) on Friday.

Having recognised the potential for the industry, the TEA has proposed a set of strategies aimed at increasing production and quality, while reducing cost. Market diversification of tea-based products such as tea-based cosmetics, antioxidants, iced tea segments; improving the quality of tea and complying with food safety standards along with research and development side by side with the government have been identified as crucial elements. TEA Chairman Rohan Fernando however believes that "a shift in paradigm" is required from the Government in order to make these goals a reality.

"These may seem simple, but will require a change of attitudes and a shift in paradigms in a 150-year-old industry bogged down in set ways bordering on a socialist model of protectionism.

Our exporters are capable of taking calculated risks and going for a bigger share of the pie. All we need from the government of the day is to create a level playing field without too many rules and restrictions."

At present, the industry has been able to achieve export revenue of $ 1.6 billion with an export volume of 320 million kilograms last year. TEA hopes its proposed strategies will help reach a year-on-year growth of 25% over the next five years to hit a $ 5 billion target by 2020.

Calamander Group Founder and Chairman Roman Scott, who was guest speaker at the AGM, believes this target is a "stretch" and a fundamental change in strategy is needed if Sri Lanka is to even come close to realising it.

"Becoming a global brand like the Dilmah model – running around to tea shows with all your 50 brands, trying to build another global or regional or in-country market brand – that is not the way to go. That was yesterday's model, it won't happen again, and it's a waste of time because that's not where the market is going," said Scott, in a hard-hitting speech aimed at an audience containing all the major players in the market.

"You're starting this very aggressive $ 5 billion plan, without starting by looking at the macro-economics of the markets that you're going after and the markets you're in at the moment. If you think this downdraft in the oil prices and the commodities super cycle is coming back anytime soon, think again," added Scott, formerly a Petroleum Economist for several major oil companies.

The international market value for tea currently stands at $90 billion ($40 billion – hot tea, $50 billion – iced tea). As much as 52% of Sri Lanka's tea is exported to the Middle East while 25% is exported to Russia and the Commonwealth of Independent states combined, but the depreciation of the Russian Ruble and the dip in oil prices have severely affected the market's buying power. Meanwhile the high demand for Ceylon Tea in markets such as Turkey and China is hindered by hefty taxes.

Compounding matters is the fact that Sri Lanka has the highest cost of tea production in the world, something Scott says makes their next move a no-brainer.

"You're the guys with the best tea, you're the guys with the premium stuff, and you're the guys with the lovely orthodox production. You need to be in Britain, the US and Europe. Brand disloyalty means that the new young people, the new millennials, the rich people in these wealthy markets, they want to experiment with new funky stuff. It's the rich Western markets who have the sophisticated consumers with the money – the euros and the dollars, not the rubles – to pay for a premium, ethically-positioned, artisanal, origins product, that Sri Lanka is in prime position to do and can't do anything else because you're so expensive. But even if you try to control your costs, you will always be more expensive. You need to be in the West."

Scott's advice however was not limited only to the tea industry, he also spoke on how the Government could help in make the necessary changes. Calling for a more liberalised economy, Scott rubbished the prevailing idea that allowing imports foreign teas and herbs for mixing purposes would lead to local consumers buying less locally-produced tea.

"Sri Lankans are far too well trained on drinking good Sri Lankan tea; they're not going to drink Kenyan tea dust."

Scott added that the Government should instead be focusing its time and investment on R&D to capture flavour profiles for ready-to-drink teas and new channels of distribution, as well as to reduce the current levels of red tape when bringing in technology for packaging and bottling.

Speaking earlier in the evening, Parliamentarian Harsha De Silva looked to have pre-emptively addressed some of Scott's concerns.

"Our new Government is not going to carry on our predecessor's policies in taking this country forward. We have a new plan, and that plan is based on competitiveness, efficiency, productivity, words that make sense to you. You know that you're working in the global market place and if you're not competitive or efficient, you will get nowhere. It has to be the same for the Government; a government has to make sure the country, not just an industry, is competitive. If we're not competitive, we're not going to go up, we're only going to go down. We understand that."

"We will prove that this Government is better for business than the previous one. This is because it is going to be an inclusive society, going to be on the identity of Sri Lanka, to bring everybody together and also make this country the most competitive economy in this part of the world," he said.