Association Chief says members to re-auction vehicles in Japan

VIAL claims new duty structure is highly unreasonable

Under the new regulations custom duty itself is over Rs.1 m

Vehicle imports to drop by 70% by year end

VIAL to meet Finance Minister on 19 October

Association urges Govt. to maintain stable policy for at least 2 years

Suggests a consumer protection plan to safeguard industry
By Charumini de Silva

Motor importers yesterday said that they were now planning to re-auction the vehicles from Japan rather than shipping them into Sri Lanka due to the unreasonable tax structure imposed by the Government.

"Despite the loss that we have to put up with, re-auctioning the vehicles on Japanese shores is a better option than bringing them here under absurd duty hikes," Vehicle Importers Association of Lanka (VIAL) President Indika Sampath Merenchige told the Daily FT.

He said that under the new gazette notification which was released on 22 September, vehicles that were being imported from Japan were inclusive of duties that were not even relevant to Sri Lankan consumers.

Noting that the regulations were made in a very unreasonable manner, he stressed that the authorities had included an 8% top range duty and a road tax which only applied to vehicles that were being used in Japan.

Merenchige clarifying his point further emphasised that under the new duty structure customers would have to pay over Rs.1 million just as Customs duty.

The price of a Toyota Prius has increased by Rs. 1.2 million, Hiace by Rs. 1.7 million, Aqua by Rs. 0.7 million, while Honda GP5 has increased by Rs. 1 million.

In this backdrop, VIAL anticipates a decline of 70% in imports by the end of this year.

"Generally, we import about 4,000 to 5,000 Japanese vehicles per month, but under the new duty structure the trend is such that it will come down to around 1,000 vehicles," he noted.

However, he pointed that during last month over 4,000 Marutishad been imported from India alone.

Noting that it was very difficult to continue the trade under this unreasonable duty structure Merenchige said that they hoped to meet the Finance Ministry officials next week.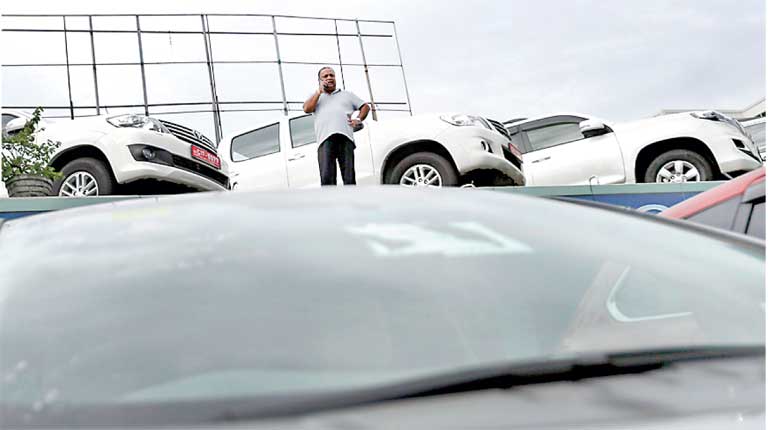 A customer uses his mobile phone at a car showroom in Colombo last week – Pic by Dinuka Liyanawatte/Reuters


"We will be having a meeting with the Finance Minister Ravi Karunanayake on 19 October. Being a former entrepreneur himself, we hope Minister Karunanayake would understand the difficulties the vehicle importers undergo at present," he said.

The association also urged the Government to maintain a stable tax policy for at least two years pointing that it was difficult to continue the trade given the highly-fluctuating duty structure.

The Government made changes in the vehicle import duty structure three times since October last year and it was very difficult to carry out the business in this scenario, he pointed.

"There are many individuals who take the advantage of the low import duty structure and import vehicles only during the profitable times, but we as vehicle importers have been in the industry during both thin and thick. Thereby, we suggest that the Government considers a customer protection plan in the upcoming Budget to safeguard the industry," Merenchige said.

Vehicle registrations hit an all time high of 63,687 units in September confirming the booming imports from early part of the year. The latter is one of the reasons why the Government has decided to apply brakes on motor industry. Vehicle imports in the first seven months have more than doubled to $ 744 million from $ 374 million a year earlier according to Finance Ministry.