Mangala briefs US delegation on domestic accountability mechanism
US proud of Sri Lanka's commitment to democracy: Biswal
Commends 'tremendous progress' towards good governance and reconciliation
US diplomat for democracy and human rights says Lankans voted for change, twice this year
Sri Lanka voted against impunity, against politics of division: Malinowski​
By Dharisha Bastians

A top US diplomat hailed Sri Lanka's "tremendous progress" towards good governance, reconciliation and democracy during a two-day visit to Colombo, weeks ahead of the release of a UN report on allegations of war crimes committed during the final stages of the war.

US Assistant Secretary of State for Central and South Asian Affairs, Nisha Biswal, told reporters, at the conclusion of discussions with Foreign Minister Mangala Samaraweera at his ministry yesterday, that her delegation was in Sri Lanka to reaffirm her Government's strong support for the Sri Lankan people for their commitment towards the institutions of good governance, peace and prosperity.

"We are incredibly proud of the journey that is being undertaken here. The story that is unfolding in this great country is one that stands as a testament to the rest of the world," Biswal emphasised during her remarks to the media at the Foreign Ministry.

Samaraweera told reporters that he had briefed the US delegation on measures taken to address concerns about alleged human rights violations, including independent domestic mechanisms to probe allegations about the final stage of the war.

The US has led moves at the UN Human Rights Council in Geneva to push Sri Lanka to probe allegations of extrajudicial killings and civilian casualties during the final battle against the LTTE and reconciliation, including a political solution to the ethnic question.

Biswal said that since her last visit to Colombo in May with US Secretary of State John Kerry, the US Government had seen not only commitment towards democracy but also "just a tremendous momentum of progress towards institutions of good governance, combating corruption and promoting reconciliation."

The US Assistant Secretary of State also said they had informed President Maithripala Sirisena about US plans to support resettlement and education in Sampur, with a commitment of $ 1 million in resources. "We look forward to working with President Sirisena, the Prime Minister and with the new Government to ensure that the country is able to realise its enormous potential," she said.

Assistant Secretary of State for Democracy, Human Rights and Labor, Tom Malinowski, who is also part of Assistant Secretary Biswal's delegation, hailed Sri Lankan voters in all parts of the country for voting for change twice this year.

"What was most important to us was the message that the people of Sri Lanka have sent, twice now this year. The people in the north, south, east and west have told us they support change. Twice now they have voted north south east and west, for the rule of law, against impunity, for reconciliation, for building this country, development of this country and against the politics of ethnic and religious division, against extremism on both sides," Malinowski said in his remarks to the media following discussions with Minister Samaraweera.

Malinowski said the US recognised that some of the decisions the Government would have to make to fulfill its promises would be difficult ones. "We know that this process is going to be slow and difficult. Nobody expects miracles," the US diplomat said.

"But the US will stand by its side, so long as the Government of Sri Lanka continues to make courageous decisions," he added.

The new US Ambassador to Sri Lanka and the Maldives, Atul Keshap, was also present during the discussions with Minister Samaraweera yesterday.
---
---
Biswal

calls on President, PM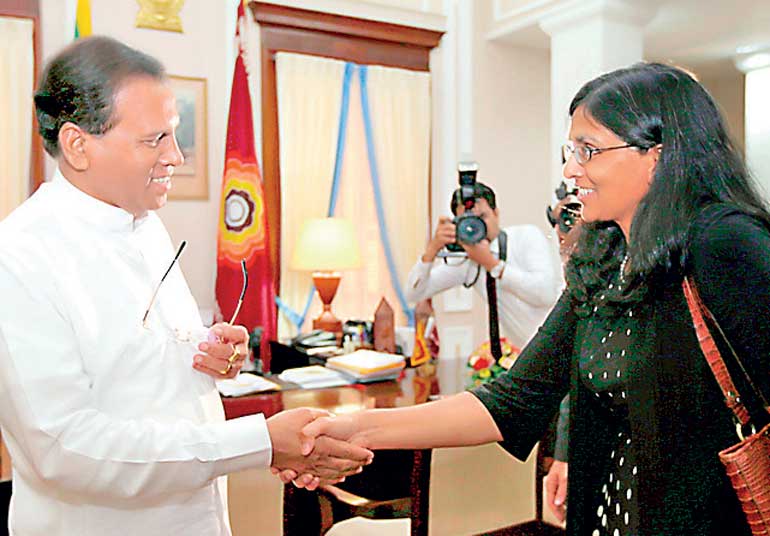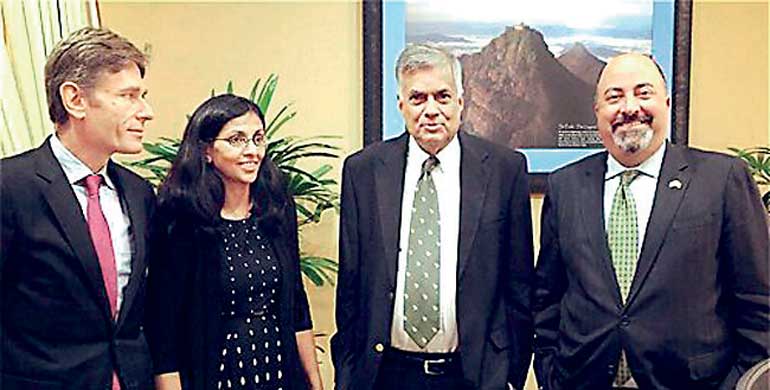 Assistant Secretary of State for South and Central Asian Affairs Nisha Biswal, accompanied by the Assistant Secretary of State for Democracy, Human Rights and Labor Tom Malinowski met with President Maithripala Sirisena at the Presidential Secretariat on Tuesday.

Earlier in the day the two high ranking US officials met with Prime Minister Ranil Wickremesinghe and Foreign Affairs Minister Mangala Samaraweera to discuss issues relating to the national reconciliation, combating corruption and good governance.

During her meeting with the President, Biswal appreciated his initiatives towards democracy, peace and reconciliation in Sri Lanka.

"The Government's initiatives towards democracy, peace and reconciliation are highly satisfactory to the international community," she said. President Sirisena has stated to the Assistant Secretary that his Government desired to maintain a cordial and fruitful relationship with the US, while strengthening the longstanding friendship between the two countries. Biswal extended best wishes on behalf of the US Government and the Secretary of State, John Kerry, to President Sirisena for conducting the recently concluded Parliamentary Elections in a free and fair manner.