Joint venture owned by companies of Sanjiv Gardiner, Ajit Devasurendra and Hirdaramani Group triggers
takeovers code with purchase of 31% stake in diversified holding TAP
Second acquisition by CHC after Rs. 700 m investment for 9.8% stake in PABC in January
Ishara Nanayakkara sells out 22.5% stake; Browns Investment which holds 20% in TAP to exit via mandatory offer
Deal adds excitement to an otherwise depressed and declining Colombo Bourse
Adding excitement to an otherwise bearish Bourse, a joint venture firm powered by three big names yesterday bought a 31% stake in diversified entity Taprobane Holdings Plc for Rs. 1.7 billion, triggering the takeovers code.

CHC Investments Ltd., which is a joint venture equally owned by Galle Face Hotel Group fame Sanjiv Gardiner, bond market specialist and investor Ajit Devasurendra and diversified family business Hirdarmani, yesterday bought 310.828 million Taprobane Holdings Plc (TAP) shares for Rs. 1.7 billion.

The deal was done at Rs. 5.50 per share via two crossings. In total 315.6 million TAP shares changed hands for Rs. 1.734 billion via 228 trades.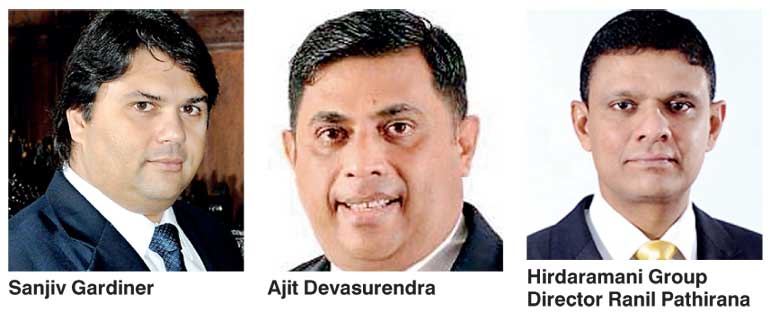 Ishara Nanayakkara sold 226 million shares or a 22.53% stake and P.S.W. Rupasinghe sold 85 million shares. The deal was done 40 cents above market. Net asset per share at Company level was Rs. 2.33 as at 30 June 2015 and Rs. 4.88 at Group level. Highest price in the June quarter was Rs. 4.80 and the closing was Rs. 4.20 and the lowest was Rs. 3.80.

Ishara had exited given the attractive price fetched for the stake and to focus on his Browns-LOLC Group business. Browns Investments Plc owns a 20% stake in TAP and will exit via the mandatory offer as well.

For the new owners, TAP is the second major acquisition after CHC bought a near 10% stake in Pan Asia Bank for Rs. 700 million in January.

The two acquisitions suggest CHC is intent on building a certain class of valuable assets to add greater value. The move also implies it may be looking for further attractive opportunities.

CHC has been floated by Ceylon Hotel Holdings of Gardiner, Navithas Capital of Devasurendra and Rosewood Ltd., the investment arm of Hirdaramani Group.

Via Arc Capital, Devasurendra also controls a 40.57% stake in TAP but it is learnt that CHC, Chairman of which is Sanjiv Gardiner, will look for controlling stake via the mandatory offer. TAP has 525 shareholders of whom 271 hold only 60,699 shares and a further 135 hold 486,887 shares and combined own 0.06%. Public holdings is 12.7%.

According to company analysts, due to ownership issues, TAP hadn't really blossomed as a diversified entity though it made several strategic investments few years ago.

TAP is directly engaged in money brokering, stock brokering, margin trading, fund management and corporate finance activities. Apart from this through its subsidiaries the company has presence in manufacturing and exports, agriculture and real estate.

TAP holds 46% in Lanka Century Investments Plc (formerly ERI) and through it owns stakes in Ceylon Leather Products PLC, Dankotuwa Porcelain PLC, Colombo City Holdings PLC, South Asia Textile Industries Lanka Ltd., Royal Fernwood Porcelain Ltd., and Browns Investment Plc (20%).

TAP in the first quarter reported a post-tax consolidated loss of Rs. 155.3 million as against a profit of Rs. 110.6 million a year earlier. Bottom line for equity holders was a loss of Rs. 116 million, as against a profit of Rs. 51.7 million. Group revenue was down by 7% to Rs. 2.2 billion.

Total Group assets as at 30 June 2015 were Rs. 14.5 billion, as against Rs. 15.1 billion at the end of FY15. Retained earnings were Rs. 3.6 billion and total equity attributable to equity holders was Rs. 4.9 billion whilst the overall figure was Rs. 6.7 billion. Long-term Group liabilities were Rs. 1 billion and current portion was Rs. 6.8 billion.