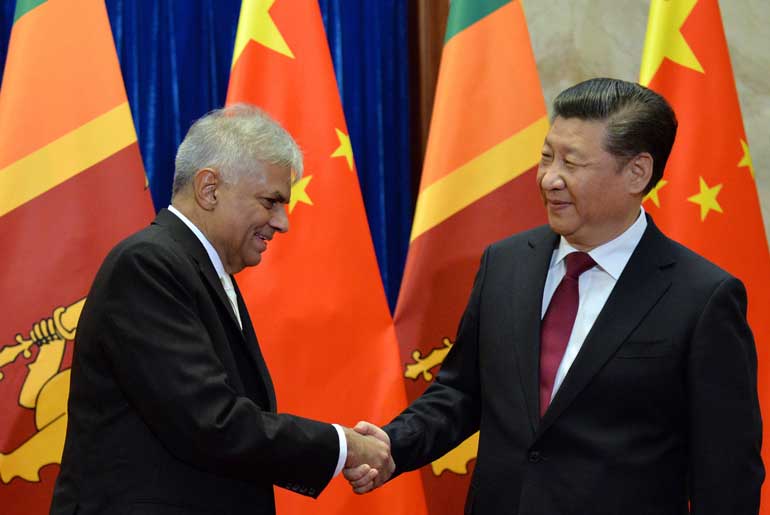 Sri Lankan Prime Minister Ranil Wickremesinghe (L) shakes hands with Chinese President Xi Jinping before a meeting at the Great Hall of the People in Beijing, China, 8 April. REUTERS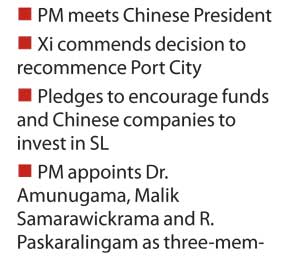 Chinese President Xi Jingping yesterday commended the decision by the Sri Lankan Government to restart the port city project and pledged to encourage financing and investment of future projects as well as appointing a three member committee to oversee future ventures.

Prime Minister Ranil Wickremesinghe met with Xi during a State ceremony presided over by the Chinese President on Friday where the two had discussions on future engagement between the two countries. Xi also commended efforts by the Sri Lankan Government to convert the $1.4 billion port city project into a larger financial hub as outlined by the Budget last year, a statement from the Prime Minister's Office said.

"The Chinese president also praised Sri Lankan efforts to establish a free trade zone for Chinese companies in Hambantota and agreed to encourage Chinese companies to start projects in Sri Lanka. President Xi also predicted that such a move would result in significant technology transfer and economic development for Sri Lanka," the statement said.

President Xi Jinping also said China only considers policies and people of Sri Lanka when supporting and not the individuals or political parties.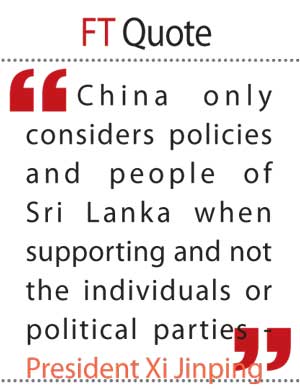 China also expects to fund a kidney hospital in Sri Lanka. President Xi also agreed to motivate China's banks and other lending organisations to provide funding for projects between the two countries. A three member committee will be appointed to oversee the fresh investments under an agreement signed during the tour. They are Special Projects Minister Dr. Sarath Amunugama, Development Strategies and International Trade Minister Malik Samarawickrama and Advisor to the Ministry R. Paskaralingam

The landmark agreement was titled the Comprehensive Implementation of Investment, Economic and Technological Agreement (CIIETA). Under CIIETA Chinese companies can submit proposals including feasibility studies and commercial documents to the Sri Lankan government. Projects to be implemented will be picked on priority and will depend on feasibility studies carried out by both sides, the agreement seen by the Daily FT said.

The priority projects listed under the agreement include 'Hambantota integrated development projects,' including the second phase of the Hambantota project, an industry park for Chinese companies, a dockyard, Mattala airport integrated development, an LNG plant (also in Hambantota) and completion of the Matara- Hambantota stretch of the Southern Expressway.

Prime Minister Ranil Wickremesinghe speaking at the event commented on trade and financial liberalisation as an essential step in reinvigorating Sri Lanka as a commercial and economic hub in the Indian Ocean.

He further added that Sri Lanka – China relations should shift in to a more public-private partnerships and private sector oriented engagement than mere inter-governmental relations as was in the past.

Special Projects Minister Dr. Sarath Amunugama emphasised Sri Lanka's potential to be an 'investment paradise due to its geographical positioning, natural and human capital and the existing commercial friendly environment.