Suffers from highest ever overall cost Urges higher
authority to support exports and win back Iranian market
Highlights importance of moving to electronic era, linking productivity to labour wages in plantations
Says tea hub concept remains without any resolution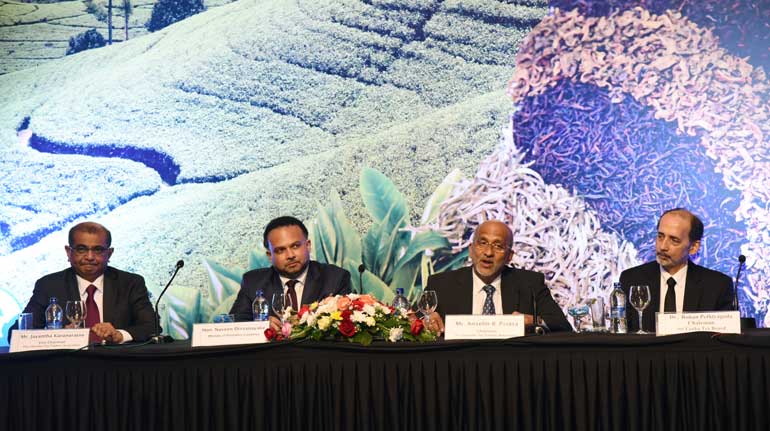 CTTA Chairman Anselm Perera (third from right) speaks at the Annual General Meeting. Others from left are CTTA Vice Chairman Jayantha Karunaratne, Plantation Industries Minister Naveen Dissanayake and Sri Lanka Tea Board Chairman Dr. Rohan Pethiyagoda - Pic by Samantha Perera
By Charumini de Silva

Despite the tea industry being a major contributor to the national economy, a key stakeholder on Friday charged that the focus of relevant authorities and decision makers on outstanding issues has not been very positive.

"Our compelling pleas for vital decisions have not been considered with sufficient importance hence are neglected," Colombo Tea Traders Association (CTTA) Chairman, Anselm Perera said. Speaking at the 122nd CTTA Annual General Meeting (AGM) he said overall cost for the entire tea trade in all three sectors was at the highest ever during the past two and half years adding that 'profit' consequently, has become an unfamiliar word in their vocabulary.

"Since I assumed office at the 120thAGM, throughout my sojourn of two years we have faced numerous odds, with the market declining progressively and continuing uncertainty as to when this ill-fated spell would end," he added.

Perera said since achieving the highest crop of 240 million kilograms recorded in 2013, the industry have recorded successive declines in crop of two million and nine million kilograms in 2014 and 2015 respectively. "With auction prices declining sharply since mid of 2014, throughout 2015 and still continuing, our annual income from tea exports has recorded a declining trend. Our volumes have dropped and prices have been significantly depressed that our contribution to the national economy has regrettably been lower than the previous, more favourable years," he noted.

He asserted that internal conflicts, geo-political issues, armed confrontations and trade sanctions, currency depreciations and the crash in the oil market are all issues that have impelled the global decline in commodity prices, which continue to-date to affect tea prices more than most other commodities.

"This situation has very negatively impacted our exports to the entire Middle Eastern and Eastern European regions and most importantly, to our single largest market, Russia," he stressed.

Further he expressed that the very disappointing auction prices have adversely affected the income of the entire producer community and thereby it has created a domino effect on the income of the broker community as well as a twofold negative impact to the exporters.

"Exporter incomes dropped sharply with lower selling prices for both bulk and branded value added products while the very slow settlement of credit by our overseas customers, who had currency issues, affected exporters' liquidity positions," he explained.

In addition, withdrawal of the fertiliser subsidy and the inability to afford procurement of fertilizers at the effective time of application, contributed partly to the production of a fair weight of inferior quality teas, which depress auction prices even further.

However he said, notwithstanding these crisis situations, the accounts in respect of auction purchases were settled in strict accord with the by-laws, with prompt payments, as stipulated being made 'unfailingly'' on the sixth day.

"Despite all these negatives being brought to bear on us, we still continued to meet our obligations up front to the State with regards to duty, cesses and promotional levy, a total of Rs.13.50 for bulk teas and Rs.7.50 for value added teas, on every kilogram we exported, thereby burdening our cash flows further," Perera pointed out.

The new promotional levy of Rs.3.50 which was gazetted in November 2015 collected a total sum of over Rs.6 billion up to May 2016 from which around Rs.2 billion has already been utilised for trade fair subsidy schemes, advertising schemes, public relations with regards to Japan, German, Italy, Russia, Iraq and Iran.

However he said that Iran is no longer supporting Sri Lanka as much as they did and they are supporting India better because we have a financial issue with Iran, which is disturbing the Iran Government as well as the tea trade.

"It is time that higher authorities look into this problem and resolve it, for the tea could go back to the old size of the Iranian market," Perera asserted.

Noting that producers also suffered multiple negatives he added that agitation for wage increases by workers, followed by Trade Union action has adversely affected production.

Thereby the Chairman said linking productivity to labour wages in plantations was a critical aspect that has to be addressed without delay.

"The failure to address the sensitive issue of granting the plantation workers greater dignity in social recognition through more respectable designations is causing serious migration of labour from plantations to other occupations. This should be given high priority. Changing the mind-set of the workers via interactive methods, thereby creating a greater sense of security and belonging, is equally important," he stated.

Highlighting on the computerisation of the auction system, which has been under discussion for quite a while he said that lack of funding and commitment by some the sectors of the trade has resulted in its perpetual postponement.

"This very important development is essential to reduce selling times and to move forward in the electronic era. The lack of will to move in this direction reflects badly on the entire trade," he emphasised.

Perera also pointed that although the 'tea hub' concept has been discussed many times ended up without any resolution for many reasons adding that a positive agreement eluded us, as many looked at it through a pin-hole. "Some have personal agendas, others failed to consider the hub concept from a wider perspective. The small holder sector and some of our RPCs fear that auction prices would be adversely affected by it."

Stating that tea imports for blending are allowed within restricted parameters at present he suggested that they could continue to permit this on a broader based, less restrictive system and make it a testing ground to move to a higher level of flexibility before implementing the hub concept, which would certainly be strictly regulated, in a confined location, with the Tea Board overlooking the project with a high level of discipline. Thereby, success of the project once proven, will improve exports of value added products in a more flexible environment.