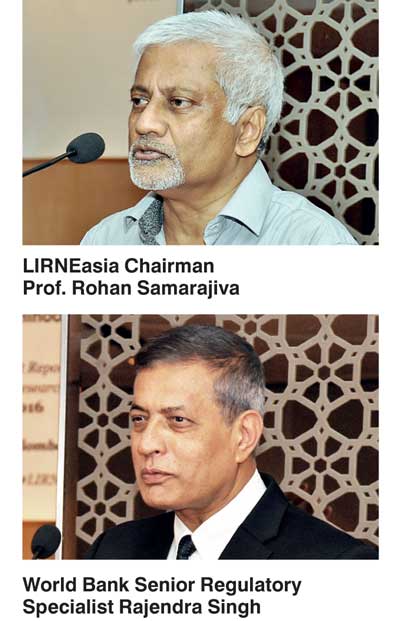 By Charumini de Silva

Slapping higher taxes on data is a regressive move that could discourage ecommerce development in Sri Lanka, an expert said yesterday, expressing scepticism of Government plans to establish a separate platform for web-based businesses, as it could discourage tech giants and was an untested frontier.

Despite the Government pledging higher allocations for the Telecommunications and Digital Infrastructure Ministry, LIRNEasia Chairman Prof. Rohan Samarajiva pointed out that no evidence existed globally to prove taxes imposed on mobile services and data would improve local cyber literacy and organic web entrepreneurship.

"The Government is taxing everyday usage by the citizens, which will discourage everyday usage. At the same time they also promise starting more and more new projects. But the Government is not providing additional information services. They are going to put up projects from tax revenue," said Prof. Samarajiva.

"I am not saying they won't do any good, but I am saying the evidence is not clear," Prof. Samarajiva stressed.

He added that by providing affordable network connectivity to people the country is likely to see faster economic growth, stronger e-literacy and contribution to people's livelihoods.

Commenting on taxing the online hotel and taxi operators, he said that although the Government could have great intentions, results would depend on how they translated it into a working model that could be adapted easily and cheaply by companies.

"Airbnb has been in Sri Lanka and they have been in discussion with the Government about collecting taxes and giving it to the Government. Now that is a model that can work, but the centralised platform where everybody will have to go to some kind of .lk platform versus Amazon — I am personally sceptical," he added. Prof. Samarajiva opined that stakeholders could have issues with the language the Finance Minister used to lay out the policy in Budget 2017, which might have been influenced by parties in the hotel and taxi industries pointing out that these online platforms owe taxes to the Government.

Prof. Samarajiva emphasised that Paypal refused to enter Sri Lanka not because of the Government but because they do not consider the country a sizable market.

"The Government has been pleading and begging Paypal to link Sri Lanka. Paypal is not giving that facility to Sri Lanka. That is nothing to do with security. For Paypal, Sri Lanka doesn't matter. India matters because it is a big market. So if we try to pay all kinds of rules they don't want to deal with us anyway," he said.

World Bank Senior Regulatory Specialist Rajendra Singh said in many countries finance ministers found the mobile sector a very easy target to increase taxes in different forms.

"They have their own reasons. Sometimes they also say that this is something required and imposed by the World Bank and International Monetary Fund (IMF). Although in the short term they will meet their fiscal requirements and satisfy their budget deficits, in the longer run it may be very counterproductive," he said.

Looking at the reforms implemented in Sri Lanka's telecom sector, Rajendra noted that increased taxation on mobile and data services had caused challenges to mobile operators who entered the market recently as the bulk of their customers had low income levels making their products very price sensitive. This has led to the companies also having low profit margins and limited ability to absorb fresh taxes.

"In the mid '90s when the sector was opening for competition, mobile operators captured some large consumers with a market share above 50%. Hence the second set of operators could penetrate only the lower customers. Thereby the second set of operators are now under threat because of this increased taxation on mobile services and data services as their income levels are very low and their consumers are very price sensitive. It is a new worrying trend in the mobile industry. For these operators consolidation takes place in the market, competition is reduced and might have some adverse impacts," he noted.