ADB President Takehiko Nakao (centre) gestures at the media briefing yesterday flanked by South Asia Department Director General Hun Kim (right) and Sri Lanka Resident Mission Country Director Sri Widowati - Pic by Daminda Harsha Perera
ADB President says Sri Lanka has great potential to become upper middle income country
Meets President, Prime Minister and Finance Minister
Hails new Government's commitment on good governance, democracy and reconciliation
Commits 30% increase in funding to $ 2 billion between 2016 and 2018; expresses willingness to lend more including budgetary support if the need arises
Flags high budget deficit and low government revenue as key concerns
Calls for more reforms, private sector participation, investments in infrastructure, education and skills development
By Nisthar Cassim

The visiting Asian Development Bank President Takehiko Nakao yesterday expressed optimism over Sri Lanka's future prospects on the strength of good governance, strategic geographic location and progressive policies but cautioned the country needs to tackle the high Budget deficit and reforms to bolster rapid socio-economic development.

"Sri Lanka has great potential to become an upper middle income country soon," Nakao told journalists yesterday after one on one meetings with President Maithripala Sirisena, Prime Minister Ranil Wickremesinghe and Finance Minister Ravi Karunanayake.

In all those meetings as well as at the media briefing, the ADB Chief on a two-day tour, expressed the multilateral donor agency's strong commitment to support Sri Lanka's continued development both financial and technical, given the improved country profile and prospect especially since the election of new Government in January last year. Nakao praised the new government's emphasis on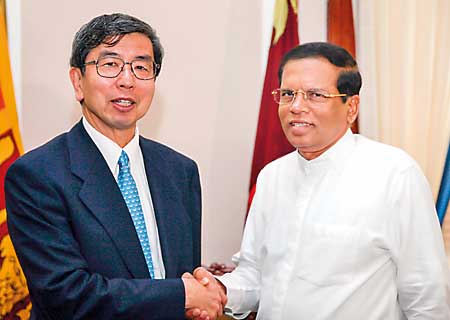 good governance, inclusive growth, and private sector development, all of which mirror's ADB's own principles championed among 67 members, 48 from the Asian region and also key to generate more economic growth and attract higher foreign direct investments.

"We are prepared to lend more and upgrade our support to meet the evolving needs of Sri Lanka," said the ADB Chief adding that the strong financing pipeline for 2016-2018 will be increased by 33% to $ 2 billion or on average around $ 700 million per annum from $ 500 million previously or $ 1.5 billion in the past three years.

Until recently, ADB has focused on improving basic infrastructure, such as national and provincial roads, electricity transmission lines, and urban and rural water supplies. In the coming 3 years, ADB assistance will be further expanded to support higher-quality transformative infrastructure, including expressways, railway upgrades, wind power generation and building economic corridors to accelerate industrialisation as well as capital market development.

Yesterday ADB signed an agreement for an innovative auction to channel $ 100 million funds to boost Lankan SMEs as well as a transaction advisory services deal to develop the East Container Terminal (ECT) of Colombo Port through Public-Private Partnership (PPP).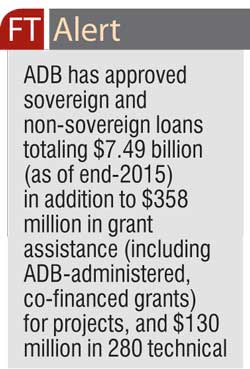 Nakao said more assistance can be offered including budgetary support/program loan via capital market development if the need arises. He estimated a potential $ 200 million support in terms of policy-based lending but said more discussions were required.

ADB has forecast Asia as a whole to grow at 6% this year up from 5.8% in 2015. It expects Sri Lanka to achieve an economic growth of around 5.5% or more in 2016 but urged the Government needs to address the high fiscal deficit and poor revenue to GDP ratio. "Sri Lanka needs better fiscal, public expenditure and debt management along with reforms," the ADB Chief emphasised. He welcomed talks between the Government and the IMF for a new program which the ADB expects to address some of these pressing issues and bring about greater economic stability.

Nakao expressed his support for the government's public finance management reform initiative, which will boost the credibility of the budget framework and improve controls and transparency in budget execution.

Prudent macroeconomic management should go hand in hand with structural reforms, Nakao stressed. Structural reforms are critical to ensure steady employment creation and the country's entry into the global value chain. He also underlined the importance of attracting greater foreign direct investment to support robust economic growth.

He acknowledged that Sri Lanka's high social indicators in comparison to its per capita income were commendable and was on par with some of the developed nations or above developing countries. An additional advantage is the strategic geographic location serving as a key point between Asia and Europe.

"If the Government pursues reforms, market oriented policies, addresses macroeconomic issues, invests in infrastructure, education and skills development as well as support private sector growth then Sri Lanka can become an upper middle income country soon," said Nakao who is on his second visit to Sri Lanka as ADB Chief. "The election of the new Government heralds a great opportunity after the end of the war to enhance economic growth with good governance," he added.

With regard to support to the education sector, he said it will expand with the growth of ADB operations and cover new areas to help Sri Lanka build a knowledge economy. In this regard, ADB assistance will include support for college level education as well as science and engineering skills development.

Nakao will visit Southern Province today and inspect the ADB funded Galle Grid Substation, under the Sustainable Power Sector Support Project, aimed at improving electricity services. He will also travel along the ADB supported Southern Expressway, which has cut the travel time from Colombo to Matara from 4-5 hours to 1.5 hours.

Sri Lanka was a founding member country of ADB. Since 1968, when its lending operations started in Sri Lanka, ADB has approved sovereign and non-sovereign loans totaling $7.49 billion (as of end-2015). ADB has also provided $358 million in grant assistance (including ADB-administered, co-financed grants) for projects, and $130 million in 280 technical assistance grants.

ADB, based in Manila, is dedicated to reducing poverty in Asia and the Pacific through inclusive economic growth, environmentally sustainable growth, and regional integration.
---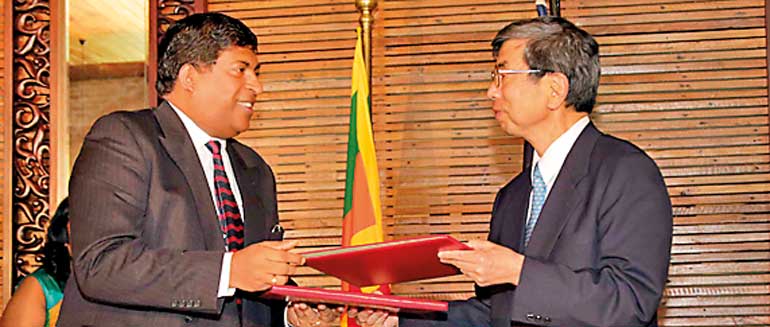 ADB President Takehiko Nakao exchanges the agreement signed with Finance Minister Ravi Karunanayake yesterday
$ 100 m ADB boost for

lankan

SMEs

via innovative auctions
The Asian Development Bank (ADB) will provide $100 million through innovative bank auctions to help channel more funds to smaller Sri Lankan firms that struggle to access the finance they need to grow.

The ADB funds will be lent to banks who will then lend the funds to Small- and Medium-sized Enterprises (SMEs).

To access the funds, however, banks will need to bid for a specific amount of the finance at a specific interest rate at each $12.5 million auction to be held eight times over the coming four years.

"There is no market price for lending to banks if the banks are required to lend the funds to the least-well served SMEs, like new or rural borrowers or those led by women. Auctioning—rather than allocating—the funds will establish a market price for bank borrowing," said Don Lambert, Senior Finance Specialist with ADB's South Asia Department.

"As this should be below normal borrowing costs, it should encourage banks to work more energetically to disburse the funds that Sri Lanka's SMEs so urgently need."

SMEs are responsible for 30% of Sri Lanka's gross domestic product, and provide 35% of the country's jobs. However, many fail to grow because their lack of credit history or collateral means they are unable to borrow from banks. Banks, meanwhile, must deal with higher operating and credit expenses and often cannot recover these costs through higher loan pricing.

A typical solution in the past has been to provide subsidized loans, but these ultimately distort the market in a way that undermines financial stability.

Both public and private domestic banks of good standing are eligible to participate in the auction, with the first expected to take place by 31 March. Banks will be required to reach targets on lending to female-led companies, firms outside the capital city, and first-time borrowers.

The Japan Fund for Poverty Reduction will provide a complementary $2 million technical assistance grant for business development and financial literacy training for women entrepreneurs in promising export-generating sectors to promote SME demand for the funding, independent administration of the auction, and developing the business plan for a national credit guarantee scheme for SMEs.

ADB, based in Manila, is dedicated to reducing poverty in Asia and the Pacific through inclusive economic growth, environmentally sustainable growth, and regional integration. Established in 1966, it is owned by 67 members—48 from the region.