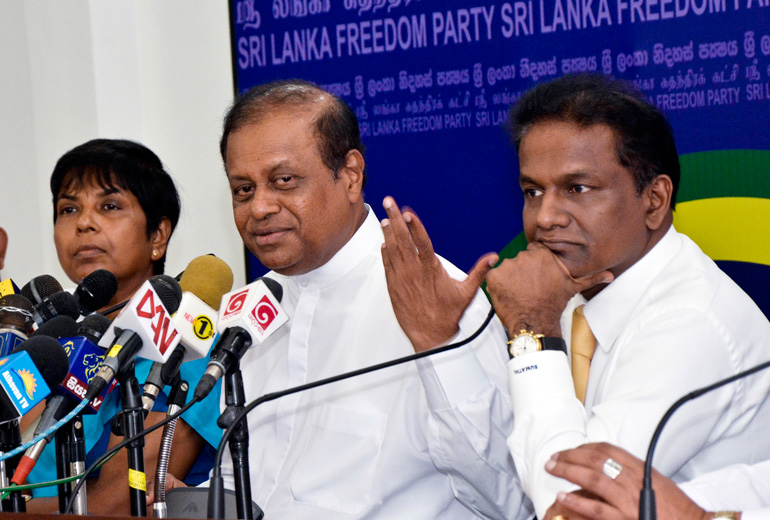 UPFA General Secretary and SLFP National Organiser MP Susil Premajayantha addressing the media yesterday. Also present are Deputy Minister Sudarshani Fernandopulle and MP Thilanga Sumathipala – Pic by Upul Abayasekara
By Malik Gunatilleke

UPFA General Secretary MP Susil Premajayantha yesterday insisted no divisions or disagreements existed within the SLFP or UPFA on the 20th Amendment, but accused the UNP and others of delaying the process to delay elections.

Conducting the SLFP's weekly media briefing, Premajayantha stated that the UNP had voiced its intention of opposing the 20th Amendment if it was brought forward by the faction loyal to Mahinda Rajapaksa. However, responding to these comments attributed to UNP General Secretary Minister Kabir Hashim, he stated that there was no such division within the SLFP on 20A.


"We came to the decision to approve the 19A as a united party. At the time, our stance on approving 20A was also very clear as a party. Let me categorically state that all the members of the SLFP and the UPFA are on the same page regarding the 20th Amendment," he said.


Meanwhile, Parliament Speaker Chamal Rajapaksa adjourned yesterday's special Parliamentary session despite its failure to reach a decision on appointing three civil society representatives to the Constitutional Council.

Premajayantha claimed that the dispute arose when all the parties were not consulted before the appointments were made. Furthermore, concerns were also raised regarding the two Parliamentary representatives in the Council who currently hold ministerial portfolios in the Government, which may serve as a conflict of interest.


"A question was raised at the party leaders meeting if the Prime Minister and the Opposition Leader had consulted all the parties before making the appointments. According to the legal requirements of the 19th Amendment, the three civil society representatives must be approved by Parliament before being appointed," he said.


MP Premajayantha stated that questions over the two Parliamentary appointments to the council were also raised at the meeting. He claimed that even though there were no legal barriers in place prohibiting such appointments, certain ethical questions had been raised over the appointment of Government Ministers to independent commissions.


The MP also accused the Government of lying to the people regarding the fulfilment of several budgetary promises and claimed that the UNP Government was turning the 100-day plan into a farce despite President Maithripala Sirisena's genuine efforts.

Confirming earlier remarks made by MP Mahinda Aluthgamage regarding the no confidence motion against the Prime Minister, he added that the Opposition was still in the process of securing enough signatures before handing it over to Parliament.