Caretaker Govt. rebases GDP growth
Under new calculations approved by Cabinet, 2014 growth of 7.4% reduced to 4.5%
Base year changed from 2002 to 2010, says not political decision
Attempt to show "real situation," 2015 projections likely to be reviewed
Rebasing comes ahead of crucial poll but Harsha says change necessary to fall in line with international standards; process started by Rajapaksa regime but not completed
Claims new calculation finally answers quandary of 0.5% growth in household economies that had baffled economists during the past few years
Positives out of rebasing: Budget deficit for 2014 reduced from 6% to 5.5% and debt as a percentage of GDP also narrowed marginally from 80.7% to 76.7%

---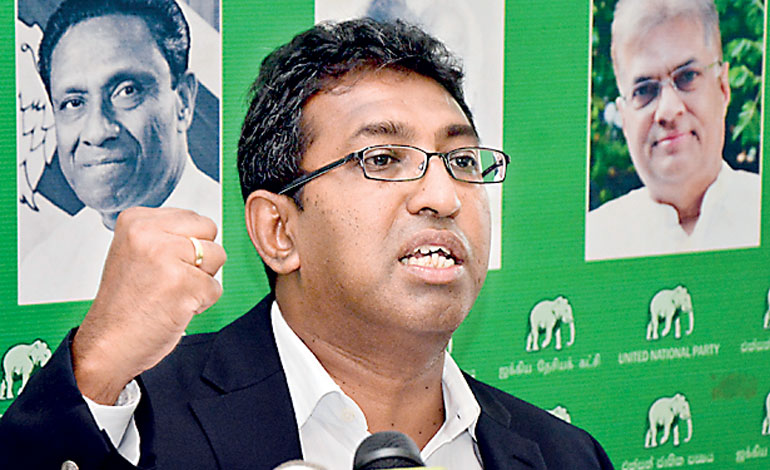 Fomer Deputy Minister Dr. Harsha de Silva addressing the media Pic by Upul Abayasekara
By Uditha Jayasinghe

Opening a potential can of statistical worms yesterday, former Policy Planning and Economic Affairs Deputy Minister Dr. Harsha de Silva said the growth numbers for the past four years have been revised after the base year was changed with Cabinet approval from 2002 to 2010,thereby reducing 2014 growth from 7.4% to just 4.5%. Accordingly, 2013 growth was rebased to 3.4% from 7.2%.

The popular economist insisted the change in the base year was not done for political reasons and appealed to the public not to politicise the matter. He insisted the change had to be made so Sri Lanka would fall in line with international standards followed by many other countries including neighbour India. He also pointed out the rebasing began under former President Mahinda Rajapaksa's Government in 2011 but had not been completed.

"We now see the real situation on the ground. Under this new calculation, we have included much of the informal economy as well, which does not grow as fast as its formal counterpart. Therefore, when the economy is viewed in its entirety the result is a drop in growth figures," he said.

Dr. de Silva insisted that the new calculation finally answered the quandary of 0.5% growth in household economies that had baffled economists during the past few years.

"If an economy is growing at an average of 7% then why is household income expanding at a mere 0.5%? This is what we could not answer previously but by rebasing Sri Lanka's growth statistics we finally have a clear picture of the real economy," he noted.

Under the new regulations, growth will be calculated by the Census and Statistics Department under both 2002 and 2010 from the second quarter of 2015 but only data under the latter system will be recognised as official, he added.

Dr. de Silva acknowledged the projected growth rates publicised by the Central Bank and Finance Ministry, which have been tagged at 7% for this year, may also have to be "reviewed" along with other statistics.

However, he defended the revamping of data and pointed out that it brought positives as well. Under the new system, Sri Lanka's budget deficit for 2014 reduced from 6% to 5.5% and debt as a percentage of GDP also narrowed marginally from 80.7% to 76.7%.

"No one has told us lies. Please do not think that. But the bitter truth has to be swallowed."

He went on to say the latest data confirmed the stance of the United National Party (UNP), which has already drawn out a five-year plan to push forward with Sri Lanka's knowledge economy.

"It is clear we need reforms, we need to focus on productivity, we need more technical training and we need to at least double the investment in education. Revamped data just shows us that this needs to be done as soon as possible."

Dr. de Silva also ruled out any change in Sri Lanka's ratings and risk assessment calculations, stressing investors would welcome a clearer picture of the country's growth. He also emphasised the changed growth numbers would not be used to lobby for concessional loans.

"Rebasing exercise is only to present actual situation of Sri Lanka," he said.