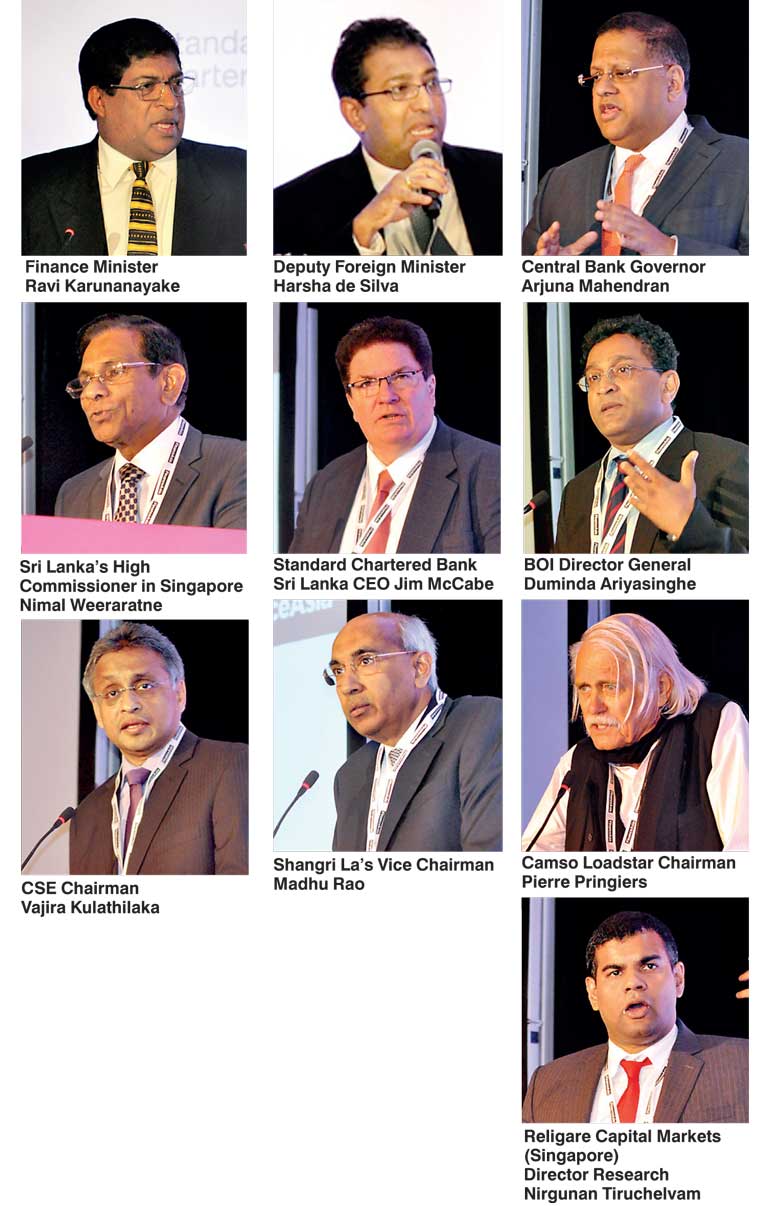 By Nisthar Cassim in Singapore

The emphatic message that Sri Lanka is open for business reverberated during the well-attended full-day Investor Summit in Singapore yesterday as a host of Government, public and private sector leaders in sync showcased emerging opportunities in the country.

The FinanceAsia-organised Sri Lanka Investment Summit yesterday at the Four Seasons in Singapore drew over 350 participants and the full house was considered as a "significant interest" in the country.

Through a slew of keynotes and panel discussions, Sri Lanka Inc yesterday highlighted the positive political and socioeconomic developments of the recent past and the growing optimism for the future at the Summit. It also effectively conveyed the country's efforts to plug in to the global value chain via a host of progressive strategies.

Chief Guest Finance Minister Ravi Karunanayake repeated "Sri Lanka is open for business" at the Summit as he outlined the new vision, policies and strategies of the unity Government led by President Maithripala Sirisena and Prime Minister Ranil Wickremesinghe.

"We are committed to deliver the vibrancy required by investors with modernisation of the economy, fiscal and financial discipline along with transparency," Karunanayake added.

Several plans of the Government including divestiture or listing of non-core investments of the Government via the Colombo stock market thereby retiring public debt, relaxed foreign exchange regime and measures to boost exports were shared by the Minister along with financial hub strategy and Megapolis development.


Karunanayake also highlighted major breakthroughs the Government has been achieving on the international front for greater and new market access. How Singapore firms can benefit from tapping a 1.3 billion market via FTAs with India and Pakistan as well as efforts to forge new agreements with China and Singapore was also emphasised.

Deputy Foreign Minister Dr. Harsha de Silva explained how the Government was recalibrating Sri Lanka's ties with the West and the rest of the world with economic diplomacy. The high prospects of Sri Lanka winning GSP+ and the lifting of the EU ban on export of fisheries products were also shared with participants.

Participants at the Summit included companies, investment funds, entrepreneurs, and investors from Singapore, Malaysia, China, Japan, Australia and the Middle East.

The Summit's International Lead Sponsor Standard Chartered Bank Sri Lanka CEO Jim McCabe said Sri Lanka had great potential to be a strategic destination for Singapore investors and businesses and commended the Government's farsighted policies. He added that organising of the summit was a step in the right direction.

Central Bank Governor Arjuna Mahendran highlighted some of the recent developments in Sri Lanka's monetary policy as well as the future outlook. He also said that likely finalisation of an IMF assistance program by mid-April along with efforts to reduce Budget deficit and pursuance of structural reforms would further strengthen Sri Lanka's prospects.

BOI Director General Duminda Ariyasinghe enlightened participants on how well Sri Lanka compared with rest of South Asia as well as some South East Asian countries in terms of attractions for investments. UDA Director General Nayana Mawilmada and CSE Chairman Vajira Kulathilaka also spoke.

The summit also featured several existing foreign investors including Shangri La, Camso Loadstar and Port City Project who shared their experiences. Shangri La's Vice Chairman Madhu Rao said that though the leisure giant originally planned only for a $ 500 million investment, the commitment was subsequently upsized to 850 million based on positive support and outlook.

Camso Loadstar Chairman Pierre Pringiers shared the inspiring story of how a start up in Sri Lanka grew to become the world's largest producer of solid tyres. Port CityChief Sales and Marketing Officer Liang Thow Ming spoke of some of the initial challenges but sounded optimistic of the project's future following the Government's go-ahead announced recently.

The Summit highlighted a range of new opportunities in capital markets both equity and debt, financial services, tourism, socioeconomic infrastructure, urban development, construction, transportation, healthcare, agribusiness, food and beverage sector, public-private partnerships.

Among private sector leaders who were involved in the summit as speakers or moderators were Jetwing Chairman Hiran Cooray, Maharaja Group Executive Director Nimal Cooke, Sunshine Holdings Group MD Vish Govindasamy, Singer Sri Lanka Group CEO Asoka Pieris, Ceylon Biscuits Group MD Sheamalee Wickramasinghe, DFCC Bank's CEO Arjun Fernando, DEG Geeth Balasuriya, Stax Inc Director Dr. Kumudu Gunasekera, Colombo International Container Terminals GM Commercial and Marketing Tissa Wickramasinghe, Colombo Law Alliance Attorney-at-Law Asanga Gunawansa, Asia Securities Chairman Dumith Fernando, Lynear Wealth Management Managing Director Dr. Naveen Gunawardane, Religare Capital Markets (Singapore) Pte Ltd. Director – Research Nirgunan Tiruchelvam, Bartleet Religare Securities Ltd. Managing Director R .Muralidaran, Perpetual Treasuries Ltd. CEO/Head of Group Treasury Kasun Palisena, TW Corp Chairman Thilan Wijesinghe, Ceylon Chamber Chief Economist Anushka Wijesinha, Daily FT Editor Nisthar Cassim and Lanka Business Online Chairman Ranjan Hullugalle.

International Enterprise Singapore South Asia Group Director Benjamin Yap, IFC Head of PPP Isabel Chatterton, Julius Baer & Co Ltd. Head of Research Asia Mark Mathews and Credit Suisse Head of Frontier Market Research Chate Benchavitvilai also spoke.

Following presentations from the Sri Lankan contingent, several of the participants sought clarifications whilst some established contacts for follow up.

Sri Lanka's High Commissioner in Singapore Nimal Weeraratne described the event as "timely" and deliberations and outcome as "excellent". He invited Singapore firms to explore and partner Sri Lanka in her journey of transformation to become a strong nation.

FinanceAsia organised this first-ever summit on Sri Lanka as part of its Frontier Markets Investment series, covering opportunities for Asian investors to explore new opportunities in new countries.

Co-sponsors of the Summit were Asia Securities and Perpetual Treasuries. Strategic Partner was the Colombo Stock Exchange. Supporting organisations included the American Chamber of Commerce, Ceylon Chamber of Commerce, European Chamber of Commerce SL, Oxford Business Group and the Singapore Sri Lanka Business Association. Official Airline Partner was SriLankan Airlines. Daily FT was the Media Partner.