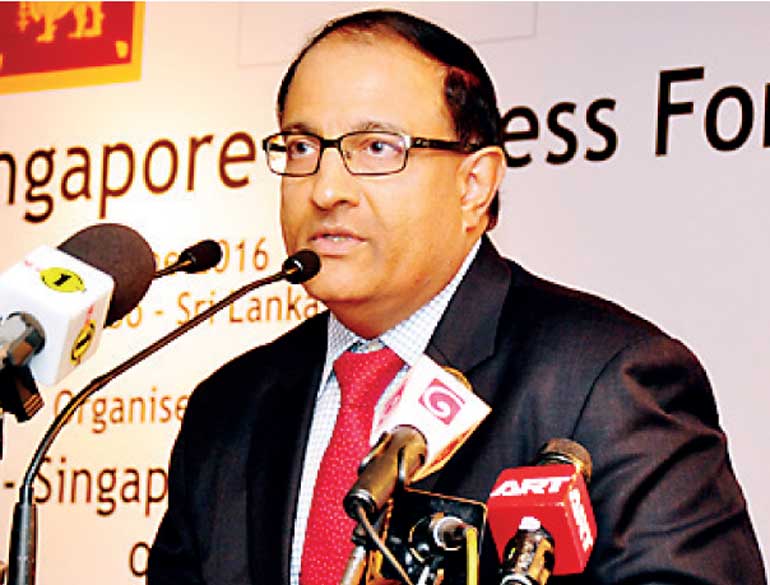 Singapore's Minister for Trade and Industry S. Iswaran speaking at the Sri Lanka-Singapore Business Forum in Colombo yesterday – Pic by Lasantha Kumara
By Charumini de Silva

Aiming to fast-track foreign investment to Sri Lanka, the Government is likely to kick off formal drafting of the proposed Sri Lanka-Singapore Free Trade Agreement (FTA) during Prime Minister Ranil Wickremesinghe's visit to Singapore next month, a top Singaporean Minister said yesterday.

Singapore's Minister for Trade and Industry S. Iswaran addressing the Sri Lanka-Singapore Business Forum stressed that the proposed FTA between the two countries would be an effective way to enable economic growth through closer interaction.

The Forum, organised by the Sri Lanka-Singapore Business Council of the Ceylon Chamber of Commerce, drew a business delegation of 28 Singaporean companies, led by International Enterprise (IE) Singapore and the Singapore Business Federation (SBF).Over 120 local businesses also participated at the forum.

"I have discussed the matter with Development Strategies and International Trade Minister Malik Samarawickrama and we agreed to instruct our officials to finalise their studies quickly so that the decision on how to proceed with a FTA can be taken soon; perhaps when Sri Lanka's Prime Minister Wickremesinghe visits Singapore shortly," he said.

Noting that Singapore took careful note of Premier Wickremesinghe's view of having a Sri Lanka-Singapore FTA which also resonated with their own instincts to deepen economic links with similar partners, he instructed officials in the Trade and Industry Ministry to explore with their Sri Lankan counterparts the possibility of restarting negotiations on the FTA.

"I'm happy to share with you todaythat my officials have strongly suggested that both Sri Lanka and Singapore stand to gain much from concluding a modern and comprehensive FTA," Iswaran emphasised.

Elaborating how Singapore grew over the decades, he pointed out that given Singapore's small market and population, internationalisation was an imperative.

"Our companies have embraced internationalisation as the basis for growth. Bilateral, regional and multilateral trade and investment agreements encouraged this trend. That architecture of FTAs was an important contributing factor in the ability for Singapore-based businesses to internationalise and find new opportunities in foreign diverse markets," he noted.

Though economic links between the two countries have been growing organically, the Minister said relations were still far from their full potential.

"There is more our Governments can do to encourage deeper, broader partnerships between our business communities. We think we can build together, thereby we can have mutual benefits for future generations of Sri Lankans and Singaporeans," Iswaran asserted.

According to the Minister, many Singaporean companies have formed strong partnerships with Sri Lankan counterparts. During 2004 to 2014, the stock of Singapore's FDIs in Sri Lanka increased by 2.5 times, bringing it to a total of $220 million, while FDIs from Sri Lanka to Singapore stood at $170 million in 2014.

"While somewhat modest in absolute terms, the amounts represent a 40-fold increase from 10 years ago and that rate of change affirms the scope of opportunities between our two economies."

He also said Singapore was home to about 360 Sri Lankan companies in a wide array of sectors.

Development Strategies and International Trade Minister Malik Samarawickrama highlighted the positive political and socioeconomic developments of the recent past and the growing optimism for investment under the present Government, adding that an FTA wouldhelp the country's efforts to plug into global value chains.

"We are taking the opportunity of Minister Iswaran's visit to initiate work on a FTA with Singapore. We both agree there are mutual benefits to a Sri Lanka-Singapore FTA. It will be a modern and comprehensive one. We have directed our officials to advance the process expeditiously."

He also said the Government was attaching the highest priority to expeditious completion of the Economic and Technical Cooperation Agreement (ETCA) with India and the Partnership Agreement with China, along with the restoration of the EU's GSP+.

"During my visit to Washington last month, we also agreed to launch a five-year program to enhance trade and investment with the US. All this will give businesses located in Sri Lanka, both domestic and foreign, preferential access to a market of about three billion people," he added.

In terms of negotiating these agreements, Minister Samarawickrama said they would be observant of the fact that eliminating non-tariff barriers was as important as removing tariffs. In addition, Mutual Recognition Agreements are also crucial for trade facilitation and a well-crafted awareness strategy is important for information dissemination.

Highlighting that the Government is in the process of implementing a series of reforms to uplift the country's trade and investment performance, he stated that they recognised the need to implement bold measures to eliminate the anti-import bias in Sri Lanka's policy framework.

"We are determined to press ahead vigorously in strengthening trade policy and improving trade facilitation to create better enabling conditions for an aggressive export drive. At the moment we are undertaking a fundamental review of our trade policy. It is important to get our trade to GDP ratio back up, at least to the 89% recorded in 2000," he added.

Samarawickrama also said that Surbana Jurong had formulated the Western Region Megapolis Plan, which would be the centrepiece of Sri Lanka's next major development program, where they would also be developing a Master Plan for the Trincomalee region. "We hope to sign the MOU with Surbana Jurong during Minister Iswaran's visit."

In addition he said the Government was looking forward to learn lessons, where appropriate, from Singapore's extraordinary success.

Central Bank Governor Arjuna Mahendran highlighted some of the recent developments in Sri Lanka's monetary policy as well as the future outlook. He emphasised that a country of the size and population of Sri Lankashould look to attracting FDIs worth at least$5 billion per year, which the Government is determined to achieve during the next three years.

"In order to attract FDIs, we are in dire need of Special Economic Zones (SEZs). We barely manage to get $1 billion worth of FDIs a year and most of them have gone into logistics andtelecommunication, not into the heavy construction or infrastructure," he pointed out.

Mahendran explained that exports with $10.5 billion, tourism with $3 billion and workers' remittances with $7 billion had topped FDIs during last year and insisted that the country neededto rebalance this trend to attract more FDIs.

"It's not that difficult to turn that around and that is why we are reaching out to most of you in this audience because you are the key to achieving this transition," he added.

BOI Director General Duminda Ariyasinghe enlightened participants on how well Sri Lanka compared with the rest of South Asia as well as some South East Asian countries in terms of attractions for investments.

Outlining the centrepiece of Sri Lanka's next major development program, the Western Region Megapolis Plan, he said there would be more than $50 billion worth of investment opportunities for potential investors, especially in the areas of IT, tourism, logistics and so on.

Noting that the detailed plan would be out in the next couple of months, Ariyasinghe asserted that the BOI was open to investments and there would be no differentiation in models. "For large projects such as monorail, perhaps we can give land even for free, where the investor can hold a large chunk of his investment."

Standard Chartered Bank Sri Lanka CEO Jim McCabe said Sri Lanka had great potential to be a strategic destination for Singapore investors and businesses, adding that it was encouraging to see the Government's foreign policy rebalancing to a strong position to enhance partnerships.

However, he said the most urgent objective at this moment was macroeconomic stability, with taxation reforms along with a leaner and more efficient public sector to facilitate and encourage trade and investment in Sri Lanka.