Wijewardena opines 2016 will be more challenging from a foreign reserve and capital raising perspective; IMF support will help overcome Balance of Payment challenge


By Charumini de Silva

Former Central Bank Deputy Governor W.A.Wijewardena yesterday opined that Sri Lanka should go for International Monetary Fund (IMF) support to avoid Balance of Payment (BoP) crisis situation.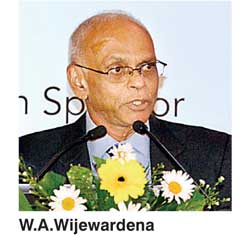 By end September the country's BOP was estimated to have recorded an overall deficit of $2.3 billion during the first three quarters of 2015 in comparison to a surplus of $2 billion recorded a year earlier.

"Given the tight liquidity in capital markets, I think the best option right now is to consider a bail-out package from the IMF as it is unavoidable for Sri Lanka next year," Wijewardena told the Daily FT.

In 2009, Sri Lanka was bailed-out by the IMF from BOP crisis, which was triggered by excessive money printing to support subsidies- through a $2.6 billion Stand-By-Arrangement (SBA).

"We have been able to build up our foreign reserves, amounting to about $4.5 billion, by selling out treasury bills at high interest rates to the US. We will go bankrupt if the remaining $2.5 billion in reserves goes out of the economy," Wijewardena cautioned.

However Central Bank said recently gross official reserves, which stood at $6.8 billion at end September, are estimated to have strengthened to around $8 billion by 3 November.

This is with the receipts from the ninth International Sovereign Bond issuance for $1.5billion.
Ahead of the Monetary Review Policy Review meeting today Wijewardena also stated that with falling foreign reserves and the consequential pressure on the exchange rate, the Central Bank can no longer keep interest rates at low levels.

"Rates of the deposit side had been cut down to the bare minimum and we have to match the rates," he pointed out.

The US Central Bank raised interest rates by a 25 basis point and pledged a gradual pace of increases in 2016. This marked the end to the near zero borrowing costs that have prevailed since the US was struck by the worst financial crash in modern times.

In this backdrop Sri Lanka has already experienced foreign outflows from the money and capital markets this year, as global investors anticipated a Fed tightening which eventually took place in December 2015. The December 25bps rate increase by the Fed was expected and markets have had a smooth adjustment. The Fed is expected to meet again next March and only then will its intention be clearer.

Ceylon Chamber of Commerce Chief Economist, Anushka Wijesinha said "The fed rate hike was widely expected for months now and Fed had managed expectations rather well. So much of this first rate hike was mostly priced in by the markets. We have not seen any major movement in capital flows and asset prices since then. However, key to watch will be what next— how will the markets react after the next rate revisions, the tightening cycle next year."

The fact that the Fed decision was unanimous indicates that there is little doubt on the path of monetary policy tightening. "Looking at the dot plot also shows not much change since the last meeting. The markets maybe expecting a slower tightening cycle. But this unanimous decision may indicate that the tightening cycle may be faster than the markets have priced in," he pointed out.
Emphasising a broader perspective Wijesinha asserted that one of the major shifts to look at in 2016 is the monetary policy divergence which is taking place at present.
"In the US rates are gradually rising, while in the EU rates are now cut to negative rates. Meanwhile unsure of emerging markets — some will have to raise rates to continue to attract foreign capital. This kind of unprecedented divergence has not been seen before," he added.

Noting that Sri Lanka has seen the effect of the Fed rate hike expectations impact foreign capital outflows in the past few months, he pointed out that foreign holdings of Government paper have fallen from Rs 460 billion in January to Rs 300 billion in November.



"This no doubt contributed to the downward pressure on the Rupee seen in the past couple of months. This is likely to continue, as well as upward pressure on interest rates," he explained.
According to the Central Bank statistics, Sri Lanka rupee has depreciated by 8.1% against the US dollar so far in 2015.



Wijesinha went onto say that it will also affect the price of foreign borrowing for Sri Lanka next year, as global rates rise. "Already Sri Lanka's foreign bond yields are edging up rather fast. Thus, we can only assume that 2016 would be more expensive from a foreign capital raising perspective."
Central Bank Governor Arjuna Mahendran said: "The danger is the dollar gets stronger and rupee weaker, so capital keeps flowing out. However, exports should recover momentum next year to compensate."