President Maithripala Sirisena among 70 global leaders to pledge commitment to improve gender rights at UN
Special attention to war widows and others vulnerable to conflict
Admits country has a long way to go before equality realised
Alibaba, Bill and Melinda Gates Foundation among private sector to pledge $ 6 million increased funding for cause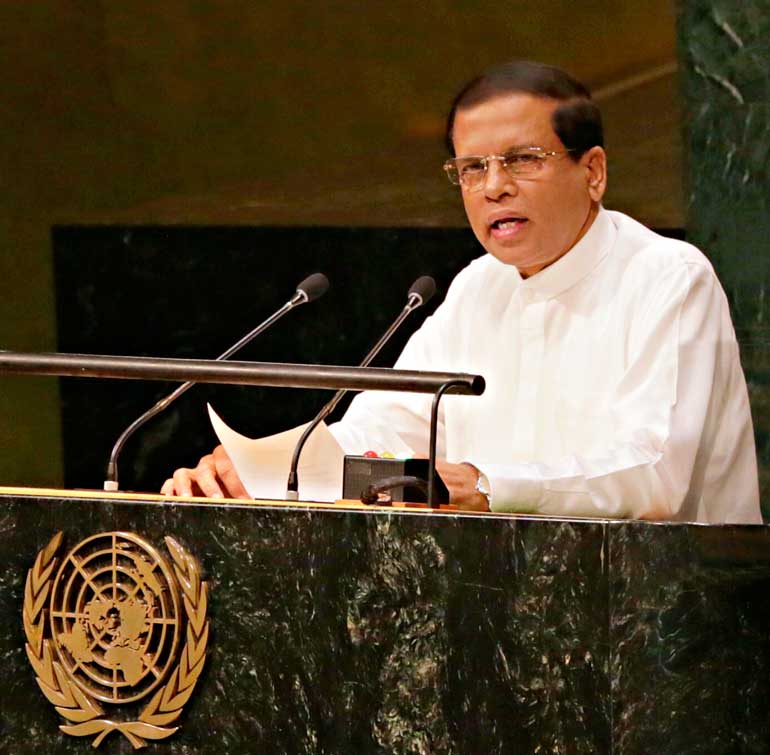 President Maithripala Sirisena addressing the UN General Assembly session on Sustainable Development in New York yesterday - Pic by Sudath Silva
By Uditha Jayasinghe in New York

Charting Sri Lanka's development agenda for the next 15 years, President Maithripala Sirisena told the UN yesterday that Sri Lanka would act to achieve the Post-2015 Sustainable Development Agenda and the Sustainable Development Goals and targets that have been adopted by the United Nations General Assembly (UNGA).

Addressing the UNGA Session on Sustainable Development in New York, he said sustainable development encapsulates the equilibrium between social and economic development and environmental protection.

President Sirisena assured world leaders that the Government of Sri Lanka anticipated achieving these goals fully by 2030.

"In that respect, we will work towards the provision of basic needs of the people, progressive alleviation of poverty, elimination of all forms of discrimination and inequalities, and establish a society based on social justice and human security," the President pledged.

He also emphasised the protection of natural resources, to formulate a state policy on resource consumption based on the sustainable capacity of the environment.

"We will strive to ensure that the relevant policy framework would be implemented within an institutional structure based on the principles of good governance espoused by my Government. Special attention will also be given to the concept of environmental good governance, as an integrated part of the good governance policies," he told world leaders.

Sri Lanka will continue to work with the UN and other states to achieve global goals by 2030 with special focus on poverty alleviation (SDG 01), achieving food security (SDG 02), energy (SDG 7), education (SDG 04), minimising income disparity (SDG 10) and urban development (SDG 11).



Gender rights will be a "priority" of the Government, insisted President Maithripala Sirisena, making Sri Lanka's pledge to improve the status of women and children as part of a UN Women effort to make 70-odd global leaders pledge commitments to improving equality around the world. The promise was made at an event on the side-lines of UNGA.

Sirisena recalled the steps taken by the Sri Lankan Government to enshrine in law equal rights to women but acknowledged more needed to be done to improve the rights of women who make up 52% of the country's population.

"Women in Sri Lanka make a significant contribution to the social and economic wellbeing of our country. Women have also been strongly affected by the prolonged conflict of Sri Lanka and my Government is aware of the need to provide them with specific assistance," he told the gathering.

Sirisena, during his short address, also referred to the ministry dedicated to women and children and stressed the Government would continue to strengthen such institutions to improve gender equality in the nation.

UN Women and the People's Republic of China co-hosted the landmark event in conjunction with the UN Summit on the post-2015 development framework and as part of the 20th Anniversary commemoration of the Beijing Declaration and Platform for Action.

At the high-level 'Global Leaders' Meeting on Gender Equality and Women's Empowerment: A Commitment to Action', Sirisena was one of 70 world leaders to make concrete commitments and firm pledges to overcome gender equality gaps.
'Historic and unique opportunity'
"It is a historic and a unique opportunity: for the first time at the UN, commitments to women and girls will be made at the level of Heads of States and Government," Assistant Secretary-General for Intergovernmental Support and Strategic Partnerships at the United Nations Entity for Gender Equality and the Empowerment of Women Lakshmi Puri told the media.

World leaders pledged to reduce the wage gap, increase women participation in politics, job creation for women, help women deal with social stigmas, improved education and ending violence against women.

Ahead of the pledges leading global companies and foundations committed millions in additional financing for gender equality at a Business and Philanthropy Leaders' Forum organised by UN Women.

Achieving gender equality is fundamental to realising the transformative promise of the historic 2030 Agenda and its Sustainable Development Goals, adopted by the UN Summit on Friday. But deep financing gaps for women and girls pose significant barriers to rapid progress.

Commitments at the forum are aimed at closing these. They back a major global drive, championed by UN Women, to 'Step It Up' for gender equality.

UN Women co-hosted the forum with the Alibaba Group and the Bill & Melinda Gates Foundation. Jack Yun Ma, Executive Chair of the Alibaba Group; Melinda Gates, Co-Chair and Trustee of the Gates Foundation; and UN Under-Secretary-General and UN Women Executive Director Phumzile Mlambo-Ngcuka opened the event.

"There can be no gender equality without investment and willingness to change the status quo. To make 2030 the expiry date for all forms of gender discrimination, everywhere, all businesses will need to step up essential investments in gender equality," said Mlambo-Ngcuka. "I commend the leaders here today whose far-sighted commitments give that lead."

Contributions to boost funding for gender equality and women's empowerment include $ 5 million from Alibaba and $ 1 million from the Bill & Melinda Gates Foundation, among others.

Business and philanthropy leaders attending the event in support of UN Women also included representatives from companies such as Coca-Cola, Cisco, Infosys, Itaipu, Mastercard, H&M, Citibank and State Bank of India, along with philanthropic organisations including the Ford Foundation, General Electric Foundation and Nigeria-based Dangote Foundation.