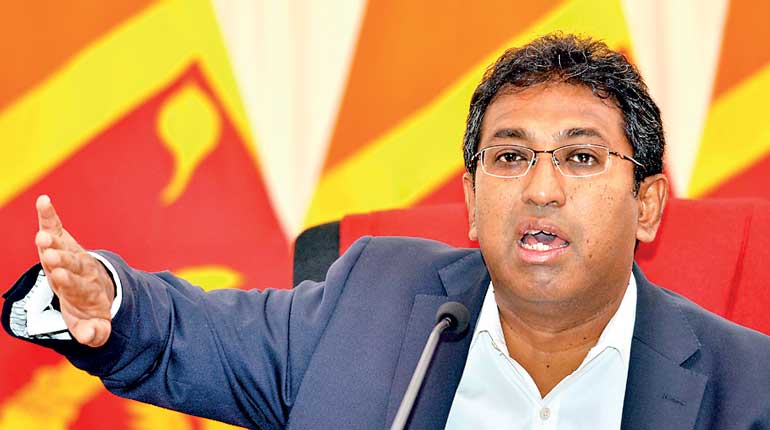 Deputy Foreign Minister Dr. Harsha de Silva

- Pic by Ruwan Walpola
​
Dr. Harsha says GSP+ a foundation to sign up for FTA with EU
Initial work on a Commonwealth Trade Agreement begins, expect to enter tripartite agreement with Singapore and New Zealand
Says FTA with Singapore likely to be completed in next 2 months
By Charumini de Silva

In a bid to tap into the product-driven global network, Sri Lanka is mulling expanding its Free Trade Agreements (FTAs) with top markets in Europe, a Minister said yesterday.

"We are going to get the GSP+ only for few years, maximum of three to four years. Therefore, we need to make the regaining of GSP+ a foundation to sign an FTA with the EU," Deputy Foreign Minister Dr. Harsha de Silva told journalists in Colombo.

Dr. de Silva said that he would further discuss the matter with Prime Minister Ranil Wickremesinghe, who had already given directions to the Minister on looking at another trade agreement with Commonwealth countries.

"The significance of regaining GSP+ is in making it a stepping stone to enter into an FTA with the EU. I see this as the first step in a two-step process," he added.

The Minister asserted that he had already informed the Ambassador to commence the initial work and discussions in this regard.

He pointed out that if Sri Lanka could sign an FTA with the EU, then the country could continue to enjoy the advantages of GSP+ trade facilitation.

When asked if there would be an impact on Sri Lanka's exports due to Brexit as a majority of the country's exports go to the UK, the Minister acknowledged that a negative impact come into play in two years.

"Brexit is going to impact our exports, but that disadvantage will come into effect in another two years. Therefore we need to enter into a new trade agreement with the UK," he added.

According to Dr. de Silva, under the directions given by Wickremesinghe, he has already commenced discussions on a 'Commonwealth Trade Agreement'.

He said the Commonwealth Heads of Government Meeting (CHOGM) 2013 which was held in Sri Lanka issued a 'Kotte Statement on International Trade and Investment,' describing how member countries could engage in a free and fair multilateral trade system.

Dr. de Silva said they expected to hold discussions in this regard with the UK, Singapore, New Zealand and a few other small countries.

"We have started exploratory talks. We have taken it up with New Zealand and Singapore to begin with and will proceed into a tripartite agreement with New Zealand and Singapore. Once we do that we will start adding countries," he added.

In addition, the Deputy Minister said that the Singapore FTA which the Government was currently working on was likely to be completed in the next two months.