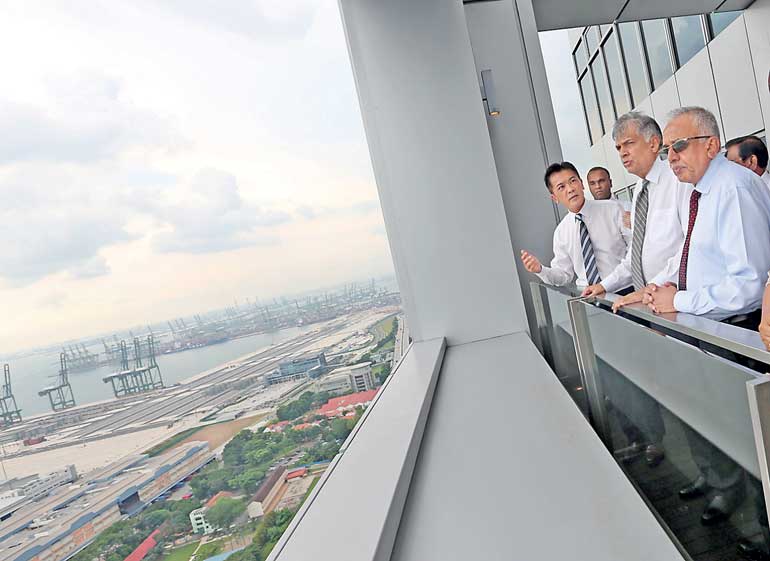 Prime Minister Ranil Wickremesinghe and Development Strategies and International Trade Minister Malik Samarawickrama listen to PSA official Kim Pong Ong during a visit to the Singapore Port yesterday
The Singapore Government has pledged to support Sri Lanka's port development and expansion including technology upgrades during Prime Minister Ranil Wickremesinghe's ongoing tour, a statement from his office said yesterday.

Prime Minister Wickremesinghe undertook a tour of PSA Singapore on Monday and was warmly welcomed by Regional PSA Southeast Asia Chief Executive Officer at PSA International Kim Pong Ong. He praised Wickremesinghe's statements during the tour outlining plans to expand Sri Lanka's ports and use the geographical location of the country to attract investment. Ong had also mentioned that he had already studied to assist the development of the East Container Terminal of the Colombo Port.

Ong has said Sri Lanka not only can be a hub for South Asia but play a key role in China's 21st Century Maritime Silk Route. PSA International Pte Ltd (PSA) handled 64.10 million Twenty-foot Equivalent Units (TEUs) of containers at its port projects around the world for the year ending 31 December 2015. The Group's volume decreased by 2.0% over 2014, with flagship PSA Singapore Terminals

contributing 30.62 million TEUs (-8.7%) and PSA terminals outside Singapore handling 33.48 million TEUs (+5.0%).

To meet the future growth of global trade and long-term needs of customers, PSA is developing Pasir Panjang Terminal Phases 3 and 4 - the first set of berths began operations in 2014.

When fully completed by end 2017, the new terminals will boost Singapore's total container handling capacity to 50 million TEUs per year.

In 2015, PSA Singapore Terminals handled 30.62 million TEUs of containers. PSA is the world's busiest transhipment hub – accounting for almost one-seventh of the world's total container transhipment throughput and more than 4% of global container throughput. It is also one of the world's largest refrigerated container (Reefer) Ports – more than 9,000 reefer points; handled over 1.7 million TEUs of reefers in 2015.

According to the Prime Minister, the Government has plans to use the expertise of Singapore to develop its ports sector and also attract investment.

Singapore State-run Surbana Jurong will also design a Master Plan for Trincomalee along with the Megapolis Project and the Sri Lankan Government officials travelling with Wickremesinghe had also requested PSA International to give their ideas on how to develop the Trincomalee Habour.

PSA officials also explained how computerisation and the use of advanced technology had increased the efficiency of Singapore's port.

Sri Lanka also signed a Memorandum of Understanding with the Singapore Government to increase capacity building of Sri Lankan public servants to foster development.
Singapore-SL sign five cooperation MoUs
​Five Memorandums of Understanding (MoUs) were signed before Sri Lanka Prime Minister Ranil Wickremesinghe and his Singaporean counterpart Lee Hsien Loong on Monday, including a preliminary agreement to kick off bilateral negotiations on a Free Trade Agreement (FTA) between the two countries.

The MoU to start discussions on an FTA was signed by Development Strategies and International Trade Minister Malik Samarawickrama and Industry Minister S. Iswaran. The agreement for Singapore State-run company Surbana Jurong to create the Master Plan for the Megapolis project was also signed at this event. Surbana Jurong will also provide consultancy services to the Board of Investment of Sri Lanka ahead of forming a joint venture with the institution under a separate decision, which also received Cabinet approval last week.

A third MoU, which received Cabinet approval ahead of the tour by Wickremesinghe, was to obtain Singaporean expertise to build capacity among Sri Lanka's public servants. Both sides also agreed to build cultural links and signed an MoU to that affect.