Yoshitha failed to obtain minimum O/L qualification to enroll in
Sri Lanka NavyGoSL spent Rs. 22.2 million for ex-President's son's naval training in UK
Report on Yoshitha's irregular appointment submitted to President's office
By Ashwin Hemmathagama Our Lobby Correspondent

The Government informed Parliament yesterday that the son of former President Mahinda Rajapaksa had been inducted into the Sri Lanka Navy bypassing mandatory educational qualifications of the GCE Ordinary level and had been sent for extensive training in the United Kingdom and Ukraine at state expense.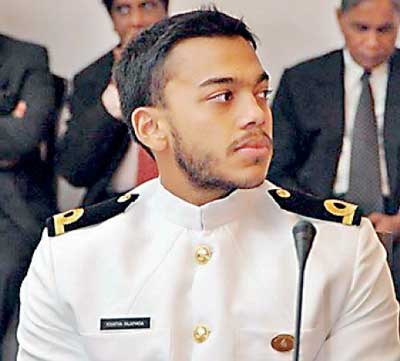 Chief Government Whip Gayantha Karunathillake said that even though Yoshitha Rajapaksa had failed to obtain minimum results at his ordinary level exams after two sittings, a mandatory qualification to enroll in the Sri Lanka Navy, he had been promoted to the rank of Lieutenant soon afterwards.
"Lieutenant Y.K. Rajapakse NRX2431 underwent extensive training programs in the United Kingdom and Ukraine soon after he received the basic training in Sri Lanka. The Government spent Rs.22.23 million for his training in the UK during the period from January 2007 till August 2010," Minister Gayantha Karunatileka confirmed.

He said a report of the detailed investigation conducted into the enrollment of Yoshitha Rajapaksa had been submitted to the President's Office based on the recommendation of the Ministry of Defence.

"The investigations Committee comprised with three senior officers of the Sri Lanka Navy. Action will be taken in due course based on the recommendations received," the Minister added.