Action plan to facilitate creation of common electricity market in South Asia
By Charumini de Silva

SAARC energy regulators are planning to set up a regional body to promote cross-border trade among member countries.

"There is a consensus that a Central Regulatory Authority would be created for the smooth implementation of the energy cooperation agreements in the South Asian region," SAARC Secretariat Director Ali Haider Altaf said at the inauguration of the second meeting of SAARC energy regulators in Colombo yesterday.

He said that it was of immense importance that energy regulators of all member states discuss various concerns, especially on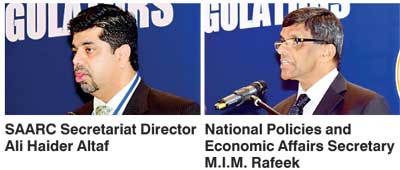 cross border energy trade in the region and its integration.

Further he pointed out that the action plan intended to facilitate creation of the common electricity market in the South Asian region, while it would be reviewed during the three-day (7-10) meeting organised by Public Utilities Commission of Sri Lanka together with SAARC which is currently taking place in Colombo.

Energy regulator representatives from Nepal, India, Bhutan, Bangladesh, Maldives, Afghanistan, Pakistan and Sri Lanka are attending the meeting.

Noting that the SAARC framework agreement for Energy Cooperation was signed during the 18th SAARC Summit held in Katmandu 2014, Altaf asserted that only one member state had ratified it, while many were in the process of doing so. Thus, the significance of this meeting is considered as outlining the concept paper.

The meeting will deliberate on the importance of the issues which will cover promoting cross-border energy trade, harmonising legal policy and regulatory framework, possibility of starting a regional energy regulatory authority and knowledge sharing among the member states.

Pix by Upul Abayasekara


During the first meeting of SAARC energy regulators held in Dhaka, it was recognised that the harmonisation of regulations, modes and standards of electricity grids are vital in terms of cross-border electricity trade in the region.

"In this regard, the member states agreed that national regulations those relating to electricity grids would be exchanged and national authorities may provide suggestions and proposals for possible harmonisation of regulations," Altaf said.

National Policies and Economic Affairs Ministry Secretary M.I.M. Rafeek said the unity of energy regulators in SAARC countries underlined the need for strengthening cooperation, aimed at accelerating economic growth and improving the quality of life of the people.


Noting that SAARC member countries were burdened with serious challenges of improving the quality of life of the people, he said it was the responsibility of the energy regulators to explore the avenues of overcoming these situations.

Hence, he said it was imperative that all Governments should provide greater support to the market players in energy sectors as well as to regulators to play a vital role in this scenario.

"Big or small, we face the same challenges. We should have faith in our boundless potential and confidence on the prospects that comes from innovation from each of our member countries. There is much to learn from each other even more to accomplish together. That was the vision and the aspiration that brought us together 30 years ago," he said.

Pointing out that a good neighborhood was a universal aspiration, Rafeek asserted that the formulation of energy regulators forum was a bedrock of the SAARC framework agreement for energy capacity as SAARC was going to create a market.

He said electricity cooperation in the region includes the sharing of cross-border infrastructure, regional power production, and encouraging and enhancing fair competition across regional markets.
France's Total gets deal to study oil prospects in East coast
The Government has granted French petroleum giant Total the contract to study prospects for oil in the East coast.

Power and Energy Ministry Secretary Dr. B.M.S Batagoda revealed yesterday that an agreement was signed recently for a joint study between the Government and Total to assess prospects in the east for oil exploration.

French multinational integrated oil and gas company Total is one of the six "Supermajor" oil companies in the world. Its businesses cover the entire oil and gas chain, from crude oil and natural gas exploration and production to power generation, transportation, refining, petroleum product marketing, and international crude oil and product trading.

In a related development, the Government will shortly call for tenders to carry out further development of gas deposits discovered in Mannar basin.

"There is some gas discovered by Cairn. They discontinued the exploration, but that asset belongs to us now. We are looking for potential investor to develop that now. This is not for exploration, but to develop whatever discovered," Dr. Batagoda said. (CDS)