By Charumini de Silva

With Sri Lanka looking to create a liberalised regime to attract investments, it is critical to give back the Board of Investment (BOI) its powers, the organisation's Chairman said.

"The country lost a significant number of investments due to the violation of BOI law during the previous regime. We are now in the process of getting our house in order," BOI Chairman Upul Jayasuriya said.

He went on to say that the functions of the BOI had been transferred to the Treasury so the powers that had been given to the BOI had not been exercised. "They have been exercised by the Treasury or some other ministers or officials linked to VVIP figures," he said

Noting that the country's investment climate should be driven by the rule of law and a level playing field for all investors, he added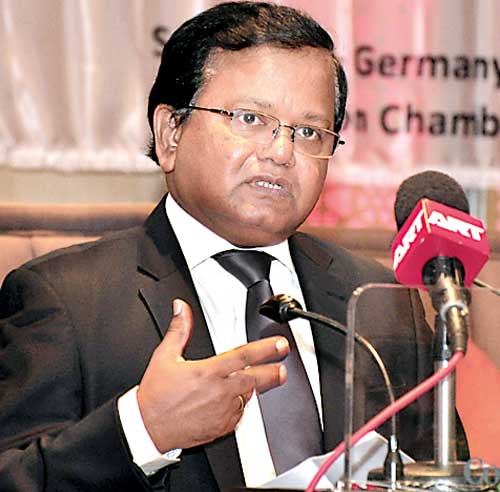 that the BOI should get out of this situation as fast as possible to make decisions that facilitate investment.

"I tell every investor now that their cost is the only investment they are making and nothing beyond that," he revealed.

He made these remarks while speaking at a breakfast forum organised by the Ceylon Chamber-led Sri Lanka-Germany Business Council at the Hilton Colombo Residences yesterday.

Speaking about attracting new FDIs to the country, Jayasuriya explained that it was critical to keep current investors happy as they were the messengers to potential investors who are seeking investment opportunities here. He said that following the change of Government there was a lot of investor interest being shown by countries like the US, Japan, India and China as well as nations within the European Union. However, he noted that we need to give them some time to understand the current system and the changes that the BOI has implemented.

"Just because the Government has changed investors won't take the next flight and come and invest here. It will take some time," Jayasuriya opined

Highlighting the programs that are currently in the pipeline, Jayasuriya asserted that there were projects worth $ 5 billion, which include a monorail project worth $ 1.9 billion, a mixed development project worth $ 1 billion and an investment zone slated for the Eastern Province.

Elaborating further on the monorail project, he said that within the next week the BOI would make a request for proposals (RFPs) to build a monorail or mass rapid transit system (MRT) for Colombo.

"At the moment the Government is of an open mind. It could either be a monorail or an MRT; that is not firmly decided yet. It will depend on what their proposals are and the costs involved," Jayasuriya said.

The proposed monorail or MRT will take four years to complete and will be constructed on a build-operate-transfer (BOT) basis with no financial drain on the Government, he added.
Top Indian biz team to visit SL
A high level group of Indian investors selected by the Indian Government is scheduled to visit Sri Lanka early next year, a senior BOI official said.

"A group of 20 top-notch Indian investors are scheduled to come to Sri Lanka in search of investment opportunities," Board of Investment (BOI) Chairman Upul Jayasuriya said.

Noting that this was a result of Premier Ranil Wickremesinghe's recent visit to India, he said that a similar response had been received from Japan as well.

Jayasuriya further asserted that the Indian Government would select these visiting top businessmen by early next year.

"With the country now embarking on creating a liberalised regime where the investment climate is characterised by the rule of law and a level playing field for all investors, the country has received a significant response from investors all over the world," he added. (CDS)