Finance Minister Ravi Karunanayake flanked by panelists at the packed Daily FT-Colombo MBA Alumni Association post-Budget Forum in Colombo yesteray – Pix by Daminda Harsha Perera and Upul Abeyasekara
​
Shares key thrust of Govt. and 2017 Budget at Daily FT-Colombo MBA Almuni Association Forum
By Charumini de Silva

Finance Minister Ravi Karunanayake yesterday wooed existing and potential foreign investors, inviting them to benefit from new oppurtunites in Sri Lanka's thanks to sound macroeconomic and fiscal management as well as strategic geographic location.

The message from Karunanayake was emphatic and the platform he used was the packed Daily FT-Colombo University MBA Alumni Association post-2017 Budget Forum held in association with HSBC, which featured a unique panel of multinationals or majority foreign-owned companies.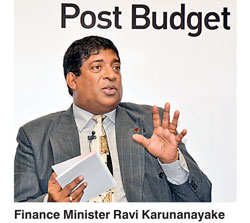 Engaging with panellists and participants for over one and half hours, the Finance Minister assured that Sri Lanka is open for business and that 2017 Budget has unveiled a host of new measures. Additionally, efforts to finalise various FTAs and enhanced economic cooperation with countries in the fastest growing region in the world - Asia - were shared, once realised, these would be an ideal platform for foreign firms to use Sri Lanka as a hub to serve a much larger and booming market.

Though embracing Foreign Direct Investments (FDIs) with open arms, Minister Karunanayake also said that the focus of the unity Government was to bolster the local private sector and their investments.

"Do not wait till tomorrow but start investing from today," stressed the Finance Minister, whose 2017 Budget was welcomed as positive and comprehensive by most of the panellists at the Daily FT forum. Given the plethora of proposals, the forum did trigger a host of questions seeking greater clarity from the Finance Minister.



"We call upon the investors to come out without postponing your decisions for tomorrow. We will provide all the necessary investment support that is required, as this is the best time we have gotten after a long time," Karunanayake said.

He also said that rules and regulations are being relaxed to attract greater FDI and local investments. The Finance Minister pointed to slew of incentives announced in the 2017 Budget to boost new local investments with said foreign investors being welcome to harness the positives.

Lifting of restrictions on foreign individuals owning apartments from the first floor, as opposed to from the fourth floor previously, and foreign owned companies acquiring land for commercial enterprises, were among key measures highlighted by Minister Karunanayake.

Justifying why the Budget has proposed several new directions on foreign ownership of land, he said that the Government does not want foreigners to come and buy land at the expense of locals who do not have the spending power, but assured that if foreigners are interested in developing the country the Government would provide all incentives for the investors.

In response to concerns that some of the incentives were linked to a generation of jobs disregarding modern day business models, the Finance Minister said the Government was mindful. "When it comes to certain sectors, we will focus on value addition and not the number of jobs," Karunanayake assured. However he said the Government would welcome long-term foreign investors and not the fly-by-night type and that any abuse would be severely dealt with.

Karunanayake reiterated that the Government is actively working towards repositioning Sri Lanka to be competitive in the global environment, and that measures will be taken to ensure minimum burden on investors.

The Daily FT-Colombo MBA Alumni Association 2017 Budget Forum brought together a unique panel of foreign firms under one platform to share their own perspective on the Government's short, medium and long term plans.

CHEC Port City Colombo Chief Sales and Marketing Officer Liang Thowming, Piramal Glass Ceylon Plc Managing Director/CEO Sanjay Tiwari, Chevron Lubricants Lanka Plc Managing Director/CEO Dr. Kishu Gomes, Glaxo SmithKline Consumer Chairman Sunil Mehra, Ceylon Tobacco Company Plc Finance Director Emma Ridley and Japan International Cooperation Agency Advisor for Board of Investment Hideo Horiguchi shared useful observations while HSBC Sri Lanka and Maldives CEO Mark Prothero also spoke.

The Daily FT will publish a more detailed report on the forum next week.