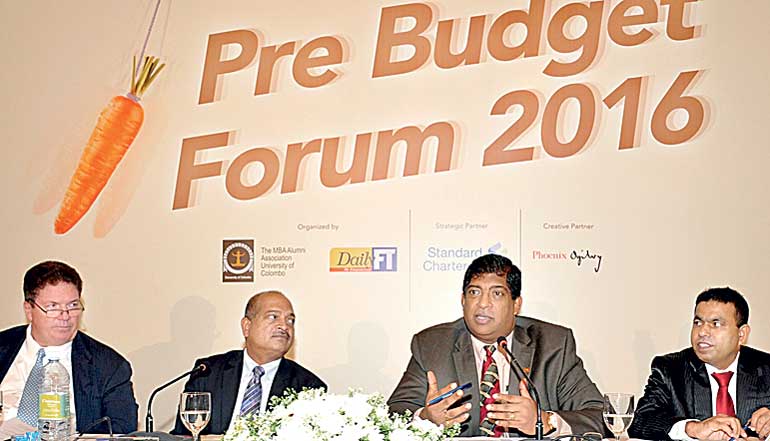 Finance Minister Ravi Karunanayake speaks at the Daily FT-Colombo University MBA Alumni Association organised pre-budget brainstorm between Finance Ministry and the private sector. Others from left are strategic partner Standard Chartered Bank Sri Lanka CEO Jim McCabe, Daily FT Editor Nisthar Cassim and Colombo University MBAA President Lalith Sumanasiri - Pix by Upul Abayasekara and Lasantha Kumara

The private sector-Finance Ministry brainstorm on Budget 2016. Over 20 leaders from agriculture, industry and services sectors participated in the event
Outlines broader strategy at Daily FT-Colombo Universitry MBA Alumni's unique Finance Ministry-private sector pre-Budget Forum
Private sector leaders from agriculture, industry and services list priority expectations and recommendations
Ravi says many sectors of the economy will be opened up for private sector participation
Announces setting up of Private Sector Development Department at Finance Ministry
By Charumini de Silva

Having listened to one-and-a-half hours of private sector prioritised suggestions at the Daily FT-Colombo University MBA Alumni Association's unique forum, Finance Minister Ravi Karunanayake yesterday assured sectoral business leaders of a "revolutionary" Budget on 20 November.

"I can assure you on 20 November, the country will see a revolutionary Budget where the monopolistic approach of the Government will be reduced and competitive element emerging with a level playing opportunity given to all stakeholders," Karunanayake told the one-of-a-kind and fifth consecutive pre-Budget brainstorm between the private sector and Finance Ministry held yesterday.

Over 20 heads from agriculture, industry and services sector associations each in a five minute pitch listed their most immediate recommendations for consideration in the 2016 Budget by the Finance Ministry. Deputy Secretary to the Treasury D. Attygalle and Director Economic Affairs Dimuthu Samarathunga were associated with Minister Karunanayake during the brainstorm facilitated by Daily FT-Colombo Uni. MBAA with Standard Chartered Bank as strategic partner.

The private sector leaders' suggestions ranged from favourable and simplified taxation, policy reforms and continuity in previously taken measures as well as levelling the playing field.

Most of the measures were aimed at boosting growth in the areas of exports and local production as well as generating new employment whilst others focused on improving competiveness, efficiency and productivity and ease of doing business.

Sectors represented included agribusiness, apparel exports, tea, gem and jewellery, software, spices and allied products, rubber products and seafood, manufacture of confectioneries, ceramics and glass, pharmaceuticals, construction industry, condominium, property and housing, shipping, freight forwarding, logistics and transport, motor trade and financial services encompassing capital markets and leasing.

Having welcomed the open and frank brainstorm at the event, Minister Karunanayakesaid for the first time in the historya separate department would be created at the Ministry of Finance for private sector development from 1 January 2016.

"We want this consultation and facilitation process to be an ongoing exercise. We also want the private sector to take risks and maximise from new opportunities for the betterment of the economy under a new era where both the President and the Prime Minister have a clear mandate and vision for it," he added.

"What we are looking for from you is reciprocity, not to be armchair critics. Help us to help you all. That's the basis we want to open the system. We are there with you all to take your problems, be the solution provider, but let's go for wardtogether,"Karunanayake said.

Noting that all sectors would be opened up dramatically, he stressed that the finance sector would go through a major transition soon after the Budget and urged it to play a key role.

The Minister, allaying fearsof redtape and lethargic attitudes attributed to the public sector, invited the private sector chambers and entrepreneurs to bring any such issues to the immediate attention of the Finance Ministry without making generalised allegations.

"If the Government is corrupt, don't make mere allegations; tell us where it is, then we will change it."

"Help us to help you" was the call by the Minister to the private sector chambers.