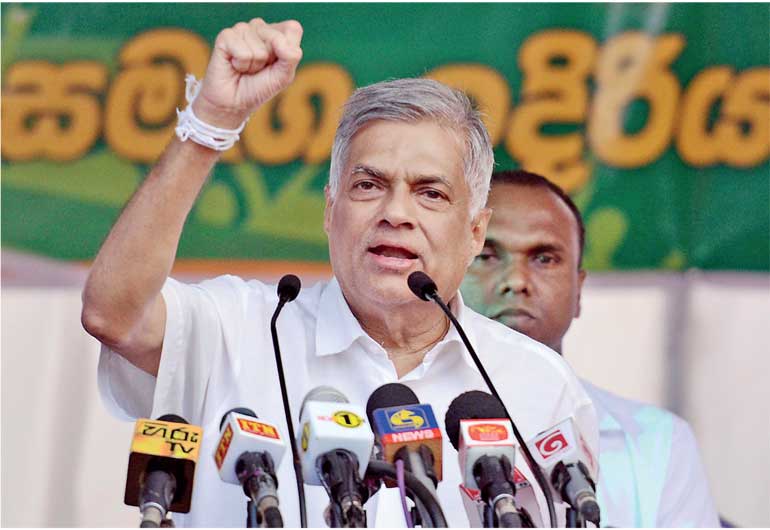 Prime Minister Ranil Wickremesinge gestures during his address at a rally in Anuradhapura on Saturday - Pic by Pradeep Pathirana
Checkmates Rajapaksa's retirement statement, warns him not to derail development
Questions why 18th A was passed, says people sent Rajapaksa into retirement
Recalls Rathupaswala, insists post-war opportunities were squandered
Slams white elephant projects, believes only Govt. can create turnaround
Emphasises economic regeneration has begun, calls on everyone to join
Highlights debt, warns present window SL's last chance to develop
Directing a blistering volley at former President Mahinda Rajapaksa, Prime Minister Ranil Wickremesinghe went on the offensive over the weekend, recalling the latter's white elephant projects and introduction of the 18th Amendment. The PM warned that no one would be allowed to derail the country's growth.

Responding to Rajapaksa's statements at the Nugegoda rally last Friday, Wickremesinghe spared no punches at the former President's track record when in office but refrained from making any statements on the internal functions of the Sri Lanka Freedom Party (SLFP). Instead, he dwelt extensively on Rajapaksa's decision to implement the 18th Amendment, which removed the two-term limit for Sri Lankan presidents under the Constitution and opened up the chance for him to run for an unprecedented third term.

"They said that ministers of our Government would be at the rally but not even a Provincial Council Minister was there. At the rally, Rajapaksa said that he would have retired if President Maithripala Sirisena had not come forward as the common candidate.
But if that is the case then why did he bring the 18th Amendment? He could have retired after his second term. If he had retired then there would have been no need for a common candidate. Because he did not retire we had to present a common candidate and ultimately the people sent him into retirement," he said, speaking at a public forum held at the Saliyapura Army Camp.

"The truth is that Rajapaksa destroyed the economy of this country. When the war ended people expected development but instead the Rajapaksas' put the economy in the ICU. They did nothing to heal the economy. They thought they could win another term and if there was a public uprising they could control it just like they did Rathupaswala. Finally, while the patient was in hospital the doctor ran away. President Sirisena and I had to accept the responsibility of fixing this country's economy."

Wickremesinghe pointed out that Sri Lanka would have to repay high levels of debt till 2026 with payments expected to peak at about $ 4 billion by 2019. However, he pledged to focus on developing the country without increasing the tax burden of the people, especially regarding job creation and attracting investment.

"Many people ask us why we did not create jobs during the last two years. Our focus was on dealing with the economic crisis we faced. We have now increased public revenue and improved reserves so now we can focus on attracting investment and creating jobs. We will solve these problems and move forward. Rajapaksa and his supporters thought we would be unsuccessful and in a year they would be back in power. But we will not let that happen."

The Prime Minister also insisted that the present time is Sri Lanka's last chance to develop. He recapped lost opportunities due to the war and political incompetency, warning that if Sri Lanka allowed this window of opportunity to close, it would be left behind by the rest of the world.

"If Rajapaksa continued another five years we would have ended up behind even Afghanistan in terms of development. We do not need to wait five years. We can take the country towards development now. What did Rajapaksa give this country? He gave us the world's biggest swimming pool. He gave us the biggest peacock zone in Mattala. But it was our Government that is trying to make them successful ventures. We will work with China to create rapid growth for our country."

"Once companies invest in Hambantota, youth from Anuradhapura and Polonnaruwa can find work in the south. Why is Rajapaksa so against this development? Today we have the Port City growing as a financial city, factories popping up everywhere, Moragahakanda and other projects have kicked off. All I ask is for everyone to put aside their differences and join us on this journey to development."