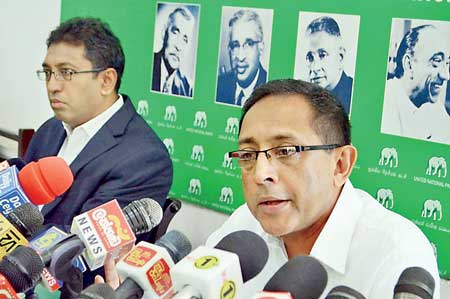 By Uditha Jayasinghe

The United National Party (UNP) yesterday gave credit where credit was due by insisting changes to Budget 2016 had been made under the leadership of Prime Minister Ranil Wickremesinghe after careful engagement with stakeholders, and dismissed what they referred to as attempts to gain praise by political parties.

UNP General Secretary and Public Enterprise Minister Kabir Hashim and Deputy Foreign Minister Dr. Harsha de Silva told reporters it was the active interaction, deliberations and careful decision making of the prime minister that had enabled "constructive changes" to be made to Budget 2016.

Wickremesinghe spearheaded the effort to iron out differences with several trade unions in the transport, banking and other industries , ahead of joint trade union action that would have seriously inconvenienced the public and could have thrown a significant challenge at the National Government.

"The prime minister led these efforts personally and it was through discussions and compromise that changes were included into the Budget. Even the change on alcohol taxes was made by the president after listening to public opinion. We have done away with the intimidation and closed door tactics used liberally by the former Government and allowed all stakeholders to deal with the Government on a level playing field," Hashim insisted.

Dr. de Silva also dismissed concerns raised by economists regarding the Budget deviating significantly from the Economic Policy Statement (EPS) delivered by the Prime Minister, emphasising that the path laid out by Wickremesinghe during his address to parliament in early November would be upheld within the first six months of 2016.

"When a ship changes course mid-voyage it can cause discomfort to the passengers but it will nonetheless carry all passengers to safety," he said adding that the Government was committed to prudent fiscal manoeuvring in the coming year. Increased public expenditure due to Budget changes would be carefully evaluated by the Government before implementation, he noted.

Both officials also stressed no final decision had been taken to award duty free vehicle permits to parliamentarians and urged the public to have confidence in their representatives. The Government would continue to build consensus on policies before implementation, they went onto say.

In an effort to push forward reforms, a fresh Constitution for the UNP will be unveiled in January, its General Secretary said, acknowledging it would mean new appointments and reallocation of powers within the party.

"Even I'm not sure of my position," Hashim quipped to journalists but stated key positions within the Working Committee would likely remain unchanged.