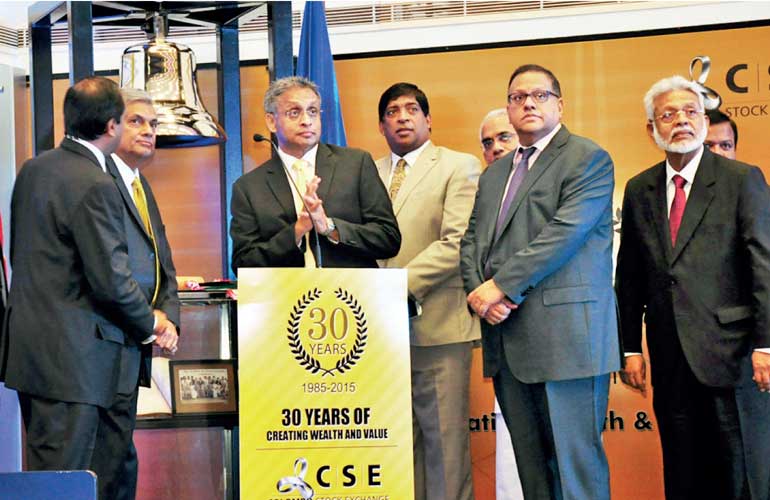 Prime Minister Ranil Wickremesinghe (second from left) looks at the digital screen at the Colombo Stock Exchange after its inauguration yesterday following the ceremony to mark the CSE's 30th anniversary as Finance Minister Ravi Karunanayake, Public Enterprise Development Deputy Minister Eran Wickramaratne, Central Bank Governor Arjuna Mahendran, Colombo Stock Exchange Chairman Vajira Kulatilaka and SEC Chairman Tilak Karunaratne look on – Pic by Lasantha Kumara
By Charumini de Silva

A confident Prime Minister Ranil Wickremesinghe yesterday sounded determined to lead Sri Lanka to achieve higher socioeconomic growth, despite looming external shocks.

In remarks at the 30th anniversary celebrations of the Colombo Stock Exchange (CSE) followed by the ringing of the market opening bell yesterday, the Premier warned of Sri Lanka facing unpredictable external political and economic turmoil owing to the global fight against ISIS, drop in commodity prices, addition of Chinese currency Yuan to the IMF's Special Drawing Rights (SDR) basket and a politically-motivated hike in US interest rates.

Wickremesinghe said these developments, on top of lowered world economic growth, "are going to impact us and the rest of the world economically" in 2016.

"We have also got to remember that there will be pressure on our currency, there will be increased financial market volatility and low inflows," he added.

Despite external and local challenges, the Prime Minister said that it was important to maintain Sri Lanka's growth at 6.5% next year and aspire to increase it to 8-9% thereafter.

"This is a difficult task, but it is not impossible. We have to do this because by 2030 Sri Lanka must become a high-income country. Thus, all our efforts have to be mobilised to achieve this target," the Prime Minister emphasised.

In response to Moody's recent report warning high budget deficits in Sri Lanka were credit negative, Wickremesinghe acknowledged the status quo but sounded optimistic.
"Yes, we will have a high deficit initially, but as foreign and local investments grow and when we bring more people and income into the tax net, we will be able to achieve a 3.5% deficit by 2020," he said confidently.

Restructuring of State-Owned Enterprises (SOEs) and ensuring improved performance will also play a key role in the country lowering the budget deficit.

The Premier said that some public sector entities would be listed next year to ensure growth. "We are keeping 2020 deficit target for SOEs to make a contribution to the national economy and to State revenue. We are also paying attention to the fundamentals of a highly-competitive social market economy, which will include free education and health, improved public transportation and subsidised housing available for the people," Wickremesinghe said.

"We are going to have structural reforms to facilitate investment and growth. We want to ensure an expanding and a strong middle class in this country," said the Prime Minister noting that was the basis for the 2016 Budget.

He also said that via the mini-Budget early this year, the Government boosted aggregate demand among people. However he said a lot of available and untapped consumable income remained in the economy, especially in the balance sheets of some of our companies. "We have to find ways and means to ensure all that is directed to investment."

Speaking on revenue generation in the economy, he pointed that it was time that the Government found ways and means to ensure that all of it was directed towards investments.

The Premier also emphasised how Megapolis and the Port City projects would boost the economy and contribute towards making Colombo a special business and financial district.

Future policy and initiatives are being spearheaded by the Economic Management Committee of the Cabinet with senior members of both parties and supported by Policy Development Office responsible for economic, domestic and global policy led by Charitha Ratwatte and the Institute of Policy Studies headed by Dr. Razeen Sally. Upcoming new institutions such as Agency for Development as well as International Trade Agency were also cited.

Commenting on the Budget 2016, he said that it was very much like the Sinhala and Tamil New Year. "Firstly at the end of the year you give a bonus, that was the Interim (mini) Budget; then you have the nonagathaya, which is the current period, and in 2016 we will have the actual New Year taking place."