Calls on stakeholders to participate in development
Reiterates need to improve exports and implement import substitution
Confident of local expertise, invites building close relationship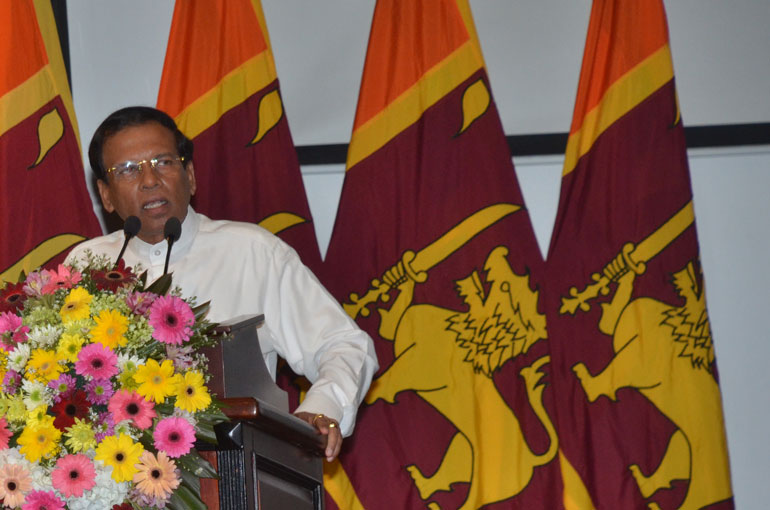 President Maithripala Sirisena addressing the SLEAAS last evening – Pic by Shehan Gunasekara
By Charumini de Silva

Ahead of a key statement by the Premier on Sri Lanka's economic trajectory, President Maithripala Sirisena yesterday urged professionals to actively participate in the country's policymaking process.

Delivering his address as Chief Guest at the Sri Lanka Economic Association Annual Session (SLEAAS), the President noted Sri Lanka needed bold economic policies in order to build the country's pride again as a self-sufficient nation.

"We should adopt practical theories and policies, especially considering the facts of sustainable development, green economy, and knowledge-based economy and innovations," he added.

Emphasising on local industry development, he asserted that it was timely for Sri Lanka to look at reforms to develop the local enterprises as well as the export sector.

He specifically focused on exports decreasing as a percentage of global trade over the last few years as well as the need to swiftly diversify exports to meet with changing international consumer demands.

"Our exports have declined drastically and our contribution to the world market is less than 1%. Hence, we must build bold export friendly policies to uplift the sector to be competent in the global arena," he stressed.

Highlighting on the agriculture sector development, Sirisena said it was "a shame" that the country was importing agricultural products which could be cultivated in the country, adding that the Government was spending over Rs. 6,000 million annually on imports of essential foods. Import substitution has been a point repeatedly highlighted by the President, who has insisted Sri Lanka has the capacity to expand its production to competitively meet domestic needs.

He pointed that high imports had negatively impacted the local farming industry and by extension the entire economy. Thus, implementing new policies to encourage local agricultural products was essential for the country to regain its status of self-sufficiency, he stressed.

Noting that Sri Lanka had the capability and the knowledge, he urged the Sri Lanka Economic Association to actively participate and build a close relationship with the Government for policy development.

"We need the guidance and the expertise of the economists to make better policies. Favourable proposals to build sustainable economic development from you all are highly appreciated by the Government," he noted.

Sirisena had earlier pledged to implement a national policy system where development projects by the Government would be consistently carried forward without being adjusted according to changing governments. His statements come ahead of Prime Minister Ranil Wickremesinghe delivering a special statement to Parliament on 5 November outlining the policy framework of the Government ahead of the Budget presentation.

Meanwhile, Finance Minister Ravi Karunanayake has called for the country's Central Bank to make a big cut in interest rates and for the International Monetary Fund (IMF) to give a show of support as he questioned its recent growth forecasts for the country.

"They were wrong," Karunanayake told Reuters in an interview, referring to the IMF's recent growth forecast of 5-5.5% for this year. "I think it will be in the range of 6.5-6.7%."

With the IMF expected to decide on a post-program monitoring in mid-November, he said: "We would like them to see what we have done and show that they are with us."

He also called for the country's Central Bank to make a big cut in interest rates to as low as 4-5%. He added that although the rupee could fall as the dollar strengthened, he expected it to stabilise and find its own equilibrium once outflows were stemmed.

He expected currency reserves to rise to about $ 10 billion (roughly six months of import cover), from just under $ 7 billion reported in July.

Speaking ahead of the country's Budget in about two weeks' time, he said the Government intended to reduce corporate taxes, which vary widely but can be as high as 35-40%, by "a meaningful proportion".