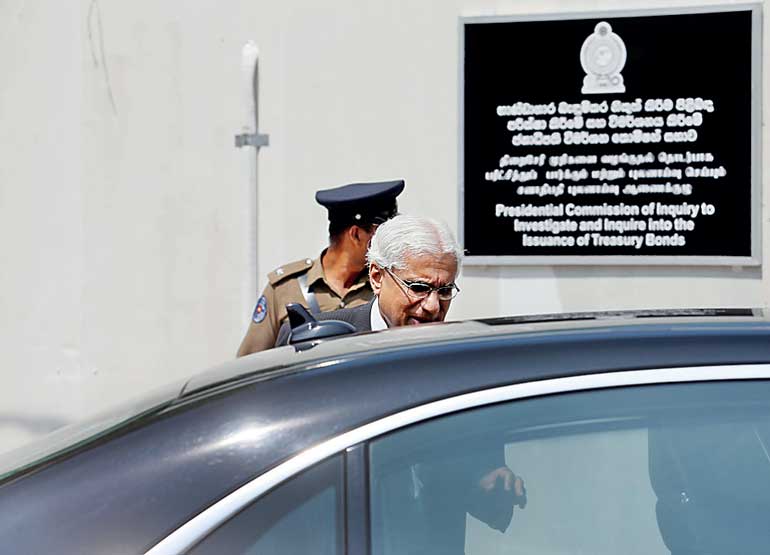 Sri Lanka's Central Bank Governor Indrajith Coomaraswamy leaves the "Presidential Commission of Inquiry to Investigate and Inquire into the Issuance of Treasury Bonds" in Colombo, Sri Lanka February 21, 2017 - REUTERS/Dinuka Liyanawatte
A presidential commission investigating irregularities in government bond sales questioned Central Bank Governor Dr. Indrajit Coomaraswamy yesterday.

The commission questioned Indrajit Coomaraswamy on the alleged irregularities in the issuance of Treasury bonds. It will also investigate a controversial bond sale under his predecessor, Arjuna Mahendran, in February 2015.

During the sessions, which are open to the public, Dr. Coomaraswamy had noted he had little knowledge of the transactions and decisions linked to it as they took place before his tenure. However, he had acknowledged surprise at the former Governor's decision to favour direct placements rather than allow auctions in the issuance of bonds.

He also said the decision to issue a higher than previously notified bond amount could have been a decision made by the Domestic Debt Management Committee (DDMC). He also speculated that a meeting held on 27 February 2015 could have been on bond issuances for March 2015.

When questioned if the Monetary Board made bond sales related decisions, Dr. Coomaraswamy had stated that the Monetary Board was on record making a decision on bonds in 2008.

Coomaraswamy, who was appointed by President Maithripala Sirisena on 4 July after Mahendran's tenure ended, was questioned for nearly three hours on Tuesday by the commission, according to a Reuters witness at the commission office.

Sirisena appointed the commission after Opposition lawmakers demanded an independent inquiry, charging that the controversial bond sale has lost the state more than $ 1 billion because of rising borrowing costs in the past two years. The Central Bank has dismissed the Opposition's claims.

Civic organisations that back Sirisena have demanded the president ensure an independent investigation, Reuters reported.

"We have big hope for this commission," said Keerthi Tennakoon, an advisor to Anti-Corruption Forum (ACF), a local body which has highlighted many irregular deals under Sirisena.

"We are happy with the way the Central Bank is cooperating on this investigation and we believe the truth will be revealed."

Less than two months after he ousted Mahinda Rajapaksa in 2015, President Sirisena's administration faced criticism over a February 2016 bond auction that forced government borrowing costs up by two percentage points.

The auction originally intended to sell Rs. 1 billion ($ 7 million) of 30-year bonds. It eventually grew to more than 10 times that amount, to meet government borrowing needs.

More than half of the issue was sold to Perpetual Treasuries, a subsidiary of a company owned by the son-in-law of the former Central Bank Governor Mahendran, in what has been criticised as a conflict of interest.

Mahendran, appointed by Prime Minister Ranil Wickremesinghe, and his son-in-law Arjun Aloysius deny wrongdoing.

Coomaraswamy earlier this month told reporters the Central Bank had taken some action against Perpetual Treasuries after preliminary investigations, but he declined to elaborate on the actions taken.

Officials at Perpetual Treasuries have denied any wrongdoing in the past.