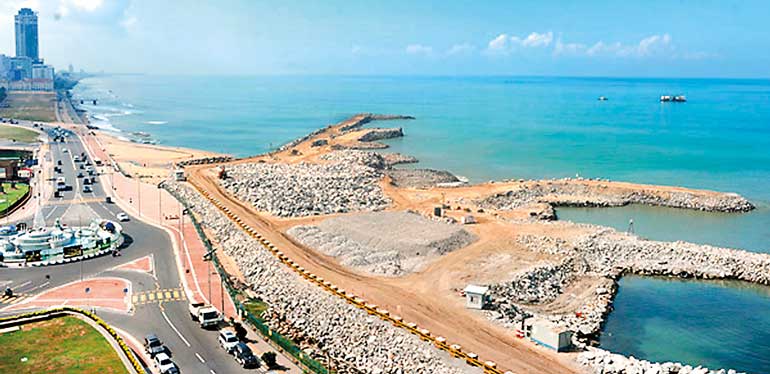 Approval also given to compensate land claimed for $ 810 m H'tota second phase
PM headed Economic Management Committee also recommends recommencement
Sino-Lanka relations burnished ahead of Wickremesinghe tour in April
By Uditha Jayasinghe

Signalling a shining return to stronger relations with China, Cabinet yesterday approved the recommencement of the Chinese-funded $ 1.4 billion Port City project and kicked off acquiring land for the second phase of the Hambantota Port project.

The land reclamation, which ran into trouble last year when the new Government came into power, is expected to recommence this month after several amendments are made to the original agreement, according to International Trade and Strategic Development Minister Malik Samarawickrama.

Contrary to the original documents freehold land will not be allowed, with the largest FDI deal in Sri Lanka's history also given land on a 99-year lease.

Samarawickrama, fresh from a visit to China earlier this month, had extensive talks with officials in Beijing regarding investment in Sri Lanka, with the recommencement of the Port City at the core of stronger relations. Cabinet approval of the project comes weeks ahead of a planned China visit by Wickremesinghe on 6 April.

The Cabinet Committee on Economic Management headed by Wickremesinghe also recommended allowing resumption of the project subject to limitations and conditions stipulated in the EIA report, the Government said in a statement.

Accordingly, the proposal made by Prime Minister Ranil Wickremesinghe to extend the project agreement for a further period of six months from 15 March 2016 was approved by the Cabinet of Ministers.

At the same Cabinet meeting the green light was given to Ports Minister Arjuna Ranatunga to release compensation to owners of land acquired for the second phase of the Hambantota Port. Phase II of the port is estimated to cost $ 810 m. Samarawickrama on Wednesday told a business conclave for foreign investors organised by the Ceylon Chamber of Commerce that the Sri Lankan Government plans to hand over operations of both the port and the Mattala Airport to China and establish a 1,000 acre investment zone nearby.

Local subsidiary China Harbour Engineering Company (CHEC) Port City Colombo Ltd., of parent company China Communications Construction Co Ltd. (CCCC), built the Hambantota Port and the Suriyawewa Cricket Stadium. It then signed the Port City original deal under the previous Government headed by former President Mahinda Rajapaksa and the project was flagged off by Chinese President Xi Jinping during his visit to Sri Lanka in September 2014.

CCCC had earlier estimated when the project was suspended in March 2015 that the shutdown would result in losses of more than $380,000 a day and sought permission from the Government to build a protective breakwater to maintain the already-reclaimed land.