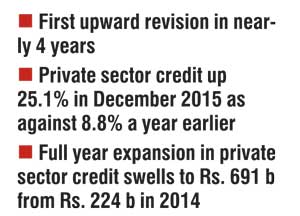 The Monetary Board yesterday decided to increase the Central Bank policy rates by 50 basis points for the first time in almost four years.

The move signalled the Central Bank's intent to check any untoward risk on macro-economic stability.

At its February monetary policy review meeting the Monetary Board decided to increase the Standing Deposit Facility Rate (SDFR) and the Standing Lending Facility Rate (SLFR) of the Central Bank by 50 basis points each, to 6.50% and 8.00%, respectively, effective from the close of business on 19 February.

The Central Bank in its statement said the Monetary Board has observed that, in spite of the recent policy measures taken by the Central Bank and some upward adjustments observed in market interest rates, certain risks to macroeconomic stability continue.

"In particular, the Monetary Board was of the view that the excessive growth of broad money fuelled by domestic credit expansion in the midst of a continued upward trend in underlying inflation requires pre-emptive policy measures in order to contain the further build-up of demand driven inflationary pressures," it added.
The move was against market expectations.

As reported in Daily FT yesterday, a Reuters poll had predicted rates would be kept steady. Commercial banks' statutory reserve ratio was left unchanged at 7.50%.

Reuters said the rate hike comes as Sri Lanka is in initial talks with the IMF about a loan amid concerns over pressures on its balance of payments, outflows from government bonds, a ballooning fiscal deficit and heavy downward pressure on the rupee.

The Central Bank in its statement said broad money (M2b) continued to grow at a high pace, recording a growth of 17.8% (year-on-year) in December 2015 compared to 13.4% in December 2014. The year-on-year growth of credit granted to the private sector by commercial banks accelerated during the year, with a growth of 25.1% in December 2015 in comparison to 8.8% in December 2014. In absolute terms, the expansion in private sector credit during 2015 amounted to Rs. 691.4 billion compared to Rs. 223.9 billion in 2014. It slowed from 27 % in November.

The Colombo Consumers' Price Index (CCPI, 2006/2007=100) based core inflation continued its increasing trend reaching 4.6% in January 2016, on a year-on-year basis, from 0.8% recorded in February 2015. Headline inflation, as measured by the year-on-year change in CCPI decelerated to 0.9% in January 2016, mainly reflecting the impact of low international commodity prices, broadly favourable domestic supply conditions as well as the relatively high base in January 2015. Year-on-year headline inflation based on the National Consumer Price Index (NCPI, 2013=100) was at 4.2% in December 2015.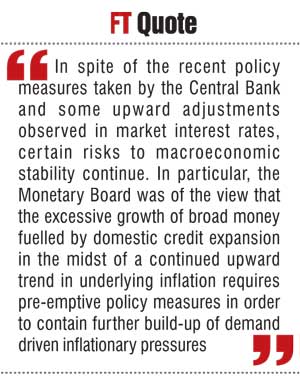 The Central Bank's decision to increase the Statutory Reserve Ratio (SRR) with effect from 16 January has permanently absorbed a part of excess rupee liquidity from the domestic money market. The decline in excess liquidity also resulted in market interest rates adjusting upwards. In effect, most market rates have shown adjustments towards the levels observed prior to the reduction in policy interest rates in April 2015.

A Reuters report said currency dealers said the policy move will ease the pressure on the rupee, which fell 9 % last year, while stockbrokers said there will be selling pressure in stocks with investors shifting to fixed assets. The Rupee is under pressure due to strong imports and foreign selling of government securities.

"This will give a policy direction that the interest rates are on the way up. So that's the signal to the market. This will ease the policy uncertainty little bit," said Colombo-based Frontier Research analyst Shiran Fernando.

Higher foreign debt repayments and the Central Bank's heavy intervention to prop up a falling rupee have depleted Sri Lanka's reserves by around a third to $6.3 billion as of 31 January, from a peak in October 2014.