The debilitating trade union action by the Government Medical Officers' Association (GMOA) is tipped to end following a breakthrough resolution of outstanding issues at a high level meeting last evening chaired by Prime Minister Ranil Wickremesinghe involving Health Minister Dr. Rajitha Senaratne and GMOA President Dr. Anuruddha Padeniya among others.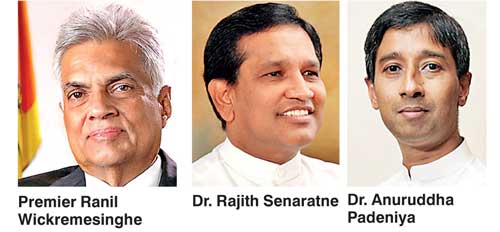 Official sources told Daily FT last night that the GMOA had two priority issues – the gazetting of minimum standards on private medical schools and the selection of a more amicable candidate for the chairmanship of the Sri Lanka Medical Council.

"Both key issues as well as other matters were resolved during the meeting which lasted more than two hours," sources revealed. As a prelude to reaching a final consensus, teams from the Government and GMOA had several rounds of discussions during the past few days.

The Government has clarified that most of the grievances highlighted by the GMOA had been addressed and trade union apprehension could be due to a delay in implementation or miscommunication. Health sector sources said a formal announcement by the GMOA is expected later this week while the Government has given an undertaking to expedite the gazette.

For several months the GMOA had launched strikes so as to secure their demands through trade union action which considerably inconvenienced patients while protests by state medical students and others divided the public and triggered clashes between law enforcement authorities and protestors.

GMOA Secretary Dr. Navin De Zoysa, National Hospital Consultant Cardiologist Dr. Gotabhaya Ranasinghe and Dinesh Weerakkody were also involved in yesterday›s meeting at Temple Trees.