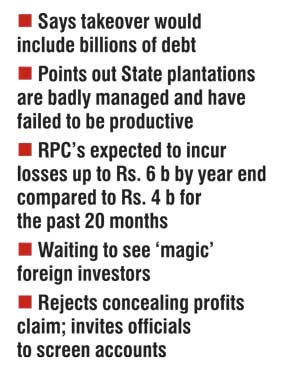 By Shehana Dain

Following threats to nationalise plantations the private sector has challenged the Government to take over debt-ridden and loss making plantation companies but has warned the State could end up biting off more than it can chew.

Regional Plantation Companies (RPCs) have responded following remarks made by Higher Education and Highways Minister Lakshman Kiriella to hand over their estates if wages of workers were not increased, noting that there was a plethora foreign investors who wish to invest in the industry. Kiriella also alleged companies conceal their profits to avoid a wage increase adding that the increasing land mass has led to an unmanageable situation for the plantation owners.

Retorting to these claims Planters Association Chairman Roshan Rajadurai pointed out the Government is already managing 36 estates in which the statutory liability collectively adds up to Rs. 3.6 billion per annum in 2014 without accounting for gratuity liability. Most of these factories have even been deprived of electricity due to late payments, according to the Chairman.



"Maybe they are planning to manage the estates in a different manner but first they should demonstrate a good example to us by managing the Government owned estates, if they do so we also can set them as our benchmarks. Today productivity is a huge problem for us.If there are foreign investors who are willing to turn that around for these plantations we would be delighted to witness that magic." he said.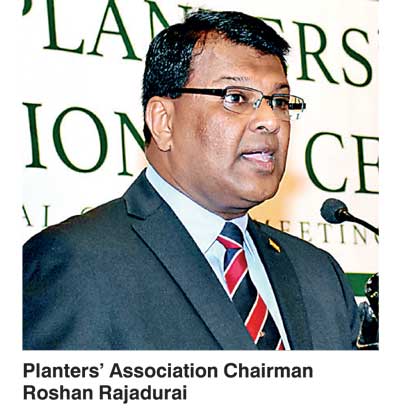 Rajadurai further went on to say: "The minister may have told to just handover the estates but he should understand that these are all public listed companies. The shareholders will eventually make a call and there will be a due process to hand it over to the Government. These are now private legal entities and they have borrowed from local banks, and other agencies. Adding to that gratuity liabilities in a good size company will be over Rs. 2 billion. So the Government must be prepared to take over all this liabilities."

Government sector plantations managed by the Sri Lanka State Plantations Corporation (SLSPC) and JEDB (Janatha Estate Development Board) were leased out to 23 Regional Plantations Companies (RPC)during the period 1992-1994. At the same time government entered into management agreements with some private sector companies to manage a few regional plantation companies. Kurunegala Plantations Limited and Chilaw Plantations Limited are among a few of them.

Moreover Rajadurai stated that at the time the estates were privatised the State sector was incurring a loss of Rs.1.3 billion and a debt of Rs. 7 billion which they converted to equity, whereas the Treasury was burdened Rs. 5 billion annually for operational expenses.

He elaborated that such comments made by the Minister will send out wrong signals to the shareholders at large with regard to future investments.

"Since it was leased to us we have invested Rs. 55 billion annually to develop our estates if one wants they can compare our plantations to the Government owned companies in the tea industry. Our shareholders and the Board of Directors will decide what to do and the Government has to make a call. This is of course a very bad signal because the companies will think twice before exposing themselves to more borrowing in order to invest."

For the past 20 months combined debt of the tea and rubber plantation companies has amounted to around Rs. 4 billion primarily due to the price drop in the market. This year the signs are that it will top Rs. 6 billion, Daily FT learns.
Rajadurai also rejected claims made by the Minister that the companies were hiding profits pointing out as public listed companies they were bound to maintain strict corporate governance regulations and insisting they were open for scrutiny.
He also highlighted that it was factually incorrect for the Minister to say that companies are unable to manage their land area due to sheer size.
"For example the Hayleys Group which is one of the bigger companies in the industry has estates of about 3000 hectares each for tea and rubber. We have far too many estates and factories comparative to other economies. In other countries for 3000 hectares they only have one factory, hospital and office. In Sri Lanka for the same land volume we have about 10 or 12 estates, which mean 10 factories, hospitals and other facilities," he added.