Ravi K urges banks to take risks, lend to SMEs
CB to be held responsible personally and officially for future activities
By Charumini de Silva

The state-run Sri Lanka Savings (SLS) Bank yesterday gave assurances that it would pay Rs. 240 million to 8,200 Pramuka Bank depositors, a senior official said.

Speaking to Daily FT, SLS Bank Chairman Asoka Somarathne said that it would repay the principal sum to depositors through funds collected from Pramuka Bank's assets and revenue generated in SLS Bank.

The disbursement of repayment certificates was conducted in the presence of Finance Minister Ravi Karunanayake at his ministry. SLS Bank Working Director K. Amarasinghe, National Savings Bank (NSB) Chairman Aswin de Silva and other senior management officials were also present at the event.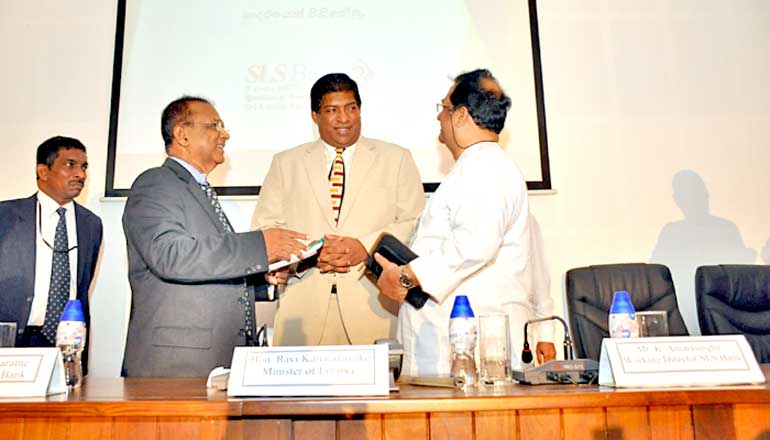 SLS Bank Chairman Asoka Somaratne (left) handing over a repayment certificate to a depositor. Finance Minister Ravi Karunanayake looks on (centre) – Pic by Lasantha Kumara


Many retired workers who invested their savings through high interest fixed deposits suffered with the bank's closure in 2002. However, in 2007 Sri Lanka Savings Bank Ltd. was lawfully appointed to own and manage all of Pramuka Bank's assets and took all action to recover any dues.

Following the bank's closure three people committed suicide, one died of a heart attack and 14 others were left paralysed.

Rohan Nanayakkara, one of the depositors who obtained his repayment certificate, immediately returned it to the Finance Minister and requested that it be handed over to a paralysed depositor who was left bankrupt.

Somarathne appreciated the direct assistance provided by the Finance Minister in fast-tracking the process of repaying depositors.

He said the bank would immediately remit the principal sum to depositors' savings accounts according to their authenticity.

"They need to have a savings account at SLS Bank," he added.

Commenting on SLS Bank's future plans, he said that instead of focusing only on the fixed deposits, the bank intends to play an active role in the microfinance sector.

"We want to provide financial access to small and medium entrepreneurs as well as self-employed communities in order to help expand the economy," he said.

Karunanayake also urged banks to take risks and disburse money to SMEs. "Private financial companies have a better capacity to pay attractive interest rates to the public compared to the state banks, so fast-track access to finance, especially to the SME sector.

"The general norm is that the banks are more interested in offering loans for large-scale companies but we must remember that the SME sector contributes 80% to the economic development of the country. They are the ones that drive the economy," he said.

The Minister pointed out that, in the future, if the Central Bank made any assurance then it would be held personally and officially responsible for it.

"During the previous regime, if mistakes were made by the authorities the consequences had to be borne by depositors. This era has changed this. The people of this country elected us for change. We are here to serve the public and not serve ourselves," he stated.

He said that there was a misunderstanding where the Government was trying to take over the shares of private and public banks and privatise assets to uplift the Government sector.
"We need to prohibit the word 'privatisation' and need to manage the Government institutions process better than the private institutions process. We need to manage public assets and make an effort to eradicate corruption," Karunanayake added.