Microsoft International President Jean-Philippe Courtois holding discussions with the Sri Lankan delegation in Davos led by Prime Minister Ranil Wickremesinghe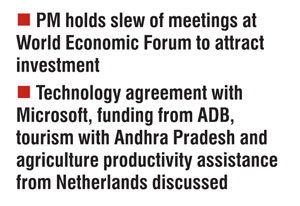 Making the most of his time at the World Economic Forum in Davos, Prime Minister Ranil Wickremesinghe yesterday conducted a slew of meetings with top industry moguls and politicians to market Sri Lanka to the world as an attractive Foreign Direct Investment (FDI) destination.His key meetings included discussions with Microsoft International President Jean-Philippe Courtois on formulating a technology agreement with Sri Lanka that would focus on introducing next generation technology, improve cyber security and expand local IT knowledge.

Courtois has agreed to dispatch a delegation from his company to Sri Lanka for discussions on the proposed agreement in the near future, a press statement released by the Prime Minister's office noted.

"Both sides discussed the technological future of Sri Lanka and how education, health and finance sectors can be developed through access to advanced technology," the statement noted. The aim of the technology agreement would be to enable Sri Lankans to access information directly, thereby improving their capacity to be productive members of society, the release added.

Courtois and Wickremesinghe also discussed the possibility of giving access to new technology to Sri Lankans at less cost.

The Prime Minister also met Asian Development Bank (ADB) President Takehiko Nakao who praised the good governance advances made in Sri Lanka and stated future funding assistance would be considered by the monetary institution.

Detailed discussions on continued expertise sharing, grants and loans to Sri Lanka would be discussed during Nakao's next visit to Colombo in February.

"Sri Lanka's large debt burden was discussed between the parties and both sides agreed to consider opportunities to refinance the loans. Additional investment in education and health also featured in the meeting with focus on improving the country's human development," the statement said.

During another meeting with Andhra Pradesh Chief Minister N. Chandrababu Naidu and the Sri Lankan delegation an agreement was made to establish a special committee to improve tourism and cultural relations between the two regions.
The Government's plans to develop a tourism zone by increasing ties with Andhra Pradesh and South India were explored at the meeting and Wickremesinghe plans to continue discussions on greater engagement with Andhra Pradesh during upcoming talks with Indian Foreign Minister Sushma Swaraj.

The Netherlands Prime Minister Mark Rutte also expressed interest in considering investment opportunities in Sri Lanka. Special attention would be paid to agriculture and water management as areas the Netherlands have expertise in along with using Dutch knowledge to battle Sri Lanka's chronic kidney disease.

Wickremesinghe also appealed to Rutte to funnel Netherlands expertise to increase agriculture productivity in Sri Lanka and increase agri-based exports. In response Rutte had agreed to send a delegation to Colombo to look into investment opportunities. Netherlands-based electronics multinational Phillips has already begun discussions with Sri Lanka to manufacture a low cost street lamp factory.