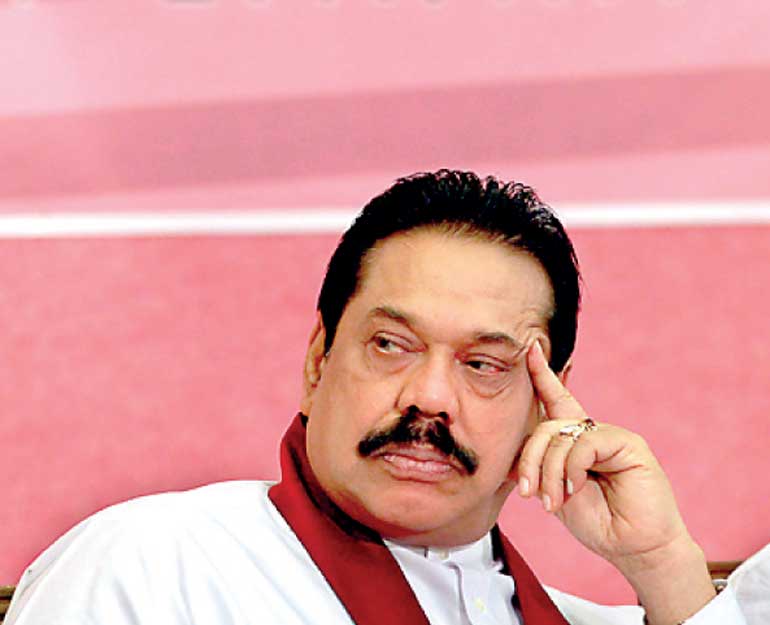 Mahinda Rajapaksa
By Dharisha Bastians

Former President Mahinda Rajapaksa's much-hyped trip to Uganda this week was plunged into controversy after documents emerged showing the former leader had requested the Government to pay his travel expenses and facilitate his visit to the African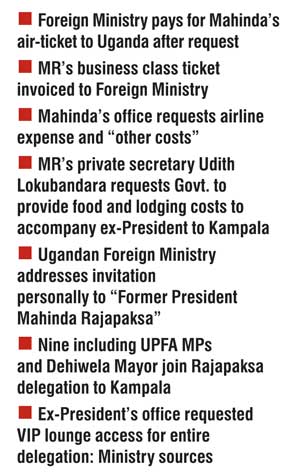 country.

The ex President was invited to attend the inauguration of the controversial Uganda President Yoweni Musaveni who was sworn into office for the fifth time this week after an election that the opposition claimed was rigged.

Daily FT is in possession of several documents proving that the Ministry of Foreign Affairs paid Rs. 425,000 for business class travel for the ex President from Colombo to Kampala, via Dubai. The ticket has been issued by World Air Pvt Ltd, a ticketing agency located on Havelock Road, Colombo 05, on 5 May 2016 in the name of RAJAPAKSA PERSY/M. The ticket has been invoiced to the Ministry of Foreign Affairs.

Highly placed sources at the Ministry of Foreign Affairs told Daily FT that the Ministry had only agreed to pay for the air ticket, and declined to bear costs for the former President's accommodation.

Rajapaksa and his entourage had booked rooms at the Speke Resort Munyonyo for the duration of their visit.

On 5 May, former MP Udith Lokubandara who currently serves as private secretary to former President Rajapaksa, wrote to the Secretary to the Minister of Foreign Affairs Chitranganee Wagiswara, asking the senior official to "facilitate for air ticket fares and other expenses" during the visit.

The same day, Lokubandara issued a second letter to Secretary Wagiswara, informing her that he would be accompanying Rajapaksa on the trip to Kampala, Uganda in his capacity as private secretary. "Please be kind enough to facilitate for expenses for food and lodging in Kampala from the 11th of May to the 15th of May as per government specified country regulations," Lokubandara's second letter tells Secretary Wagiswara.

Retired heads of state are not entitled to travel expenses unless they are travelling as a designated Government representative or envoy, official sources told Daily FT. Former President Kumaratunga had never been granted travel costs by the Sri Lankan Government for travel undertaken in her personal capacity as Chair of the South Asian Policy and Research Institute, a think tank based in Colombo or as a member of the World Leadership Alliance - Club de Madrid, her aides confirmed.

It remains unclear why any part of the former President Rajapaksa's tour to Uganda was funded by the Government, when the letter of invitation from the Government of Uganda was sent directly to the office of the ex President. Ministry officials, speaking on grounds of anonymity said it could have been a matter of courtesy to a former head of state and as a gesture to Uganda, with which Sri Lanka maintains diplomatic ties.

Without an invitation extended to serving Government leaders, the personal invitation to former President Rajapaksa alone was practically a slight to the ruling administration, highly placed sources said.

The Ministry of Foreign Affairs of the Republic of Uganda, in its letter dated 25 April 2016, extends the invitation for President elect Musaveni's swearing in to: HIS EXCELLENCY MAHINDA RAJAPAKSA – FORMER PRESIDENT OF SRI LANKA.

Signed by Minister of State for Foreign Affairs in Uganda Oryem Henry Okello, the letter in Daily FT's possession says Rajapaksa's presence at President Museveni's swearing-in ceremony would "provide an excellent opportunity to strengthen the warm and cordial relations between our peoples".

"I have the honour, Your Excellency, to invite you to join HE the President and fellow Ugandans in witnessing the Swearing-in Ceremony and to celebrate with us the start of this new mandate. While looking forward to welcoming you in Kampala, please accept, Your Excellency, the assurances of my highest consideration," the letter from Minister Okello said.

It is unclear if President Maithripala Sirisena, who is currently in London to attend the Anti-Corruption Summit, was extended a similar invitation.

The letter from the Uganda Government was not addressed to or through a Government party to the former President. There is no question therefore of Rajapaksa having attended the inauguration of the controversial Ugandan President as a representative of the Government, highly placed sources told Daily FT.

Meanwhile, a third letter issued to the Secretary of Foreign Affairs five days later, on 10 May, also by Lokubandara informs her about former President Rajapaksa's 'delegation' that would be travelling to Kampala from 11 to 15 May 2016.

The nine-member delegation included former UPFA MP Gamini Lokuge, Udith Lokubandara, UPFA MP Lohan Ratwatte, and Dehiwala-Mount Lavinia Mayor Dhanasiri Amaratunga and two other individuals – Saman Udaya Amarashinghe and Hasitha Wickramarachchi. Two security personnel holding Official Passports (OL5650274 and OL5650273) issued by the Government – Neville Wanniarachchi and Mahendra Sampath – were also included in the delegation. Interestingly, the official letter to the Ministry of Foreign Affairs also reveals that Mayor Amaratunga is in possession of a diplomatic passport, a privilege not usually extended to municipal mayors. Amaratunga could be one of hundreds of diplomatic passport holders created during President Rajapksa's tenure whose passports have yet to be recalled or cancelled.

Lokubandara's third letter said the former President would be travelling in a motorcade of four vehicles and two "Advance Vehicles" including one vehicle registered to the Army. "Please be kind enough to arrange airport protocol and other arrangements," the letter tells Secretary Wagiswara.

Secretary Wagiswara declined to comment on the former President's travel or confirm payment for his air ticket by the Ministry of Foreign Affairs.

But highly placed Ministry sources said Rajapaksa's office had requested VIP lounge access and other arrangements for the entire delegation travelling to Kampala on 11 May.

Museveni's swearing-in ceremony that President Rajapaksa attended was a highly controversial affair. Among the guests in attendance was Sudanese President Omar Hassan al-Bashir, who has outstanding warrants against him issued by the Hague-based International Criminal Court (ICC) for crimes against humanity. Diplomats from the US, EU and Canada marched out of the inauguration ceremony in protest at al-Bashir's presence and Museveni's own comments belittling the ICC during his speech. President Museveni has been in office since 1986. In 2001, his administration loosened the two-term limit in the Ugandan constitution to permit him to contest unlimited terms in office, a strong parallel with Rajapaksa himself whose 18th Amendment to the constitution in 2010 lifted the two-term limit on the presidency allowing him to contest an unprecedented third term in January last year.

During his tenure in office, former President Rajapaksa actively nurtured relationships with controversial world leaders and dictators, whose views about the US and other Western states resonated with his own. During his nine-year reign, Rajapaksa undertook official visits to Belarus, where he was warmly received by Alexander Lukashenko, dubbed the last dictator of Europe, travelled to Libya where he was famously pictured in embrace with Muamar Gaddafi, made a visit to Kazakhstan, and invited the polygamous Mswati III King of Swaziland, whose regime has been accused of gross human rights violations and torture, to Sri Lanka for a state visit.

He also actively cultivated strong personal and diplomatic relations with Iran's former President Mahmoud Ahmadinejad and former Venezuelan President Hugo Chavez. The alignment with states and world leaders associated with rights violations and authoritarian rule was part of the foreign policy pursued by the Rajapaksa administration in order to build a bloc of support against mounting calls from the West and the United Nations for accountability for alleged war crimes committed by the Government in the final stages of the war.