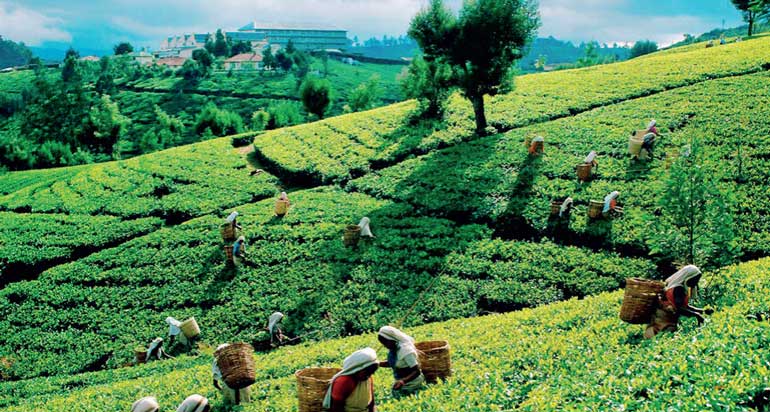 Lowest exports in 18 years say brokers
Predict 2016 figures will end less than $ 1.3 b earnings in 2015
Russia and CIS countries continue to lead with Iran and Iraq
November saw more bad news unfolding as tea exports dropped 22% to 20.4 million kilograms from 26.3 million kilograms in 2015, tea brokers said, noting that it was the lowest export figure since 1998 when a figure of 21.9 million kilograms was shipped.

November also recorded the lowest exports for 2016 said Siyaka Research in their weekly auction report. They also observed the Sri Lanka rupee value of exports have fared comparatively better with earnings of Rs. 14.9 billion; down 3% on previous year's figure of 15.4 million kilograms. Exports for the period January to November 2016 at 266.1 million kilograms have declined 5% on last year's quantity of 281.5 million kilograms.

"Consequent to much stronger auction prices and depreciation of the rupee during the second half of 2016, total value of exports have risen to Rs. 168.4 billion against Rs. 166.9 billion a year ago. The approximate US dollar value of shipments for the period January to November 2016 is $ 1.158 billion compared with $ 1.235 billion a year ago. The highest ever eleven month figure is $ 1.499 billion achieved in 2013," it said.

Asia Siyaka also projected that the final figure for 2016 would be less than last year's dollar earnings of $ 1.3 billion but declined to speculate on specific numbers. Sri Lanka's peak foreign earnings were $ 1.638 billion in 2014.

A review of destinations confirms Russia /CIS continues to lead with an off take of 49.4 million kilograms down 5% on last year's figure of 51.8 kilograms. Direct exports to Iran have increased 18% from 26.4 million kilograms to 31.3 million kilograms this year.

Iraq follows with shipments to and transit quantities having risen to 30.8 million from 28 million a year ago. Turkey and the UAE had less transit traffic and were down 22% and 19% respectively. Syria follows with a marginal increased figure of 11.1 million kilograms against 10.2 million kilograms. Libya has moved from 8.6 million kilograms to 10.4 million kilograms. Japan, the key market for high growns, has declined 10% from 7.8 million kilograms to 7 million kilograms.

China growth momentum has eased with this year's quantity of 6.9 million kilograms, up 4% compared to 2015 January to November figure of 6.6 million kilograms. Germany shows a nominal gain with a quantity of 6.4 million kilograms, followed by Chile which is down 8% from 6.5 million kilograms to 5.9 million kilograms. Interestingly, USA has grown significantly by 21% from 3.9 million kilograms to 4.7 million kilograms this year.
Meanwhile, the penultimate sale of the year concluded this week at the tea auction, which was a one day restricted sale which had on offer a total of 4M/kgs. Low grown/large leaf teas declined all-round whilst the high and mid grown small leaf teas were irregular and barely steady, Forbes and Walker tea brokers said in their report.

Ex-Estate offerings declined and totalled 0.7M/kgs. There was good demand at irregular rates. Majority of the best western BOP's were barely steady whilst a few select invoices gained Rs. 10-20 per kg and more following special inquiry. Corresponding BOPF were firm and Rs. 10-20 per kg lower mainly following quality. BOP's in the below best category were irregular whilst the corresponding BOPF on average declined Rs. 10 per kg. Plainer BOP's were firm whilst the corresponding BOPF were firm to dearer. Nuwara Eliya BOP's gained Rs.10-20 per kg whilst the corresponding BOPF were barely steady. Udapussellawa BOP/BOPF declined Rs.30-40 per kg and Rs.10-20 per kg respectively. Uva BOP's declined Rs.40-50 per kg and more for last week's select high priced teas. The corresponding BOPF declined Rs.20 per kg and more. CTC teas witnessed mostly a firm market.

Interest from shippers to CIS was fairly widespread while South Africa continued to lend useful support. UK, Japan and the Continent continued to be selective.

Low growns comprised of approximately 2M/kgs in the leafy/tippy catalogues on account of the restricted sale. There was fair demand at lower levels. In the leafy catalogue better OP1/BOP1's were easier barring a selection of clean below best types that maintained. OP/OPA's too were easier to last. Better PEK1's together with a selection of bold PEK's held firm whilst the others were lower to last. In the tippy catalogue better FBOP/FF1's declined Rs.10-20 per kg and more while the others too were easier but to a lesser extent. In the premium catalogue, better made teas generally maintained. Others were easier following quality. Shippers to Dubai, CIS, Iraq, Turkey together with Saudi Arabia were active this week.