Mahinda to contest from Kurunegala; will sign nomination papers on Friday: Nimal Siripala
UPFA nomination board member says no decision yet about where MR will contest
UPFA nominations not finalised at Tuesday meeting; feverish discussions continue
President meets Sobitha Thero and civil society leaders to discuss nomination issue
CBK, Arjuna, Rajitha meet President for final talks on controversial nomination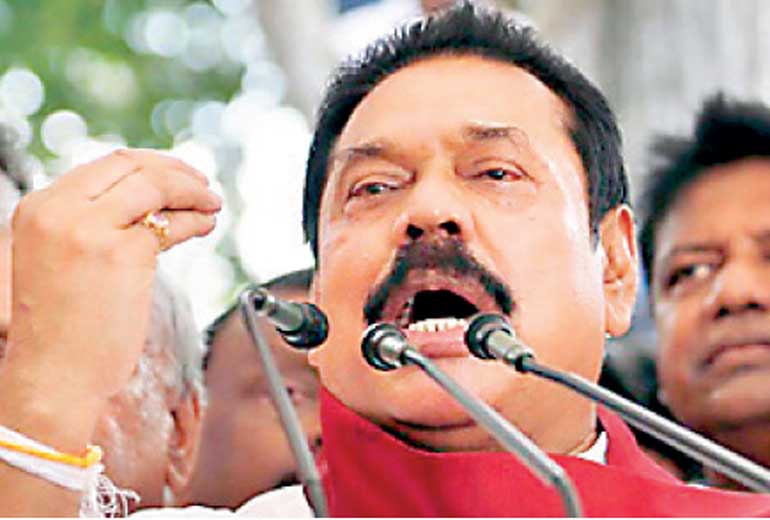 Former President Mahinda Rajapaksa
By Dharisha Bastians

As the United People's Freedom Alliance (UPFA) and its leading constituent party, the SLFP, made conflicting claims regarding nominations for ex-President Mahinda Rajapaksa on the alliance list, President Maithripala Sirisena's public silence on the controversial issue continued to baffle loyalists and supporters of his presidential bid in January.

With nominations scheduled to close at 12 noon next Monday (13), the UPFA is racing against the clock to finalise its candidate lists and iron out differences between its Rajapaksa and Sirisena factions ahead of the deadline.

Reports emerged on Tuesday that President Sirisena had imposed strict conditions on Rajapaksa's candidacy, including that the former President would have to contest in his home district of Hambantota and nowhere else and that he would not be permitted to lead the UPFA campaign.


But Opposition Leader Nimal Siripala De Silva dropped a bombshell in Welimada yesterday, when he told a meeting in Uva-Paranagama that the former President would be signing nomination papers tomorrow (10).

"We asked President Rajapaksa which district he wanted, he is going to contest from Kurunegala, that is certain," De Silva told the meeting.

Kurunegala is Sri Lanka's third largest electoral district and would give the former President a greater claim to premiership than if he were to contest in Hambantota with its much smaller population. Rajapaksa is also keen to allow his son Namal Rajapaksa to contest without competition in Hambantota and top the list in his home district.

However, UPFA Nomination Board member Minister Mahinda Amaraweera said there was no final decision yet about which district the former President would be allocated to contest.

The party's nomination list was not yet finalised, even though the interview processes were complete, Amaraweera told BBC Sandeshaya yesterday.

A flurry of high level meetings was scheduled for Wednesday night with President Sirisena, as the alliance struggles to reach consensus on its candidate list.

President Sirisena was scheduled to meet with former President Chandrika Kumaratunga, Ports Minister Arjuna Ranatunga, Lands Minister M.K.D.S. Gunewardane, Duminda Dissanayake and Health Minister Rajitha Senaratne last night for final discussions on the controversial issue of nominations for Mahinda Rajapaksa.

This faction includes MPs and ministers in the former Rajapaksa regime that quit with Sirisena when he decided to contest the presidency in November last year.

There had been several rounds of talks with the President on this issue, members of the group claimed, but they had all ended inconclusively. The meetings had been ad hoc and rushed, one member of the group claimed. It was the Wednesday night meeting that was going to be key to a final decision on the issue.

Meanwhile, President Sirisena was also scheduled to meet with civil society leaders who supported his presidential bid in January, including Ven. Maduluwawe Sobitha Thero, the architect of the common candidacy movement. Trade union leader Saman Ratnapriya, Convenor of the Purawesi Balaya Dr. Gamini Viyangoda and Ravaya Editor K.W. Janaranjana were to participate in this meeting at 8.30 p.m. last night.

President Sirisena's former allies are rallying against his decision to create the space for a return of the Rajapaksa regime through the parliament. President Sirisena's agreement to grant the nomination to the former President is being called the great betrayal of the people's mandate he had been given on 8 January.
​