Zinc Hotels and Resorts Lanka Chairman Tilak de Zoysa (second from left) flanked by from left Galle Face Group Chairman Sanjeev Gardiner, Jetwing Hotels Chairman Hiran Cooray and Watawala Plantations Group Managing Director Vish Govindasamy - Pic by Upul Abeysekera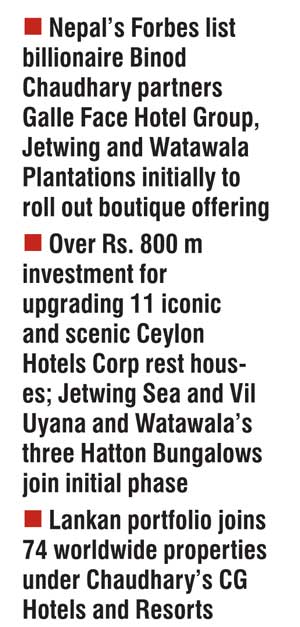 Sri Lanka's quest to reap higher yield in tourism has got a big boost with Nepalese billionaire Binod Chaudhary expanding his hotels and resorts footprint in Sri Lanka in partnership with Galle Face Hotels Group, Jetwing and Watawala Plantations as the first step.

Via CG Hotels and Resorts, which at present has 5,400 rooms in 74 hotels in 63 destinations, the multi partner initiative yesterday launched the latest hospitality brand in Sri Lanka - Zinc Journey.

In the first two years around 127 rooms will be revamped and branded under Zinc.

As a start it will manage three revamped bungalows in Hatton owned by Watawala Plantations and operate it under the brand Zinc Journey Mandira and Zinc Arika Villa an eco resort in Dambulla.



Existing investments in Jetwing Sea and Vil Uyana will be rebranded with the addition of Zinc Journey to the name. Later this year the Zinc brand will be extended to cover two Galle Face Hotel Group owned Ceylon Hotels Corporations' (CHC) rest houses in Sigiriya and Ella. Under a joint venture eight more rest houses of CHC in Weligama, Kithulgala, Beliuloya, Pussellawa, Dambulla, Habarana, Mihintale and Medawachchiya will be upgraded to boutique hotels to be marketed under the Zinc brand.

"The initiative entails an investment of over Rs. 800 million to have a Zinc portfolio of 15 resorts in 13 locations," said Tilak de Zoysa, Chairman of Zinc Hotels and Resorts Lanka Ltd., which together with CG Hotels and Resorts will act as manager or shareholder where applicable. "These new rooms offering a unique boutique hotel experience will fetch anything between $ 100 to 300 per night," de Zoysa added.

He said the latest venture is inspired by Binod Chaudhary's passion for and confidence in tourism in Sri Lanka. Included in Forbes' list of billionaires, Binod's diversified CG Group is Nepal's only multinational. He already has investments in Taj Lanka Group as well as in several resorts in the Maldives and Thailand. His CG Hotels and Resorts have existing properties or under construction in Nepal, China, Bhutan and India as well as those planned in Africa and elsewhere with Zinc and Fern being among top of the 7 brands.

Chaudhary wasn't present at the Sri Lanka media launch but in a statement he said: "We are deeply committed to growing the tourism potential of this most attractive part of the world. This is only the beginning of what we believe will be further introductions to hospitality lifestyle brands we are known for in various parts of the world."

Galle Face Hotel Group Chairman Sanjeev Gardiner told the media: "It is great to have a foreign partner like Binod/CG who believes in the future of Sri Lanka and shares the same passion and vision we have for tourism." Jetwing Chairman Hiran Cooray added that Binod was increasingly fond of Sri Lanka for having committed investments in the leisure sector during difficult times of the past. Watawala Plantations Director Vish Govindasamy said it was a great partnership to add value to the tourism potential within plantations. Watawala will expand the tourism offering if there are opportunities within its other estates.

To provide its global guests a unique journey around the country, Zinc will also explore partnerships with leisure industry giants such as Aitken Spence for a wider footprint. On its own and via existing partners, Kandy and several other popular tourist locations are being earmarked to expand Zinc Journey brand.

In several of Hotels Corporation guest houses, new rooms are being added. CHC's portfolio comprises of around 18 guest houses and of that only 11 have been committed under the joint venture with CG Hotels and Resorts. The Zinc Hotels and Resorts team comprises of those senior as well young drawn from leading corporate and leisure brands in the country whilst former Taj Group Senior Vice President, Global Sales & Marketing Deepa Misra Harris will help build the Zinc Journey brand locally and internationally.