Calls for private-public partnership; assures solution for lack of skilled workers
Urges industry to take centuries-old Sri Lankan expertise in construction sector to international arena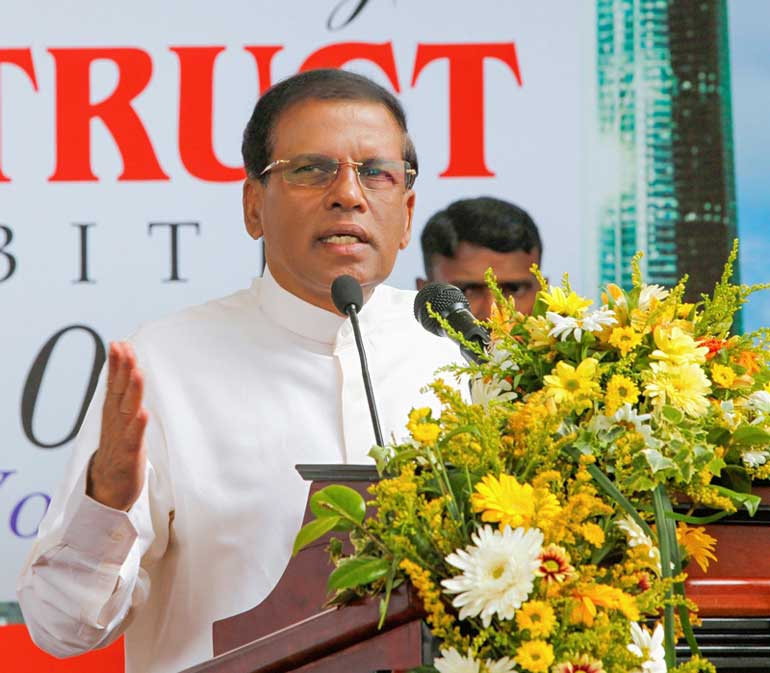 President Maithripala Sirisena yesterday emphasised the need for a national policy for the construction industry.

In calling for a national plan and policy, President Sirisena pointed out it should be done with the cooperation of the State and private sector and he extended an open invitation to the private sector in this regard.

He said that when the National Construction Association highlighted the issue of an inadequacy of skilled workers, the industry was requested to submit a proposal to solve the issue. He said the Government would then look into the issue and find a solution.

The President made these observations while participating at the 'Construction 2015' industry show, held at the BMICH yesterday. This exhibition, organised by the National Construction Association of Sri Lanka, will go on until Sunday.



The President also noted that even though the construction industry currently possessed modern technology, it should be combined with expertise developed in ancient times.

The President further said that what we learned from historical chronicles about innovative inventions had been discovered during recent excavations and during ancient times the Sri Lankan construction industry had earned itself an enviable reputation.

The President recalled that Sri Lanka's history of using iron goes back to an early period in human civilisation. He added that the history of irrigation in Sri Lanka reveals that ancient kings had built more than 34, 000 tanks for irrigation. He said that centuries-old Sri Lankan expertise in the construction sector should be taken to the international level.

After opening the exhibition, the President held cordial discussions with those engaged in the construction sector. The exhibition provides knowledge and education regarding the construction industry and equipment available in this industry.

Ministry secretaries, the President of the Construction Association, Deshamanya S.P. Liyanarachchi and Secretary Pubudu Kamal Perera were also present at the occasion.