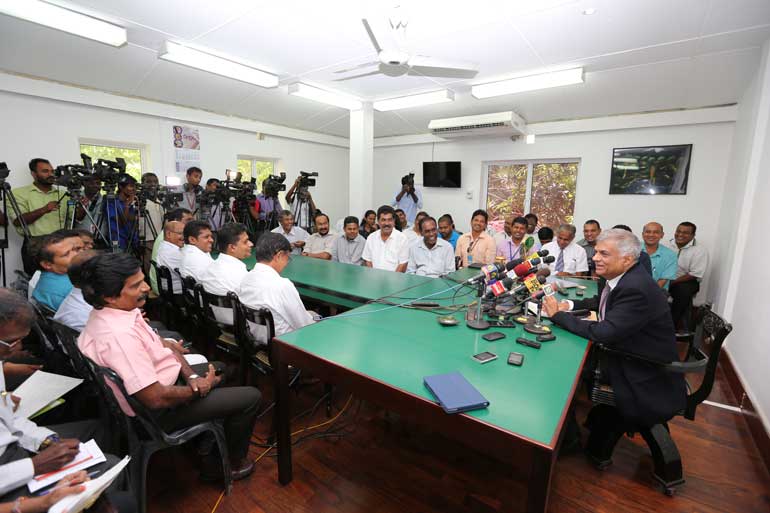 By Jayashika Padmasiri and Chamodi Gunawardana

Prime Minister Ranil Wickremesinghe yesterday revealed that former President Mahinda Rajapaksa and his Central Bank Governor Ajith Nivard Cabraal had hidden Rs. 2.7 trillion worth of Treasury Bonds for the benefit of their cronies.

This shockingly high figure was built up from 2012 to 2014.

"These Rs. 2,700 billion worth of Treasury Bonds were issued without any transparency. Therefore it is clear that investigating the recent transaction of Rs. 10 billion, corrupt practices which are 270 times more have been discovered. The previous regime has placed these Treasury Bonds with their friends to make major profits," Wickremesinghe said.

"These transactions have taken place without going through a tender board or public auction system. They are not transparent at all, as they have been done according to the personal preferences of the authorities of the former Government. None of the members who should have been on the tender board had actually been there during those transactions. Treasury Bonds are normal issued by way of a public auction. Instead these bonds have been issued through private placement," the Premier said.

Wickremesinghe made this disclosure during a meeting with UNP activists at Sirikotha.

He asked the previous Government what had happened to the ill-gotten funds and said that this profiteering by its cronies had resulted in lower salaries for public servants and less relief to the public.

Wickremesinghe also pointed out that it was the Opposition which requested for this investigation but now since so many corrupt dealings of the previous Government had come to light it was requesting them to keep look away from the corrupt dealings that occurred from 2012-2014 and only focus on Central Bank Governor Arjuna Mahendran's issue.

"The Opposition MPs are today engaged in a battle where thieves are fighting to protect thieves. MPs such as Vasudeva Nanayakkara, G. L. Peiris and Dinesh Gunawardena are involved in this and are responsible for trying to conceal these crimes. Through the CB issue what the Opposition tried to do was prevent us from conducting these internal investigations at the Central Bank. However, along with President Sirisena, all political parties within the country should unite and help purge the nation of corruption," Wickremesinghe added.

The Prime Minister added that if Mahendran was proven guilty through investigations conducted by the Committee on Public Enterprises (COPE) then the Government would dismiss him from the Central Bank.
Vasu a 'dried pumpkin': Ranil
Reacting to the torrent of abuse directed at him on Thursday in Parliament by United People's Freedom Alliance (UPFA) MP Vasudeva Nanayakkara, Prime Minister Ranil Wickremesinghe compared Nanayakkara to a 'dried pumpkin' and said that he was no longer in the prime of his life.

"He is a dried pumpkin who has lost the prime of his life. This is how defeated people behave," the Prime Minister asserted.
Dulles calls on other SLFP Ministers to resign
By Chamodi Gunawardana

A section of Sri Lanka Freedom Party (SLFP) members headed by Dulles Alahapperuma yesterday requested SLFP Ministers who were still holding portfolios to follow in the steps of the four SLFP ministers who resigned from the Government.

Addressing a press briefing yesterday, Parliamentarian Alahapperuma praised the four SLFP Ministers who resigned from the Government, stating they had proved the love and loyalty they had for the SLFP by taking that vital decision.

"We would like to bestow our regard and esteem on them for the decision they took. Now they can work in the Opposition for the public welfare," Alahapperuma expressed.

Alahapperuma also said that they would urge the Government to hold local government elections as soon as possible.

"The Government dissolved some local government bodies last week. Now they are trying to delay elections. If the Government is unable to hold local government elections soon, then they should have postponed the dissolution dates of the other local government bodies," Alahapperuma emphasised.

Alahapperuma added that the SLFP could not consent to the working procedures of the Government with regard to dissolving local Government bodies. "All SLFP MPs are of the same opinion," Alahapperuma said.
SLFP to bring no-confidence motion against Ranil soon
Parliamentarian Dulles Alahapperuma yesterday said that the SLFP would submit a no-confidence motion against Prime Minister Ranil Wickremesinghe soon.

"We have already obtained 60 signatures for this no-confidence motion. Apart from Parliamentarians, a number of ministers, deputy ministers and state ministers have signed it. We are planning to collect the rest of the signatures next week and we believe that we will be able to pass this no-confidence motion in Parliament," Alahapperuma said.