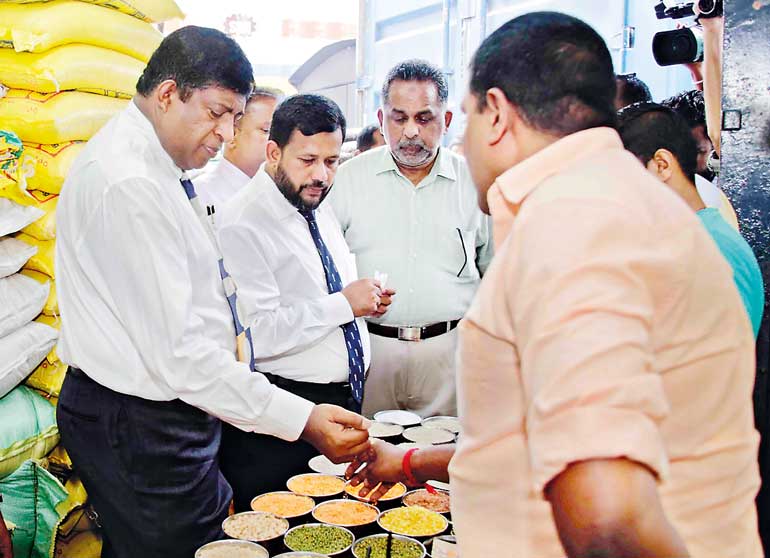 Minister of Industry and Commerce Rishad Bathiudeen and Finance Minister Ravi Karunanayake inspect wholesale food samples during their surprise inspection visit to 5th Cross Street, Pettah yesterday
​
Rishad, Ravi K in surprise inspection visit to Sri Lanka's wholesale epicentre
Directed for inspection by President and PM
Facilitated by the powerful EFCITA
"No shortages, two month of stocks already here": Rishad
"Unscrupulous traders trying to disrupt": Ravi K
"Imported rice is of higher quality!":EFCITA's Fernando
As the Sinhala and Hindu New Year season looms closer, top Ministers in charge of economy and trade jointly stepped out to the marketplace yesterday to quell consumer fears and debunk speculation of any looming shortages.

They also promptly reassured the Lankan consumers of uninterrupted food, commodity and essential supplies during the forthcoming New Year season.

"Rice stocks have increased and sufficient stocks are now available in the market for the next two months," announced Minister of Industry and Commerce Rishad Bathiudeen last morning in Pettah market, after his inspection tour of retail and wholesale distributors of Colombo wholesale market epicentre at 5th Cross Street, Pettah, joined by Finance Minister Ravi Karunanayake.

The unannounced inspections were facilitated by the powerful Essential Food Commodity Importers and Traders Association (EFCITA) on the directions of President Maithripala Sirisena, Prime Minister Ranil Wickremesinghe and the Cabinet Sub-Committee on Cost of Living. EFCITA is the silent giant dominating the essential imports to local retail market. The 223-strong EFCITA membership across the country handles more than 95% of essential commodity imports on its own.

"We find that there are more than enough supplies of all essential items," said Bathiudeen. "Rice stocks have increased and sufficient stocks are now available in the market for the next two months. In fact rice is sold less than Government's MRPs in this open market. Here we found a kilo of Nadu at Rs. 68 and white rice at Rs. 60 at wholesale prices. We can assure that there will be no shortages. There are attempts by some errant traders and market manipulators to cash in on seasonal demand. They are spreading false rumours of shortages to hike prices during the season. They are errant and legal action will be taken against such violatorsif detected."

"We are here on the instructions of the President Maithripala Sirisena and Prime Minister Ranil Wickremesinghe. As you can see with your own eyes, there are no shortages. The stories of shortages are rumours and are spread by unscrupulous elements," asserted Finance Minister Ravi Karunanayake.

EFCITA Spokesman Hemaka Fernando said that unscrupulous elements were trying to cash in on the season by creating artificial shortages, which was illegal.

"What Minister Bathiudeen just said is correct; there are stocks of all essential items lasting more than two months in the country. Also, wholesale prices are much lower. For example, we expect sugar price to increase as the season gets closer, but this year sugar prices are falling. A kilo of sugar which was at Rs. 103 last week today sells at Rs. 98."

Commenting on speculation that imported rice is of low quality, Fernando asked how it could be so and alleged certain elements and some local millers were behind this.

"Unscrupulous elements including some rice millers have created fear about imported rice saying it's harmful, which is false. Every grain of rice commercially imported to Sri Lanka is inspected closely by Customs, along with phytosanitary and fumigation certifications. Only imported rice entering our market has such strong certifications. How can such rice be harmful to health?"

The items identified by the Government as "essential" are chicken meat, red dhal, designated rice types, sprats, chickpeas, green grams, canned fish, white flour, white sugar, full cream milk powder, B-onions, potatoes, dried chillies, dried fishes, Maldive fish and Sustagen.