Emerging markets guru and Executive Chairman $ 40 billion managing Templeton Emerging Markets Group in Sri Lanka on five day visit
To call on Prime Minister Ranil Wickremesinghe today
Hails new Government's commitment to good governance; urges inclusiveness, coherent policies and planning
Sri Lanka portfolio includes $ 2 b of Government Bonds and $ 100 m in equity; commits to invest more
Calls for favourable taxation policy and focus on infrastructure to boost local and foreign investments
Says retrospective taxation such as Super Gains Tax impacts new investments, private sector
Places confidence on tourism boom; suggests Sri Lanka should proceed with Port City, casino/gaming inclusive integrated resorts
Moots privatisation to better manage fiscal challenges, boost efficiency, capital market
Insists more jobs via new investments key to alleviate poverty
By Nisthar Cassim

Emerging markets guru Dr. Mark Mobius yesterday declared Sri Lanka has great potential, provided the country gets its policies right, especially on taxation and infrastructure development to lure more foreign direct investment as well as bolster the local private sector.

Mobius, who is on a five day visit to Sri Lanka, told the Daily FT in an exclusive interview yesterday that his Templeton Emerging Markets Group, which oversees nearly $ 40 billion in assets and is part of one of the world's largest asset management groups Franklin Resources, Inc. (Franklin Templeton Investments) with $ 771 billion in assets under management, would like to invest more in Sri Lanka if the policy environment was favourable, amongst other things.

Templeton Emerging Markets Group, of which Mobius is the Chairman, currently has $ 2 billion investment in Government Bonds and $ 100 million exposure in select blue chips.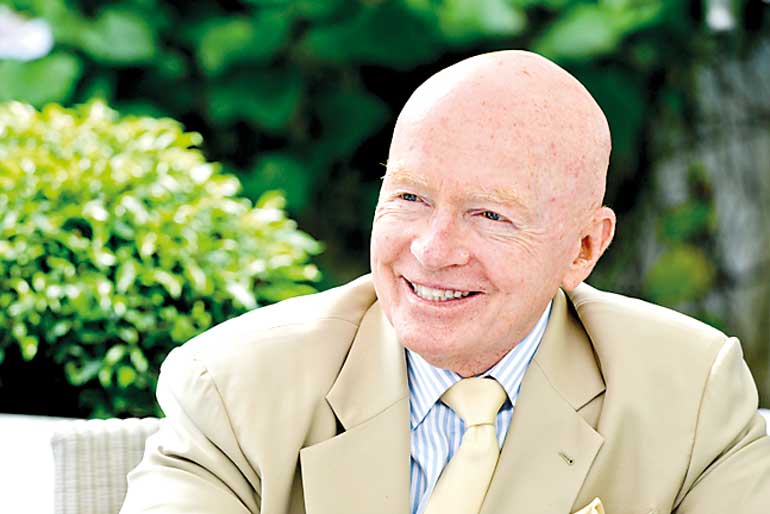 Radiant as ever Dr. Mark Mobius smiles during the interview with Daily FT at the Tintagel - Pic by Daminda Harsha Perera


"We have had satisfactory returns on our investments to date but Sri Lanka has the potential to offer more and attract much larger investment and we would like to enhance our involvement," said Mobius during the interview along with Marianne Page, the consultant to CT CLSA Securities Ltd., of CT Holdings Plc.

Templeton continues to hold on to Government Bonds it invested in two years ago and scouting for more equity investments, both listed and private, as returns are attractive and on the positive outlook arising from the change of Government, improved profile for the economy and expectations of a progressive Budget.

Sharing his frank and objective assessment, Mobius said Sri Lanka needs foreign investment, both at direct and portfolio level and at the same time the private sector needs to increase its investments and activities as well. "To ensure both happen in a dynamic setting, tax policy must be favourable," he added.
In that context, Mobius opined that the retrospective taxation must be avoided and regretted the imposition of Super Gains Tax (SGT) by the new Government. "I understand listed companies have expressed concern hence such taxation has an impact on investors too," he said adding, "We or any investor will be worried about unpredictable and retrospective taxation."

When told by Daily FT that one-off taxes such as SGT were to fund the stimulus announced as part of Presidential election pledge, Mobius said Sri Lanka needs to look at how some successful Asian nations managed the challenge. "These Asian countries pursued a policy of alleviating poverty by generating jobs, for which you need more business investments and economic activity. This is a more healthy and productive cycle," he added.

The 78-year old Mobius, who joined Templeton in 1987 and currently directs the Templeton research team which is based in 18 global emerging markets offices, and manages emerging markets portfolios, said that lower rate of taxation will lead to less evasion. These, along with widening of the net, are two critical measures to boost revenue and best practice in taxation.

After arriving on Friday in his private jet Mobius took off to Trincomalee to savour some time on the beach and drove back to Colombo after visiting Sigirya and Kandy.

He said since his last visit there have been major improvements in the road network and having enjoyed the scenic beauty, Mobius said Sri Lanka was "terrific" as a tourist destination as it has much to offer in terms of weather, beaches, heritage, culture etc.

Apart from suggesting that the Port City, the $ 1.5 billion Chinese project, must resume, Mobius also opined that Sri Lanka needs casino/gaming to boost tourism.

He acknowledged that tourism is a key industry for Sri Lanka's future prosperity provided the country lures big global brands in hotels, leisure and entertainment.

"Tourism has great potential and to scale up the proposition, the country needs big international hotel chains as well as entertainment. Once they have put their investments, they will draw the high spending tourists in larger numbers. In this regard gaming and entertainment is critical and integrated resort model will be a big boost especially when you consider China and India as major source markets," Mobius said. He was of the view that Singapore has got it right with proper safeguards and incentives and Sri Lanka can do same.

The need for more favourable land policy was also emphasised and he suggested if outright purchase of land is restricted then the Government must be supportive on long term leasing. "Any tax incentives can be determined by the size of the investments," he added.

Mobius also said Sri Lanka must persist with developing and modernising critical infrastructure saying "You need to combine infrastructure with more business friendly environment." He also called for continued support to basic industries such as value added tea, spices and manufacturing apparel. He said outsourcing industry was a bright spark for Sri Lanka too given the high literacy and financial qualifications.

Hailing the election of President Maithripala Sirisena and Prime Minister Ranil Wickremesinghe and the unity Government, Mobius said global investors will be heartened by the commitment to good governance, end corruption, improve transparency and accountability.

"Improved transparency helps to govern better and achieve better results. That also means better planning. Sri Lanka needs to come up with a more coherent plan and decide where the country wants to reach in, say, five years. More national policies and plans are helpful. Uncertainty is the biggest enemy of investments," he said.

With 2016 Budget looming, Mobius was of the view that the Government needs to embrace privatisation and effective public sector restructuring. He suggested privatisation or sale of minority stake of banks and other state entities via the stock market.

"There is no reason for the Government to be running these banks or commercial enterprises. However privatisation exercise should encompass a broader segment of society, especially retail and small investors with preferential allocation of shares. This will ensure wider distribution make the public a direct stakeholder. This will also boost the capital market, which is still very small as a percentage of GDP. That will enable for private sector to raise more capital via the capital market," pointed out Mobius.

"What privatisation does is that immediately it puts lot of revenue to the state, increases productivity with more efficient management and increases tax revenue. Privatisation is a better way for governments to manage its fiscal program and put more money in people's hands," he added.
"Sri Lanka must understand that there is no shortage of money. We are not the only ones, but for many others who would like to invest, the conditions must be right and the availability of shares. Right now it is by appointment only if you want to buy shares. This is unfortunate for the country when it could raise so much investment.

Make governance inclusive and transparent and minimise political conflicts. Continue with good policies and programs of the previous regime if any and make people stakeholders of the development process and empower them with more wealth in their hands."


"If you want a fast growing economy you need to increase productivity and way to this is having a market economy. The Chinese are increasingly embracing this strategy," he emphasised.

When asked going forward what can Sri Lanka expect from Templeton, Mobius said higher investments were likely provided there are right opportunities in a more conducive policy setting.

"For example if you look at Thailand, we have invested about $ 30 billion. If you consider 67 million population of Thailand, Sri Lanka is one third, and our investment in Sri Lanka could be $ 10 billion as opposed to $ 100 million at present," he pointed out.

"Sri Lanka must understand that there is no shortage of money. We are not the only ones, but for many others who would like to invest, the conditions must be right and the availability of shares. Right now it is by appointment only if you want to buy shares. This is unfortunate for the country when it could raise so much investment," Mobius said.

When asked for any political advice to the current unity government, his response was "Make governance inclusive and transparent and minimise political conflict. Continue with good policies and programs of the previous regime if any and make people stakeholders of the development process and empower them with more wealth in their hands."