Says new laws to be presented to Parliament in June to fast-track investment
Malik in Washington for talks to expand concessionary access to US markets
Welcomes Swedish business delegation, 21 companies already in SL
The Government will introduce fresh bills to Parliament in June to create a "dynamic and secure" business climate to push for foreign investment, Foreign Minister Mangala Samaraweera said yesterday.

Welcoming his Swedish counterpart Margot Wallström, Samaraweera was also upbeat of the business delegation accompanying her. Referring to the Development Act planned by the Government to fast-track the approval process for projects as well as setting up the Agency for Development and Agency for International Trade, the Foreign Minister encouraged Swedish companies to set up business ventures in Sri Lanka.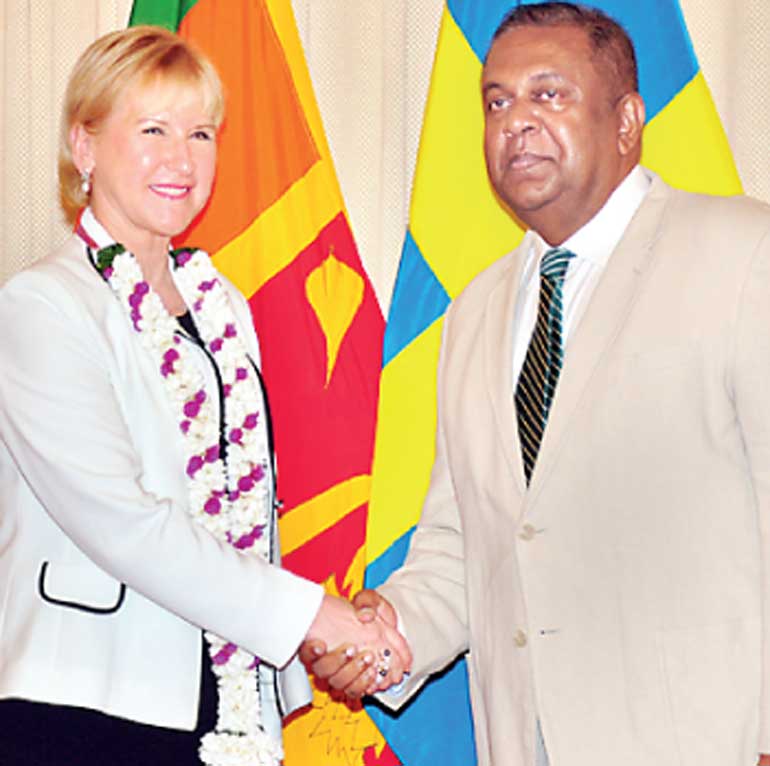 Swedish Foreign Minister Margot Wallstrom shakes hands with Sri Lankan Foreign Minister Mangala Samaraweera during bilateral discussions in Colombo yesterday - Pic by Lasantha Kumara


"By June a number of important bills will be introduced in Parliament to create an even more efficient, dynamic and secure business environment conducive for investment. Sri Lanka then will be truly open for business," he told the gathering.

Minister for International Trade Malik Samarawickrama is currently in Washington for the Trade and Investment Framework Agreement Council meeting, which will include discussions on securing further concessionary access to US markets. Samaraweera also expressed optimism over the EU Commission lifting the red card on Sri Lanka's fish exports, and was confident of regaining GSP+ concessionary access to the EU market.

"In our meeting we discussed working together to ensure that the people of our country benefit from these changes and from the peace and democratic dividend. We also discussed ways of making our partnership stronger, including enhancing development assistance, bilateral trade, tourism and investment."

The Minister also recalled that 21 Swedish companies have invested in Sri Lanka and thanked the delegation led by Wallstrom for their country's development assistance that dates back to the Kotmale Hydro Power project under the Mahaweli programme. He also called on the Swedish development agency to implement a programme in Sri Lanka.

"The people of Sri Lanka require the assistance of the international community to ensure that our gains are built upon; the dreams of our people are realised, and that we define and create our future today by our hopes and aspirations without being held back anymore by the fears and prejudices of the past," he added.
Sri Lanka and Sweden agree to renew economic cooperation
Reuters: Sweden yesterday agreed to renew investments in Sri Lanka after efforts by the new government headed by President Maithripala Sirisena to re-establish relations with western countries. The decision came after a round of bilateral discussions between Sri Lankan foreign minister Mangala Samaraweera and his Swedish counterpart Margot Wallstrom in Colombo. "Specifically I extended Sri Lanka's appreciation of Sweden's continued development assistance over the last 50 years, specially the Kotmale hydropower project and we discussed the possibility of the Swedish International Development Agency, SIDA, resuming a program again here in Sri Lanka," said Samaraweera at a news conference.

Sweden has supported several projects in Sri Lanka throughout the years and participated in development of the private sector in the conflict-worn eastern and northern parts of the country.

One of the major projects of cooperation was the Kotmale Hydropower Project in Sri Lanka, which was started in 2012 with an aim to provide power supply to all households by the end of 2016. Sweden has provided billions of dollars towards the financing of the project.

As part of its planned termination of development cooperation with different countries, Sweden phased out its aid from Sri Lanka by 2010.

According to a SIDA report, Sweden had invested over USD 862 million in Sri Lanka through a range of schemes and projects from 1958 to 2010.

Wallstrom said that Sweden is now exploring areas of mutual interest with Sri Lanka to invest in.

"I hope we will be able to define a number of areas for hopefully Swedish investments and cooperation in sectors like infrastructure, Green technology, information technology and the whole transport sector belongs to those areas that we have identified already as interesting to both our countries," said Wallstorm.

Ties between the two countries had taken a hit when Sri Lanka in 2009 declined then Swedish foreign minister Carl Bildt's participation in a joint mission with France and the UK, post which Sweden had recalled their ambassador to Sri Lanka.

Wallstrom arrived in Sri Lanka on Sunday (24 April) on a bilateral visit on Samaraweera's invitation.

The Swedish foreign minister will call on President Sirisena and Prime Minister Ranil Wickremesinghe.

She will also visit the formerly war-torn northern capital of Jaffna on Tuesday (25 April).