"Not one cent" of Rs. 10 b funds misappropriated says Malik and Weerasooriya, insists no conflict of interest
Appeals to Bribery Comm. to fast track investigations to clear name
Gives breakdown of investments made by Natwealth Securities, says only Rs. 300 m given for investment, subsidiaries properly audited
By Uditha Jayasinghe

"Not one cent" of the Mahapola Trust Fund has been misappropriated, insisted International Trade and Development Strategies Minister Malik Samarawickrama yesterday, categorically rejecting allegations by the Joint Opposition that millions of income to the fund has been lost through unethical investments.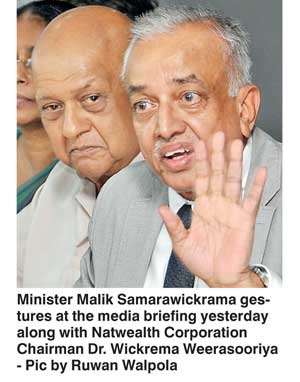 Money held by the Mahapola Higher Education Scholarship Trust Fund, which is estimated to be about Rs. 10 billion according to Minister Samarawickrama, is managed by the Natwealth Corporation (NWC), which is chaired by Dr. Wickrema Weerasooriya and is a State-owned entity. Funds held by the NWC were in turn invested by its subsidiary Natwealth Securities, which functions as the trading arm of NWC.

Natwealth Securities then invested the funds in a variety of State and non-State instruments including commercial papers, asset backed trust certificates, bonds and treasury bills. The Joint Opposition on Wednesday lodged a complaint with the Bribery and Corruption Commission, alleging that funds given to Natwealth Securities were traded in an unfair manner by companies that employed two sons of Dr. Weerasooriya, at a loss to the Mahapola Trust Fund.

The charge was vehemently denied by Dr. Weerasooriya who has rejected any conflict of interest and called on the Bribery Commission, in writing, to fast track investigations to clear his name. However during Thursday's press conference he acknowledged that one son was employed with Wealth Trust Securities, which as a primary dealer could have secondary market dealings with Natwealth Securities.

Releasing a list of all non-State investments made by Natwealth Securities yesterday, officials noted that the trading arm dealt with many companies including Rs. 306 m of commercial papers with People's Merchant Finance, Melsta Regal Finance, and Asset Backed Trust Certificates of Rs. 194.7 m with Peoples Leasing and Finance Plc. The largest component of over Rs. 1 b is in summary debentures, with a slew of top banks and leasing companies including Bank of Ceylon, Commercial Bank, First Capital Holdings, HDFC Bank, LB Finance, Nations Trust, Seylan and Sampath Bank.

Mahapola is chaired by Chief Justice K. Siripavan and has several top Government members including International Trade and Development Strategies Ministry Secretary, Education and Higher Education Secretaries, noted Minister Samarawickrama, who is also an ex-officio member.

"Natwealth Securities as a primary dealer is regulated and supervised by the Public Debt Department of the Central Bank and its Non-Bank Supervision Department. Both organisations are also audited by Pricewaterhouse Coopers and Ernst and Young, as well as the Government auditors. The Mahapola funds are managed by Natwealth Corporation and they have always been in a Custodian Account of the Bank of Ceylon and the fund amount now stands at about Rs. 8 b, which in 2002 was about Rs.3 b," Minister Samarawickrama said.

From the Mahapola funds, Natwealth Securities had been given at amount of Rs.300 m to manage, which has presently grown to about Rs. 1b, which the Minister said indicated that the Joint Opposition allegation of a loss of Rs. 1 b was "completely false." Mahapola fund officials were also at hand to assure that there was no fund shortage and Rs. 1.2 b in payments for 2016 to 47,000 students were almost completed. They also slammed the Joint Opposition for creating doubt in the minds of university students and disparaging the transparency of the fund's management.

"Natwealth Corporation and Natwealth Securities were established in early 2003. I am the Chairman of Natwealth Corporation but I am in no way involved with Natwealth Securities. My appointment was made in mid-2015 after the new Government came to power and when Mahapola was shifted under Minister Samarawickrama's portfolio," a visibly upset and emotional Dr. Weerasooriya told reporters, recounting his Government service record.

Dr. Weerasooriya also heavily criticised the Joint Opposition and warned them that he would continue to fight to clear his reputation. "I am determined to take my good name to my grave," he said. "After 78 years of service, it is deeply hurtful to me to have such allegations levelled against me," he added. Both the minister and Dr. Weerasooriya said that they stand ready to respond to the charges and welcomed speedy investigations into the allegations in order to clear their names. They also stressed that the Government at no point would allow Mahapola funds to be mishandled.
Clarification: Daily FT wishes to note that in the article titled "Mahapola well-minded says Malik," published on Thursday, the list of investments given was made by National Wealth Corporation Ltd on behalf of the Mahapola Fund and not Natwealth Securities, as reported in the article. Daily FT apologises for the error.