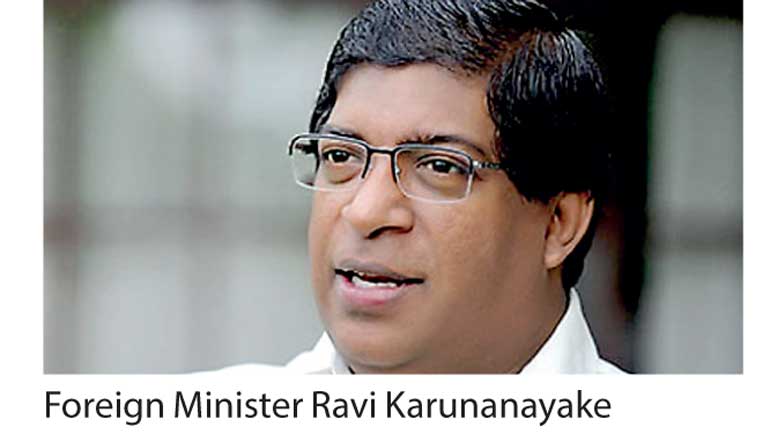 Speaker to give decision on no-confidence motion on Thursday
Tells House consulting AG is necessary as presidential inquiry is ongoing
PM supports decision, says he got to know of no-confidence motion from media
Anura Kumara questions necessity of involving AG before entering motion into order paper
By Ashwin Hemmathagama –

Our Lobby Correspondent

The wait for a decision on the fate of Foreign Minister Ravi Karunanayake continues as Parliament was told that an official ruling was required.

According to Speaker Karu Jayasuriya, the next step of the no-confidence motion signed by 32 MPs against Minister Karunanayake will be announced in Parliament on Thursday.

"I received the motion. A Presidential Commission is investigating the matter and it is sub judice and the Attorney General is contacted. I will decide what can be done with regard to the motion after I receive the Attorney General's response," said Speaker Jayasuriya, who also stated that the matter was also taken up at the party leaders meeting.

Prime Minister Ranil Wickremesinghe, who ensured the House that all proceedings would be conducted with the utmost transparency, said: "Are you asking the Foreign Minister to go before the UN office in Colombo with a mat and start a demonstration there? The Speaker will inform the House of his decision."

Chief Opposition Whip Anura Kumara Dissanayake said the motion has not been entered in the order book of Parliament. "First, it should be entered into the order book before consulting the Attorney General."

In response, the Prime Minister stated that he also got to know about the motion from the media. "I too came to know about the motion from newspaper reports. I did not see it. The Speaker will act accordingly; we have no objection to his decision. He will enter the matter in the order paper on Wednesday or on Thursday," he said.

The Speaker said that he would wait for the Attorney General's opinion and let the House know whether the motion could be entered in the order book and could be taken up for debate in the House.