By Dharisha Bastians

The National Unity Government continued to show teething problems with a further delay expected in the appointment of the new cabinet of ministers as the tussle for portfolios between the SLFP and the UNP continues and the Government navigates a legislative blockade on the number of Ministers allowed by the Constitution.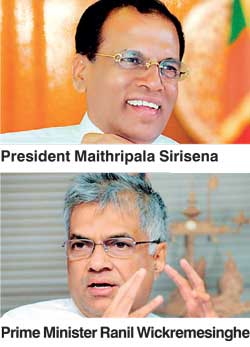 UNP Chairman Malik Samarawickrema said on Wednesday that the Cabinet would be sworn in on 2 September, but sources say the swearing-in could be delayed by a few more days.

A more likely date for the oath-taking could be 4 September, the sources said.

The SLFP General Secretary Duminda Dissanayake claimed at a press briefing yesterday that the delay was due to the SLFP annual convention being held on 2 September. However, sources say the parties are yet to reach final consensus on the allocation of portfolios as the two main parties with a history of bitter rivalry try to share power in the new setup.

The 19th Amendment enacted in April limits the number of ministers to 30, but makes provision for Parliament to set an appropriate number in the event a National Government is formed.

The UNP, which won the largest number of seats in elections last week, must announce the formation of a unity government to Parliament, before ministerial appointments accommodating the SLFP can be made.

The JVP is demanding a debate on the number of National List MPs before approving the bigger numbers, sources said.

Ministers drawn from the 106 UNP MPs could take oaths ahead of the first session of the new Parliament on 1 September, but the entire Cabinet is more likely to be sworn in together, Daily FT learns.
The National Unity Cabinet could number up to 45 ministers with 30 drawn from the UNP and 15 from the SLFP. Daily FT learns that at least three key ministries were being offered to the SLFP, including Samurdhi and Agriculture. The Ministry of Highways was also in play for the SLFP, with a senior member of the party who held a position in the previous Parliament staking a claim for the portfolio. A tussle over the Health portfolio also erupted during the negotiations, with the same senior SLFP member demanding the ministry, informed sources told Daily FT.

His efforts were stymied, the sources said, because President Maithripala Sirisena loyalist Rajitha Senaratne is likely to be reinstated as minister of health. Former cricket skipper Arjuna Ranatunga, who contested in the Gampaha District on the UNP ticket, is also likely to retain the Ports Ministry, Daily FT learns. JHU strongman Champika Ranawaka is tipped to be given a key portfolio relating to the Government's major development plans for the Western Province, but it is not yet clear if he will be willing to give up his favoured power and energy portfolio, the sources said.