Makes South Asian venture 100% owned; new investment via subsidiary in Dubai
Laugfs has invested Rs. 1.4 billion to boost its prospects in the Bangladesh LPG business.

This is following Laugfs Gas Plc acquiring a 31% shareholding in Laugfs Gas (Bangladesh) Ltd., from Malaysia's Elpiki M SDN Bhd.

"As a strategic investment Laugfs Gas Plc has decided to acquire 31% shares through its wholly owned subsidiary Slogal Energy DMCC Incorporated in Dubai, UAE," the Company said. Laugfs Gas owns 69% of the Bangladesh entity.

As per the share purchase agreement entered between Slogal Energy DMCC and Elpiji M Sdn Mhd, and other regulatory formalities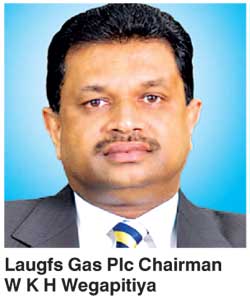 which has to be adhered to, the total cost involved with the transaction inclusive of regulatory and bank charges amounts to approximately $ 9.45 million.

Laugfs Gas Plc as the holding company of Slogal Energy DMCC has decided to invest the total amount with Slogal Energy in its equity which would in return bring a strategic advantage to Laugfs Gas Plc.

Analysts said that Laugfs is the second largest LPG player in Bangladesh and given the low penetration at present, the venture holds great promise. The latter is due to the fact that Bangladesh has a near 200 million population, rising per capita income and a rapidly expanding economy.

For the nine months ended 31 December 2015, Laugfs Gas Plc's revenue rose by 7% to Rs. 9.4 billion. Operating profit improved by 17% to Rs. 1.7 billion. After tax profit amounted to Rs. 1.2 billion, up by 13% from the first nine months of the previous year. Bottom line improved by 10% to Rs. 1.18 billion. As per provisional results, revenue from overseas energy operations amounted to Rs. 1.03 billion and operating profit was Rs. 136 million.