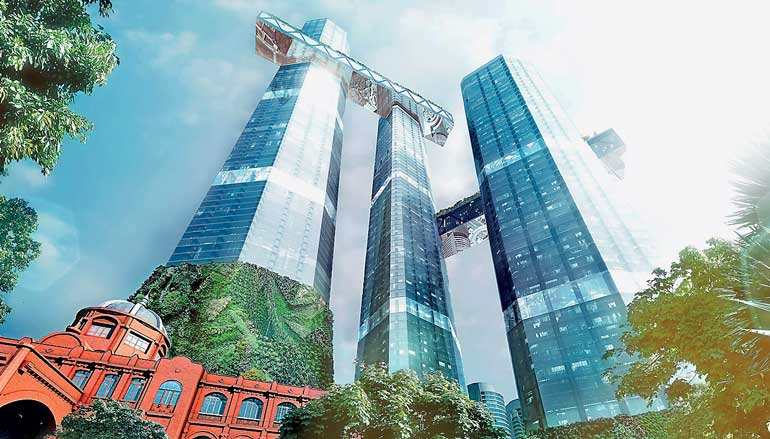 By Charumini de Silva

Beleaguered Indian real estate company, Krrish Group has finally sealed the $650 million controversial mixed development project deal, a top Minister said.

The project, which was initiated under the previous Government of former President Mahinda Rajapaksa, drew allegations of pay-offs to politicians and officials to get the project off the ground.

MP Namal Rajapaksa was recently arrested for misappropriating Rs.70 million given by Krrish as a sponsorship for a rugby tournament organised by the Carlton Sports Network.

Krrish announced the project in August 2012, outlining plans to break ground in 2013 and complete the four-tower construction in 2016 but ran into controversy almost immediately over non-payment of dues under deadlines specified in the agreement. But nearly four years on, the company finally seems to be making good on its promises.

"The company had paid the full amount and it is going ahead with the complete project. It is in the final stage now," International Trade State Minister Sujeewa Senasinghe told the Daily FT. Despite heavily criticising the project while in the Opposition, the Government stopped short of pulling the plug on the project after being elected into power in 2015.

Senasinghe said full payment paves the way for work to begin on the long overdue $650 million mixed development project at a 4.3-acre British heritage site in Colombo Fort.

According to the Minister, the proposal that the Government had received includes 70 floors in two towers. However, according to the initial proposal of the project, it included four high-rise buildings containing a luxury hotel, apartments, malls and office space.

Senasinghe added the firm was now negotiating with new partners such as JW Marriot and Ritz Carlton to manage the property.

When contacted, Board of Investment (BOI) Chairman Upul Jayasuriya said the Cabinet Committee on Economic Management (CEM) had made a decision on this project and was awaiting approval from the Attorney General's Department.

"Until we receive a response from the Attorney General's Department, we are unable to comment on the progress of the project," he said.

The project was first launched as a BOI venture in September 2012, but was stalled in March 2013 after payments for land release was delayed to the Urban Development Authority (UDA).

The company had initially deposited a sum of Rs.499.5 million which accounts for 10% of the total lease premium as a commitment fee on 14 September 2012.