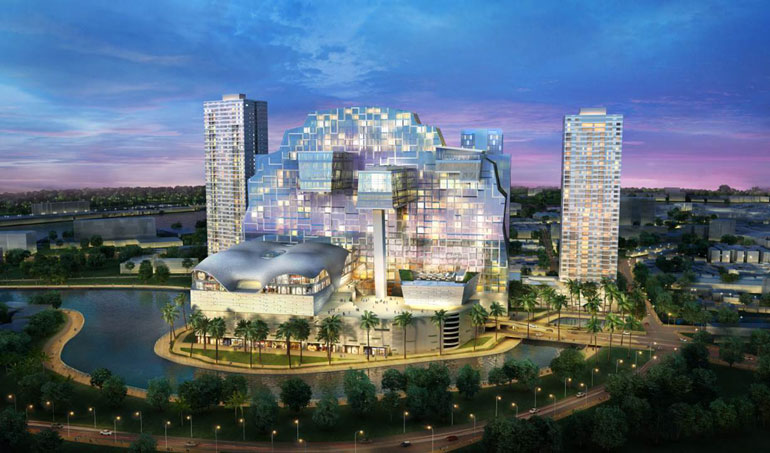 Premier blue chip John Keells Holdings (JKH) has set the record straight on the landmark Waterfront project, which entails the

biggest-ever private sector investment of over $ 650 million.

In JKH's 2014/15 Annual Report, Chairman Susantha Ratnayake has assured shareholders that the Waterfront project will continue. He also clarified about the casino operations.


"For clarity, we wish to state that Waterfront was to lease a 150,000 square foot area, this being a mere 3% of a total area of 4.5 million square feet of the constructed area, to an existing casino licence holder to operate in partnership with an international Gaming operator under strict gaming regulations consistent with the best in the world. Waterfront Properties Ltd. did not intend to operate a casino nor did it intend to own a casino licence," the JKH Chief has said in his review in the Annual Report.

He said it was also noteworthy that the Waterfront project "did not request, and, in fact, turned down, any tax exemptions on gaming activities under the Strategic Development Projects Act".


"I wish to reiterate that Waterfront is uniquely placed to cater towards the emerging requirements of the contemporary tourist and the increasing Meetings, Incentives, Conferences and Exhibitions (MICE) traffic, particularly from India, with services, products and facilities that are on par or exceed those of other regional destinations," Ratnayake said.

"This, I am confident, will enable us to attract the high spending segment of tourists which Sri Lanka has hitherto been unable to satisfy. It is indeed this vision of Colombo as a hub for business and leisure travel which was at the heart of conceptualising the Waterfront project," the JKH Chairman added.

The project consists of an 800-room luxury hotel, large high-end retail mall, luxury residencies, state-of-the-art office space and convention, ballroom and banqueting space.


Construction work on Waterfront, which is funded by a mix of equity and debt, started in April last year and is scheduled to complete in 2018.

According to JKH, said demand for both residential and commercial spaces continue to remain encouraging with 20% and 30% of units available for sale being reserved as of 31 March 2015 respectively.

Ratnayake also said JKH was confident that the investments which it was making today in pursuing a sustainable long-term future "will result in improved returns on our capital employed in the medium to long term".

Via the release of its accounts last week, JKH proved its prowess in the league of listed corporate entities, finishing the 2014/15 financial year with the highest-ever profits.


Consolidated pre-tax profit of JKH grew by 25% to a record Rs. 19.08 billion and after-tax profit by 22% to Rs. 15.74 billion. The bottom line or profit attributable to equity holders of the parent grew in a similar fashion to Rs. 14.35 billion in comparison to FY14.JKH's results in FY15 set an all-time record for a listed corporate entity. The impressive profitability came despite a modest 6% growth in Group revenue to Rs. 91.58 billion.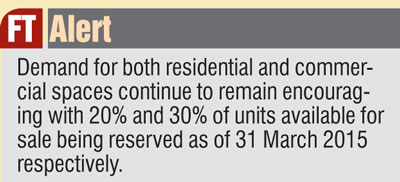 In the Chairman's Review, Ratnayake said from a portfolio and diversification perspective, the investments in key growth industries such as the Consumer Foods and Retail and Financial Services industry groups have borne fruit, contributing towards a more balanced portfolio and a diverse stream of cash flows.


These two industry groups in particular have scaled up significantly over the last few years and now account for nearly 25% of Group PAT even after eliminating for the impact of the one-off capital gain on the disposal of the General Insurance business.

The prospects for Consumer Foods and Retail and Financial Services, in particular, are promising given the significant under-penetration of consumption, banking and insurance in comparison to other regional markets, the JKH Chief said.

"The outlook for our other industry groups is also positive considering the growth prospects of the country and the continued growth in tourism," Ratnayake added.